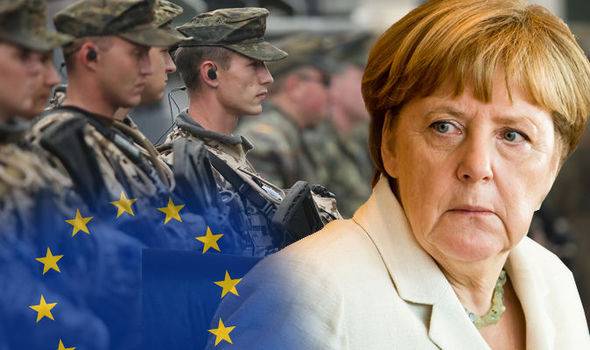 About figures large and not very
For some reason, it has recently become customary to consider Angela Merkel a "major political figure", especially in comparison with Olaf Scholz. Say, there was a national leader, and the Germans trusted him ... And now what? But nothing.
It all looks strange and incomprehensible already. Angela Merkel really was in the post of Chancellor for quite a long time - 16 years, but this alone does not make her a major political figure. In any case, in a positive way.
Yes, a man was at the helm, yes, she made (key) decisions, yes, this is the first woman to hold the post of German Chancellor. Everything is so, but this alone cannot make her evaluate her activities exclusively positively.
I will not seriously consider its internal German policy. After all, I'm not German. From my point of view, it makes sense to pay attention to its international policy and its results.
And (looking ahead), so to speak, the foreign policy results of her reign are not that very positive.
I'm talking about Russia? Yes, I'm talking about Russia and Europe in general. The thing is that the decision on the "Russian direction" was one of the key ones for the German chancellor ("chancellor"). A lot depended on this.
Today it is customary to speak very derogatoryly about the foreign policy of Olaf Scholz, but ... What can he do? Having taken the post of chancellor, he, in fact, did not have the opportunity to lay out some kind of "his" foreign policy course, instead he ended up, so to speak, in the very center of the "political Maelström".
It's like in a computer game, when immediately after loading you are thrown into the thick of a huge battle.
All the most important political decisions were made earlier, and made by Angela Merkel. Why Olaf Scholz? He can be a good politician, he can be a bad politician, he can be a strong strategist, he can be no strategist - he simply does not have any opportunities to show all these qualities here and now.
All fundamental decisions were made long before he entered the office of the German Chancellor. And before Merkel, the Chancellor was the same Gerhard Schroeder. Which then actively cooperated with Gazprom and Rosneft.
The origins of the conflict
It is often customary to chatter about a certain combination of Russian resources and German industrial potential, about a certain "axis" Moscow-Berlin. Well, so - Schroeder is just "from there". From the field of trying to do something in this direction.
It did not work out, this option for the development of the Germans was not interested. Not interested at all. And they followed Merkel, who began to pursue a "traditional" Euro-Atlantic policy with a focus on Washington. And, as a matter of fact, both the German electorate and the German elites were generally satisfied with this very course.
And so they ran to 2014 and to the second Maidan. Which Angela Merkel, acting in the paradigm of stubborn Euro-Atlanticism, fully supported, as she supported the imposition of sanctions against Russia. And, in fact, again, such a policy suited both the German voter and the German elites, but then problems began. It just wasn't very noticeable at first.
For obvious reasons, Russia was categorically not satisfied with the political results of Maidan-2, but they decided to simply ignore it.
And it was then that the foundations of that very "military special operation" were laid. Because no one wanted to consider a political solution in Europe and the USA.
That is, of course, yes, today the situation in the field of "European security" is simply catastrophic, but this is not accidental and not "suddenly".
The foundation for this most catastrophic situation was laid a very long time ago. Yes, almost all the time of the reign of Mrs. Merkel. Quite simply, a "key decision" was made: Russia's political interests can be ignored. Generally.
And economic cooperation in certain areas. With a complete "ignorance" of Russian political interests.
That is, the conflict did not arise out of the blue. The reasons are fundamental. And what, in fact, can Olaf Scholz, who came to the post of Chancellor in 2021, do about this?
All cards were dealt before him. This is not what I want to smear "friend Olaf" at any cost. No, that's not the point.
The fact is that geopolitical decisions often have very far-reaching consequences. Frau Merkel pursued an openly anti-Russian foreign policy during all the years of her reign, what we have now is just the result of such a policy.
She didn't have to be a "Russophile", she just had to remember that she was more of a Central European politician than a North American one. Another geography, other problems, other interests.
No emotions, pure technocracy.
Here is the frank failure of the foreign policy of the first "chancellor" in
stories
in general, it somehow makes one think that politics is most likely not a woman's occupation.
If anything, then the "Iron Lady Thatcher" left behind very ambiguous memories in Britain. It's all about pettiness, vindictiveness and the fundamental inability to forgive. Many British people for a very long time could not forgive the Conservatives for the methods and results of her rule. And after many years they do not want to vote for the "conservatives", because there was a "evil Thatcher". And the results of her reign were very ambiguous, not only for Britain as a whole, but also specifically for the Conservatives. The girl turned British politics into a "kitchen showdown." And even so.
It's not that simple, if anything.
It seems that "strategic vision" in politics is more of a masculine quality than a feminine one.
In order for the country of Ukraine to plunge into the abyss of war, very, very many conditions were needed. And Frau Merkel created a significant part of them.
With confidence worthy of a better use, like a steam locomotive, she rushed forward, and the Germans obediently ran after her. And then "zrada" happened (I love this Ukrainian word). The German Express has come to a standstill.
There is not only foreign policy Russophobia, there is also a "green agenda" and "unrequited love for migrants". And this is all in general and led to today's "European crisis".
That is, you, "being independent", can, of course, make any decisions, but it is not a fact that these decisions will certainly lead to positive results.
Far from a fact.
That is, this very crisis, in the waves of which Olaf Scholz has to hang out, was preparing for a very long time, when at first glance everything was relatively good.
Politics is not as easy as it seems
And then Madame "Chancellor" made very bold and very far-reaching decisions. And now it's time to reap the rewards. "Aunt Merkel" got off just in time ...
That is, the crisis in Europe is systemic, and it will not end just like that. And here it is not only about Russia and relations with it, but also about them. That is, in theory, there were many problems in Europe even without large-scale hostilities in Ukraine.
There is, as it were, an advertising image of "civilized Europe", and there is a real situation with a rather loose and heterogeneous political entity called the European Union.
From the author's point of view, one of the main problems of the EU leaders is precisely the wrong assessment (categorically wrong) of the role and place of the European Union in the modern world. In principle, all this also applies to European voters. They consider themselves better and more progressive. They believe that they are representatives of a "super-civilization", and if so, they "have the right."
The irresponsible expansionist policy of the European Union led to the military-political tragedy of Armenia (the defeat in Karabakh). They promised a lot of things to Yerevan and resolutely opposed Russian political influence, and at the hour of "H" it suddenly turned out that they really could not do anything (or did not want to, or they were forbidden).
And this was a big surprise for the Armenian side. The fact that there is nothing at all behind the promises of European diplomats. They are ready to "oppose Russia in the Caucasus" as it were, but they are not ready to save the Armenians from the Turkish-Azerbaijani threat. We play here, we don't play here.
Something similar (and even more) happened to the Baltics. It seems to be both the EU and NATO ... But somehow there is no way with the solution of economic problems. In fact, for Russia it was a "window to Europe" with all the consequences, for Europe… No, not a window. Rather - Kamchatka. And no one was in a hurry to invest there.
And here and now there are serious doubts about the readiness of the Europeans to
weapons
in the hands of defending the Baltic countries.
But this was most clearly manifested in relation to Ukraine. European politicians fully supported the "European choice of Kyiv." And they completely ignored all the concerns of Russia. That made a military conflict absolutely inevitable. Just cruelty and intransigence during the confrontation in the Donbass is precisely from there - from the "brilliant" policy, the main provision of which is the fact that Russia can be ignored. And Ukraine will be European.
From the point of view of European politicians, Kharkiv, Donetsk and Sevastopol are Ukraine. All point. It is absolutely impossible to change something now. Those who in Russia are in favor of "peace" somehow do not want to take this particular moment into account. Europe is set for the complete and unconditional surrender of Russia.
That's right, and nothing else. Because Europe is "good and democratic", but Russia is just not. Therefore, "bad Russia" must inevitably lose. And ukropolitiki are completely focused on the West. And they do not listen to any Russia, and they will not listen.
As a result, the "pink idealists" lead the "poorly educated villagers" into a deep abyss. The US is somehow different. The United States is far away, and they have their own problems and their own interests. And Europe is nearby, and the problem of Russian energy supplies and the influx of Ukrainian refugees are problems of Europe, not the United States.
Smart decisions should have been made earlier
And the Europeans (and specifically "Aunt Merkel") in 2014 could have shown much more caution and discretion, and not jump into an incomprehensible military conflict with vague prospects. For some reason, they decided that the victory was in their pocket, and they just needed to "put the squeeze on". It's not about some abstract "love for distant Russia", it's about direct adherence to your own geopolitical interests.
I agree that this conflict is categorically unprofitable for Russia, but capitulation is far from the best way out of a difficult situation. But, as the future showed, Europe did not really need this conflict around Kyiv either. This is if you look at the whole conflict as a whole, and not at its individual moments.
You know, I'm still against the term "united West". It's like stupidity. Because an American from the Midwest does not care deeply about the economic problems of a resident of Bulgaria. And the London financier is deeply indifferent to the problems of the Sicilian peasant.
The same America is actively trying to create the illusion that it exists, this "united West", including Japan, but in fact - not everything is so simple.
And yet, even if you look at it as a whole, Europe is separate, and the United States is separate. Everyone has their own problems, as the escalation of the conflict in Ukraine in February 2022 showed. And big (huge) problems began first of all for many Europeans. They are connected not only with the hostilities in Ukraine, but these very hostilities exacerbate everything.
In 2014, Angela Merkel stood next to Barack Obama and in the strongest terms announced her opposition to Russia. And this is a critical moment in German and European history. And it's impossible to "win back" and "beat" it. Actually, yes, the German voter generally supported Mrs. Chancellor. That's where it all came to a head.
Today's events in Ukraine are just the consequences of that very decision. And it is impossible to return "everything back", simply because it did not start yesterday or the day before yesterday. It started from the moment Angela Merkel came to power.
Preparation for this very war in Ukraine. That is, all this Euro-Atlantic and anti-Russian policy of Merkel led precisely to such an ending. This is no coincidence, and it is not for nothing that it was Merkel who was promoted to the post of head of Germany.
We needed a person who, spitting on the interests of his country, would act clearly, toughly and unambiguously. No matter what, no matter what the problem. Here "Aunt Merkel" fit perfectly.
Actually, it was this politician (personal opinion) who completely killed Russian-German relations and led Europe and Russia to the current crisis.
It was she who did everything to escalate the Ukrainian crisis to such proportions. Frau seriously hoped that Russia would capitulate, and NATO would roll along the rails to the east? Indeed? A fabulous plan, reliable as a Swiss watch.
In short, Russia did not capitulate, a special operation began, an energy and financial crisis of unprecedented proportions unfolded in Europe. This is not a fake, if anything, and not propaganda. Everything went ... through one place. There's actually a reason not only in Russia. And not so much. It just so happened, and the restriction on the supply of gas and fertilizers, as it were, added a spark.
Problems also began in the United States, and all over the planet, but for us the main thing is Europe and, above all, Germany. In Germany, they began to save all types of energy with might and main and restart "dirty" coal-fired power plants, as in other countries. Problems began in the economy, the euro flew down ...
For the first time in 20 years, the euro almost equaled the dollar, and for the first time in 30 years, the German trade balance turned negative ...
Fabulous achievement, fabulous plan. As the notorious Fox said, the most expensive thing in the world is stupidity.
Put yourself in the place of the Germans, imagine that there was a fierce conflict between Bavaria and Austria with skirmishes and bombings ... Are you ready to bankrupt the Russian economy in order to participate in this conflict "on the right side"? Do you need it? And yes, are you going to fight there? Volunteer?
What the hell did German politicians forget in Russian Kharkov? What is smeared with honey on them? And, I know the version, today the Russians came to Kharkov, and tomorrow they will come to Munich ... Unless, of course, they are stopped. Handsomely.
And all this modern European madness in politics and economics is, first of all, the result of the rule of "Aunt Merkel". And ahead of winter and the shutdown of factories.
I look at all this disgrace and think: why didn't the Germans live under Honecker? What did they lack? Migrants, right?
And if you think sensibly, then - yes, they did not live as well as under Brezhnev, and, apparently, they will not live anymore.