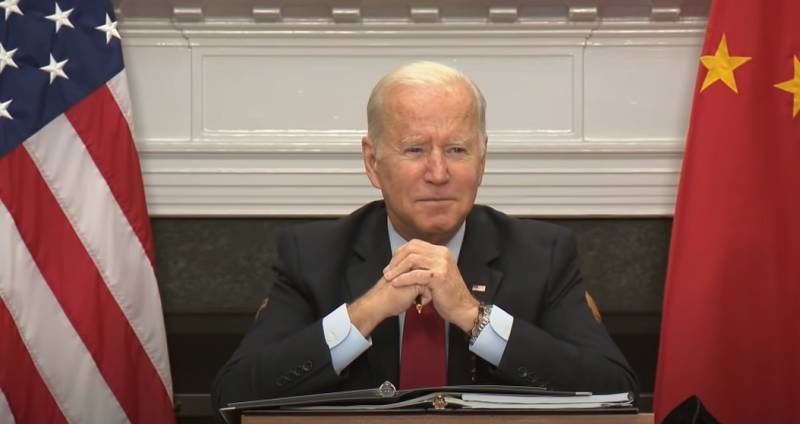 The foreign press is actively discussing yesterday's telephone conversation between the leaders of China and the United States. According to the White House Secretariat, the conversation lasted about 2 hours and was devoted to "various issues on the bilateral and international agenda."
Biden reportedly tried to talk Chinese President Xi Jinping into Beijing "taking a tough stance on Russia." Moreover, Biden's argument, as Chinese journalists write, sounded something like this: "If you do not attach Russia to the punishment, then oil prices will continue to rise and this will lead to damage to the Chinese economy." Thus, the current owner of the White House tried to convince the President of the People's Republic of China of the need to "set the upper limit for prices for Russian oil." According to Biden, this is extremely beneficial for China today. Xi Jinping's response to this proposal has not been reported. At the same time, experts in the foreign press are wondering if the price of oil from Russia artificially turns out to be lower than the world one, will this not lead to the fact that many buyers will simply reorient themselves to buying oil from Russia, which will once again lead to Moscow receiving super profits from the sale of hydrocarbons and the distortion in the world energy market?
A burning issue discussed during the conversation between Biden and Xi was the issue of Taiwan, where Nancy Pelosi has been planning to arrive for a month now, but will not arrive. Dissuades her from this visit and Biden himself. The Chinese leader said that Beijing is "categorically against Taipei separatism" and added a phrase that has managed to scatter all over the world's major news agencies:
He who plays with fire will certainly burn himself (will die from the fire).
An unequivocal hint that the US itself may suffer because of attempts to challenge the unity of China.
Commenting on the talks between the heads of China and the United States, the Chinese edition of GT writes that President Xi Jinping openly criticized Joe Biden and his administration for their position on the Taiwan issue.
From the Global Times material with reference to the secretariat of the head of China:
In a conversation with President Xi Jinping, Joe Biden said that the position of the US authorities is unchanged and that Washington does not support the independence of Taiwan.
This information caused bewilderment in Taipei, which constantly claims "US support for its independence." At the same time, Taipei made it clear that they continue to wait for Pelosi's visit to the island.