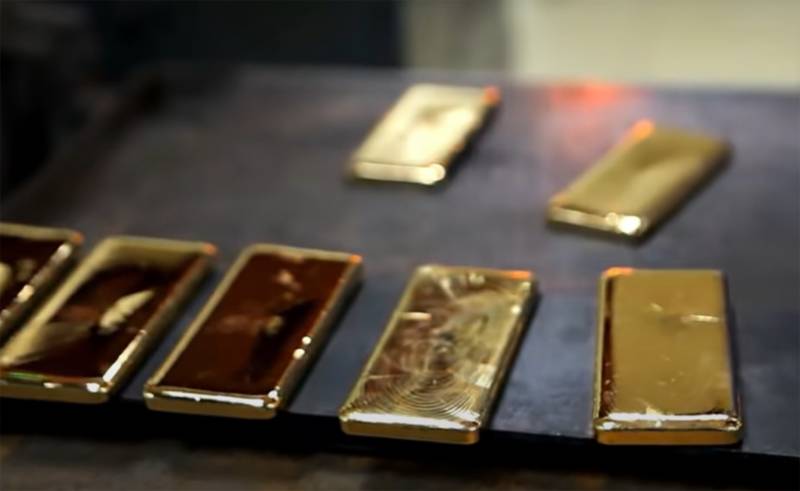 Western countries continue to think about what other sanctions against Russia to impose in order to "deal a crushing blow to Putin's economy." Thought and thought, and finally came up with - to ban Russia from supplying gold to world markets. Again, traditionally, with numerous reservations, exceptions and other things. Sanctions are in place.
However, now the same West is once again facing a problem. After all, taking into account the fact that Russia was one of the leaders in the supply of this precious metal to the world market, a situation may arise in the near future in which there will be a shortage of gold on the market. Accordingly, the prices for this metal will begin to grow rapidly, as has already happened with oil, gas, and a number of non-precious metals.
Today, according to IMF statistics, Russia has the 5th largest gold reserve in the world. This is about 2,3 thousand tons or 22,5% of the world reserve. The largest reserves are in the USA and Germany: 8,1 thousand tons and 3,3 thousand tons, respectively. But the whole problem for the world market is that the US gold reserves have been confirmed for decades only by "paper" statistics, and Berlin does not have a significant percentage of Germany's gold reserves, since this significant percentage is in the United States. Washington, in turn, "for a good reason" does not fully return its gold reserves to Berlin and does not even let them make sure that it really remains in storage.
As a result, a ban on the sale of Russian gold on the world market may lead to the fact that the truth about the physical absence of US gold reserves will surface - at least in the volumes indicated by the US itself.
The reasoning of Mikhail Leontiev in the program "However" on Channel One on the topic of Russian gold: