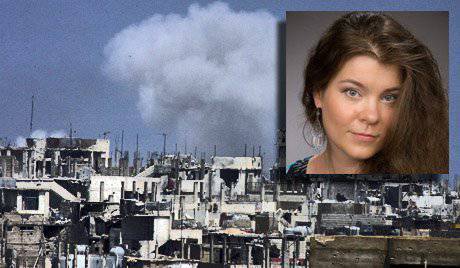 Russian journalist Ankhar Kochneva was found near the Syrian city of Homs, where she is held hostage. According to Izvestia, citing sources in Damascus, the Syrian government "is working" to free the woman. It is unclear who it is she is in captivity.
A friend of Kochneva, Elena Gromova, said that the last time a woman got in touch was on Wednesday evening, October 10. On Thursday, Kochneva no longer answered calls.
It is also known that on Friday, October 13, the kidnapped one still got in touch. Reports about it RIA "
News
"With reference to the Syrian colleague of the missing Nazir Saidi.
According to the journalist, Kochneva called the hotel during the day and asked to be connected with the film crew living there. However, the connection was interrupted and the second time the woman did not call back.
Earlier that day, another friend of Kochneva, Daria Mitina, said that the journalist had been abducted 20 kilometers from Homs near the city of Al-Qusayr. However, as RIA Novosti notes, this information has not yet been confirmed in official sources.
An employee of the Russian embassy in Syria told the agency that he does not have data on the fate of Kochneva and is currently checking the information available.
The Beirut edition of the satellite channel Al-Mayadin, which has two own correspondents in the Qusayr area, also reported that they did not know anything about the abduction of Kochneva.
Source RIA "News" in the security services of Lebanon also said with reference to the representatives of the groups of the Syrian Free Army that he did not have information about the disappearance of the journalist.
Kochneva arrived in Syria after the start of the conflict between supporters and opponents of the regime of President Bashar al-Assad in this country. At the beginning, she worked as a freelance correspondent for the Utro.ru portal, and also accompanied Russian journalists who came to Syria. Prior to this, a Ukrainian citizen with a passport and a Palestinian by mother worked in Moscow as the director of the travel agency "Jordan Club".
The journalist collaborated with such Russian media as REN TV, NTV and Russia Today. However, at the time of the abduction she did not go into any film crew.
For about a year and a half, armed conflict between supporters and opponents of al-Assad has continued in Syria. According to the UN, more than 20 thousand people have become its victims. Since the beginning of this year, four journalists have already died in the country, three more have been missing. For the first time in Syria, a representative of the Russian media is abducted.