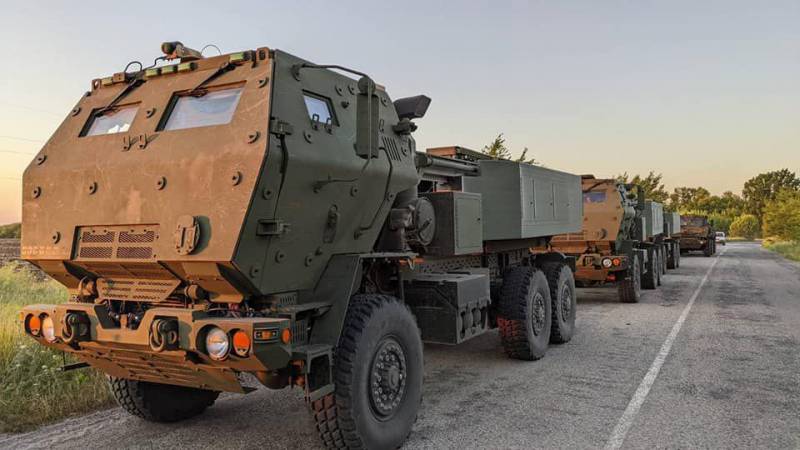 The Russian military continues to destroy weapons supplied by Western countries, including the American HIMARS MLRS, which Kyiv literally prays for. The third of the eight rocket launchers supplied by the Armed Forces of Ukraine was covered in the Donbass.
The Ministry of Defense reports the third HIMARS MLRS destroyed, and the transport-loading vehicle was also destroyed along with the launcher. They covered them with a strike of a high-precision ground-based missile, i.e. OTRK "Iskander". It happened in the area of ​​Krasnoarmeysk on the territory of the DPR. On this loss delivered by the Americans
weapons
did not end, in Odessa the warehouse where Harpoon anti-ship missiles were stored was destroyed. An attempt by the Ukrainian military to hide the missiles in the warehouse of one of the industrial enterprises of the city failed, the strike of a high-precision air-launched missile put a big end to it.
In addition, strikes continue on the places of temporary deployment of units of the Armed Forces of Ukraine. So in the Zaporozhye region in the Novodanilovka area, up to 65 nationalists from the 97th battalion of the 60th motorized infantry brigade of the Armed Forces of Ukraine were destroyed. The destruction of four command posts, six ammunition depots, as well as the personnel of the Armed Forces of Ukraine, including foreign mercenaries, was confirmed in the Kharkiv region and on the territory of the DPR.
As part of the counter-battery fight, howitzers "Gyatsint-B" and guns D-30 were destroyed,
aviation
, artillery and missile troops hit 21 command posts, manpower and military equipment of the Armed Forces of Ukraine in 189 districts.
A Russian fighter jet shot down a Ukrainian Mi-17 helicopter near Slavyansk, and anti-aircraft gunners landed a Su-25 attack aircraft near Velikaya Kamyshevakha, Kharkiv region.