In the United States, there are not two federal parties, but forty with hooks. And each of them often nominates a candidate for the presidency. Not so long ago on the "Military Review"
told
about candidate A. Zombie, who is running, but not from the party, but from the film company AMC, which is filming the series The Walking Dead. Today we will focus on the election program of another candidate - Merlin Miller, a white-haired, fair-haired and blue-eyed man, who sees the cause of all the evils of the once great American state in Zionist control exercised over the Americans through a Hollywood illusion factory. His
attributed
the phrase: "The Jews did not win America, but stole it while we slept."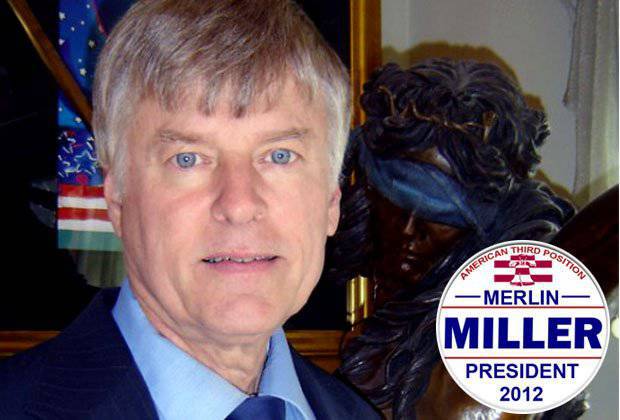 You can read about Miller
on his website
. The future presidential candidate was born and raised in Des Moines, Iowa. He graduated from the US Military Academy at West Point (New York), served in the army, where he commanded two units. He later worked as a manager at Michelin (manufactures tires). He has been married for a long time, he has 4 adult daughters, and three of them followed in the footsteps of their father and also graduated from West Point.
Merlin Miller received an MFA degree in film and television from the University of Southern California in the middle of 1980's. He collaborated with the film company Paramount Pictures, and then worked on low-budget films.
As you can see, the "dream factory" this Mr. knows firsthand. Miller left Hollywood because a few years later he was completely disappointed in him. The film industry, in his opinion, degenerated to entertainment, but at the same time made it impossible for all those who share traditional and Christian values ​​in America to advance. On the achievements of Miller in the movie you can read on the website Americana-Pictures.com.
Miller - one of those who wonders: where are our old heroes? Earlier, he says, we always saw them, it was only worth the ghost of danger to appear on the horizon.
Before, the presidential candidate continues, we could tell the right from the wrong: we were taught this
stories
with a happy ending. They contributed to the assimilation of truth and the concepts of justice and freedom. The society felt good when the story had a happy ending, or, at the tragic finale, inspired us to overcome difficulties.
Once upon a time, people in America, Miller believes, lived with the hope that the American dream could be fulfilled, and with it achieve greatness and find peace, love and happiness. What was needed to realize a dream? Hard work, honesty and humility. But is it beyond human limits? Our fathers and grandfathers have proven that this can become a reality.
Merlin Miller is the author of numerous articles and treatises on the "American Dream", on historical frauds, on propaganda disguised as
news
or entertainment programs. He learned about the "American Third Way" (acronym - A3P) at one of the meetings from interested patriots. As a presidential candidate, he is going to raise critical issues. In particular, he intends to "stop the organized destruction of America." "We," he declares on the site, "should strive for truth, justice and freedom, if we only want to protect the future of our children, and restore the inspiring greatness of our constitutional republic ..."
Let's take a look at some of the political priorities of M. Miller.
In
foreign policy
Mr. Miller condemns imperialism and promotes a position of non-intervention. The site directly states:
"In the twentieth century, decades of war destroyed many Western countries, including Britain, France and Russia. Each state mistakenly believed that its imperialistic policies and actions would be of more benefit both to the homeland and to foreign states. The "American Third Way" does not believe that the US has a moral obligation to spread its culture, values ​​and institutions in non-Western countries, especially in the Middle East. A3P believes that the position of non-interference is the only way to conduct America's international policy. "
Moreover, A3P, led by M. Miller, proposes not to intervene in various international conflicts, which America is forced to by some "others" whose US interests are not required to serve. After all, the US is a sovereign state. In this regard, Miller believes that this is unacceptable when American youth is sacrificed at the altar of international fights. After all, this has nothing to do with the welfare of the American people. Candidate says:
"... We must withdraw from the UN and NATO and close most of the hundreds of our foreign military bases. At the same time, we must maintain a strong army in order to legally protect our interests, for example, to protect our borders more reliably ... "
To this he adds:
"We reject the idea that the United States should supposedly forever subsidize incompetence and corruption in third world countries, providing them with financial assistance. Charity must begin and end at home ... "
Expressed by mr miller and about
democracy
referring to the founding fathers of the United States. He believes that the rights and freedoms originally formulated (see the Declaration of Independence, the US Constitution, the Bill of Rights, etc.) can be exercised only when citizens are prepared to protect them. He does not doubt that, in addition to readiness, you also need the ability to protect.
In addition, Miller writes:
"For too long, our republic has been undermined by politicians deliberately deceiving our citizens and disregarding civil will. Republicans and Democrats systematically cooperate in trying to impose undesirable changes on our country. These "republics" forced our people to vote for themselves, restricting political choices and thereby showing their disregard for the victims of our ancestors. The "American Third Way", by contrast, is built on the original idea of ​​the Republic. In accordance with this tradition, A3P becomes the main proponent of proportional representation at all levels of government. "
Economy
in the US, Miller will correct the closure of the Federal Reserve. He will then give the government the exclusive right to print and regulate money.
Education
Under Miller, he will cease to be an upbringing:
"The same schools where our children once taught the knowledge, skills, culture and traditions necessary to maintain and strengthen our country are today controlled by social and cultural Marxists. The education system has become a tool for the zombies of our children ... "
A3P supports measures for the rapid restoration of the old American school. Teachers should teach what is of practical use in everyday life, including mathematics and the traditional history of America. It's time to stop stuffing children with politically correct stupidities, M. Miller believes, while fighting for strong discipline in schools.
О
family values
Miller says not much, but clearly:
"Unfortunately, many white American men and women have lost their priorities: individualism and hypermaterialism turned out to be more important than family and community. The destructive influence of Marxist philosophy, politically correct through television, radio, and print media ... had a devastating effect on millions of our young people. "
All of this actually brought the American nation to degeneration.
Miller urges Americans to return to strengthening the family as a normal unit of society. A3P stands for traditional marriages.
Questions
immigration to the USA
also dedicated to a separate section. "Enough!" - this is his leitmotif in the title.
"... We cannot allow our children to grow up in a country that is rapidly becoming the northern hemisphere of Brazil," says Miller. - The overwhelming majority of immigrants, both legal and illegal, come to us from the countries of Latin America, Asia and Africa, where education, science, art, law, management and industry are not enough - and what is there, in any way can not be comparable with our achievements. Numerous studies have confirmed that there is no net economic benefit for the US economy from third world countries; immigration only generates additional costs in education, health care, social programs, general infrastructure and law enforcement. "
M. Miller knows how to act:
"We will deport all illegal immigrants and all foreign criminals.

We will be fined for their mass use or assistance to them.

We will use American forces to guard borders and create an impenetrable barrier in the south.

We will immediately establish a perpetual moratorium on any immigration.

We will give immigrants and their children, who have become US citizens since 1965, generous benefits to facilitate their voluntary return to their homeland.

We will also eliminate the practice of "chain migration" and the provision of political asylum. "
National defense
under Miller, it would be built as follows: no "police measures" violating the constitutional freedoms of Americans, and the most important duty of the US government would be to protect the country from external threats. The military could not be used to "support the ambitions of multinational corporations." Miller also writes:
"... Currently, the US military has spread throughout the world, protecting other countries and putting our people in the service at great risk, which in addition is accompanied by large financial costs that fall on the shoulders of American taxpayers. These antics, these foreign interventions must be stopped immediately, and our soldiers must return home. "
In addition, the Patriot Act, NDAA and other anti-constitutional laws (
Read
about them on the "Military Review". - O. Ch.), According to Miller, should be canceled immediately. The concept of "war on terrorism" Miller quotes. Much more important to him is the problem of combating illegal immigration, which, in his opinion, is a danger to the internal security of the country. In addition, the invasion of illegal immigrants raises large expenses. In short, the border - on the castle.
Finally, Mr. Miller talked about his (and party)
racial preferences
:
"The character of a nation is determined by its people, and racial demography is the main factor here. <...> Less than 50 years ago, our country was still inhabited by 90% of whites, and about 10% of blacks, other races had a very small representation. But since then we have been undermined by internationalist efforts to destroy America's freedom, sovereignty and identity. "
These internationalists, according to Miller, went to the assault on American values; they disfigured even the language itself, not to mention the fact that the country was predominantly white, degenerated into some third world country, to the "Babylonian cluster". Soon, white Americans, complains Miller, will become a minority in their own country. All of this is the result of "cultural Marxism" and "political correctness", along with multiculturalism, race mixing, radical feminism and unconventional orientations. White people, according to M. Miller, all sorts of world socialists forced to consider themselves "guilty." Now the white man has lost the right to be proud of his race, traditions and heritage. Therefore:
"A3P, like no other political party, shows interest here and advocates for white American interests. It does not make us racist, but it protects our rights, in which, any other race or group would be encouraged and praised ... "
In general, M. Miller and his party want to stop "the organized destruction of America and restore its greatness."
This concludes our brief overview of the election platform A3P and Mr. Miller. As for concerns about the future of the United States, then it will be necessary to restore the greatness of America to either Mitt Romney or Barack Obama. Unlike Miller's inner patriot, these candidates are supposed to work for the benefit of their long-suffering homeland in Syria, Iran, Libya, Mali, the Asia-Pacific region and other places around the globe.
Observed and translated by Oleg Chuvakin
- especially for topwar.ru