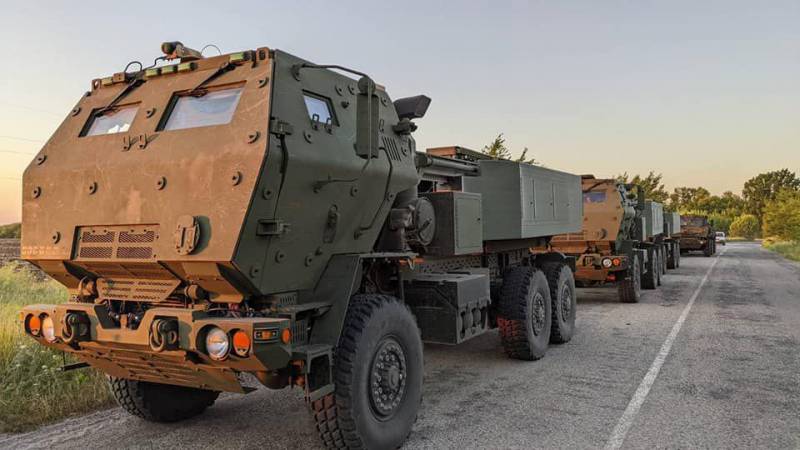 In Ukraine, they are not satisfied with the range of missiles delivered by the Americans MLRS HIMARS, in Kyiv they called on Washington to supply more long-range ammunition capable of hitting targets at a distance of over 150 km. This was announced in the Verkhovna Rada.
Ukraine has found a way to fight the Russian army, for this it needs as many foreign-made rocket fire systems as possible, ammunition for them and long-range missiles capable of hitting targets not only in the tactical depth of defense, but also behind it. In general, Kyiv urgently needs long-range ammunition for the HIMARS MLRS, and, judging by the words of the representative of the Verkhovna Rada of Ukraine, Zelensky and the company have already demanded their supplies from Washington.
At all levels, our state and authorities are negotiating with US representatives on the need to provide us with a greater range of missiles to HIMARS. Now we have up to 70 km, in general, these missiles of various modifications are capable of hitting at a much greater depth
- said the deputy of the Verkhovna Rada Venislavsky.
Kyiv is relying on foreign MLRS, according to Ukrainian sources, while the Armed Forces of Ukraine at the beginning of the Russian special military operation had up to 80 Smerch rocket launchers with a range of 120 km. Even taking into account the loss of equipment, today Kyiv has more Soviet MLRS than those supplied by the West. And there are no such problems with ammunition.
Now Kyiv is specifically promoting the topic of HIMARS, declaring that absolutely all strikes on the territory of the LDNR, Zaporozhye and Kherson regions are carried out from American MLRS. This is done to raise the spirit of the Armed Forces of Ukraine, in order to show that the Western
weapon
helps to "defeat" Russia. The method is not new; before that, Turkish Bayraktars and American M-777 howitzers, which are now no longer remembered, acted as "wunderwaffes".