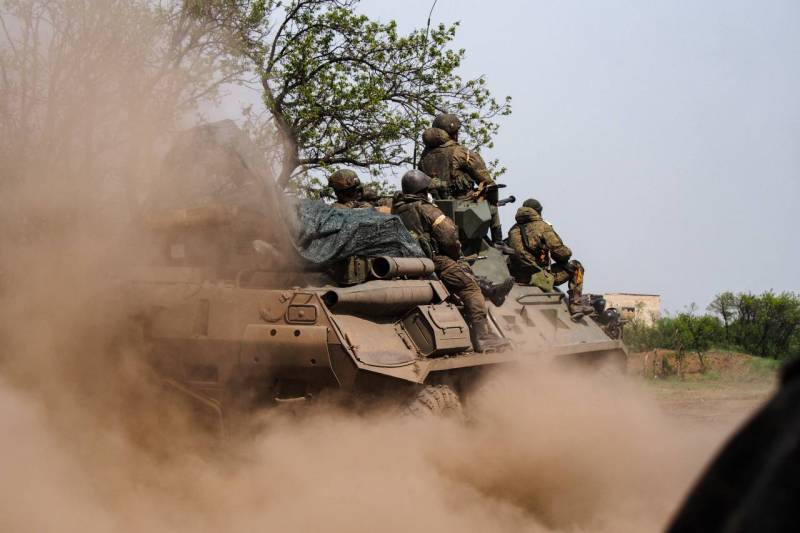 The offensive of the allied forces continues, there are no big changes in the situation on the line of contact, the enemy is putting up fierce resistance. Despite this, units of the Russian army and NM of the republics continue to put pressure, knocking out Ukrainian nationalists from their positions.
The main events are now developing in the Slavyansk direction, as well as in the Seversk region. According to available information, coming directly from the front line, in Bogorodichnoye, ours continue to put pressure on the enemy, taking the settlement under control. But in the area of ​​​​the Valley and Krasnopolye, fierce battles are going on, the enemy has rested and is trying to prevent the development of an offensive against Slavyansk from the north.
It is reported that the enemy is suffering heavy losses, Russian artillery is working almost around the clock, the attack is supported from the air
aviation
. Near Seversk, the enemy tried to use a new tactic, which brought him some success, the offensive of the allied forces slowed down. The tactics are very simple: the Armed Forces of Ukraine leave small settlements and retreat, while concentrating forces in forest plantations around settlements. At the entrance to the abandoned village, ours fall into the fire bag, the Armed Forces of Ukraine hit at the already targeted coordinates. After a couple of such ambushes, the pace of the offensive dropped, now our artillery combs all the forest belts where the enemy is found.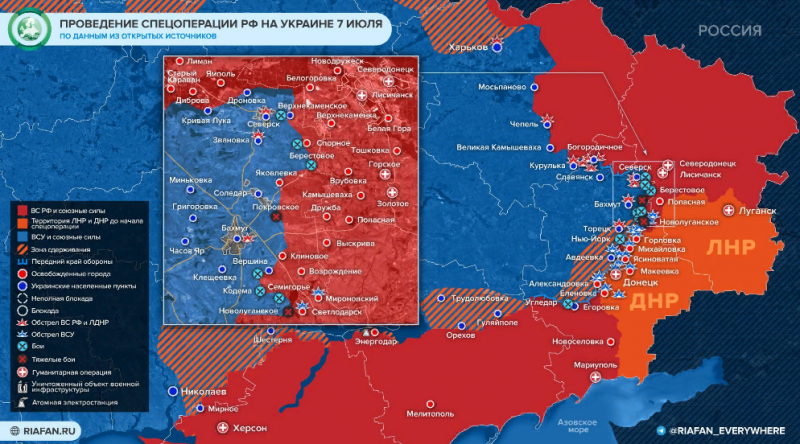 Reports about the capture of Grigorovka and the detour of Seversk from the north turned out to be premature, fighting was going on in this area. There is success in Verkhnekamenskoye. The enemy is still concentrating forces in the Seversk region, according to Ukrainian sources, Zelensky insists on continuing the defense of this city, despite its unfavorable location. The General Staff is opposed, but everything is going to the fact that Seversk will repeat the fate of Lisichansk - there will be many losses on the part of the Armed Forces of Ukraine and a hasty flight.
As previously reported, the enemy is building defense along the line: Seversk - Bakhmut (Artemovsk) - Soledar. Now all three key settlements are under the threat of capture by Russian troops, the offensive is actively developing, despite the enemy's attempts to stop it. At the same time, the redeployment of units that participated in the liberation of the territory of the LPR is being carried out.