October 9 2012 at the Moreos Shipbuilding Company OJSC More was launched the 25-meter long launch patrol boat of the 58130 Orlan project for the Sea Guard of the State Border Service of Ukraine (Chief Designer Viktor Alekseev). Eight boats are planned to be built this year until 2020. project intended to replace boats of the Soviet project 1400 ("Grif").
At the same time, the laying of a new naval guard ship (a large patrol boat) of the 58160 Coral project (205 serial number) took place at the sea scout. The project of the ship was developed by the State-owned enterprise "Research and Design Center for Shipbuilding" (KP "IPTSK") in the period 2010-2011. His bookmark was scheduled for the fourth quarter of 2011, but was postponed for almost a year.
According to the customer's specifications, the Coral will have a displacement of up to 310 tons and reach speeds of up to 30 nodes, will be equipped with an automated control system with a crew size of up to 20 people. In fact, the Coral project is based on the Stan Patrol 4207 project of the watch cutter, popular in the world market, developed by the Dutch shipbuilding group Damen.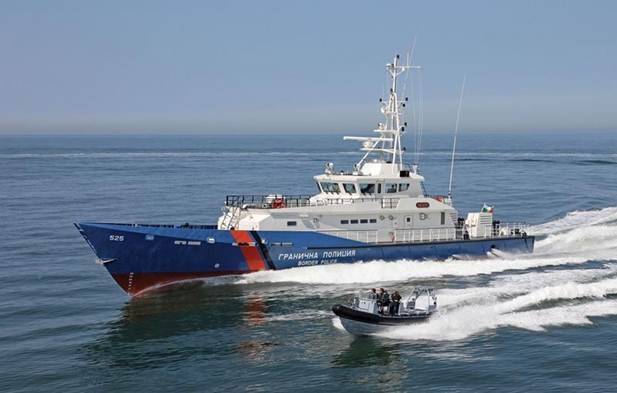 Watchdog "Review" project Stan Patrol 4207 Border Police of Bulgaria
In accordance with the Ukrainian State Target Program "Development and Reconstruction of the State Border" for the period up to 2015, the commissioning of the lead ship of the Coral project is planned for the end of 2013. A total of six units, including the lead ship, intended to replace the boats of the Soviet project 2020П is planned to be built until 205 of the year.