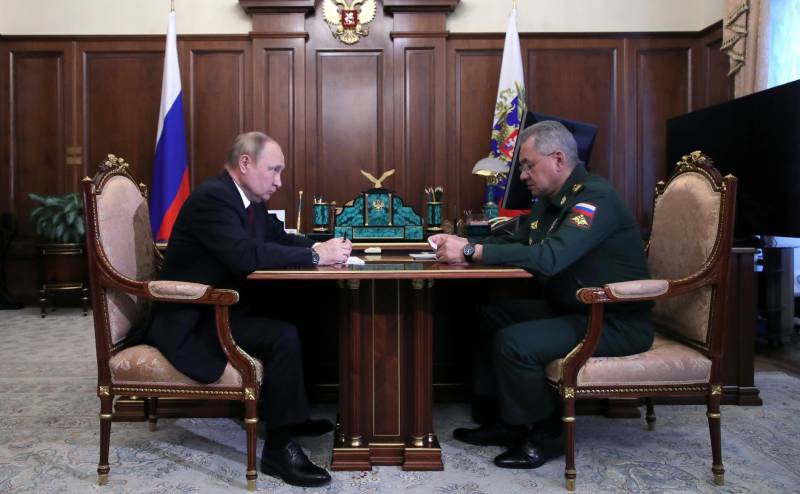 The Kremlin hosted a meeting between Russian President Vladimir Putin and Defense Minister Sergei Shoigu, during which the head of the military department reported the latest data on the special operation in Ukraine, including the liberation of the territory of the LPR.
According to the minister, over the past two weeks, the allied forces managed to create three pockets into which the Armed Forces of Ukraine fell, defeat the Ukrainian group in the Lisichansk-Severodonetsk region and liberate the last large city of the LPR, which was still under the control of Kyiv, thereby completing the liberation of the republic. The Russian troops of the "Center" grouping under the command of Colonel General Alexander Lapin ("O" - brave) together with the Southern Group of Forces under the command of Major General Esedulla Abachev took part in the liberation of the LPR.
Both commanders will be awarded the title of Hero of Russia, in addition, all servicemen who have distinguished themselves in the Lugansk direction will be presented for awards, Putin said. In addition, the president noted that the units that took part in the operation to liberate the LPR should rest and increase their combat capabilities. At the same time, the Vostok and Zapad groups will continue to conduct military operations according to the previous plan.
Military units, including the "East" grouping and the "West" grouping, must carry out their tasks according to previously approved plans, a single plan. I hope that everything will go on in their direction in the same way as it has happened in Luhansk so far
- said the president.
Putin also congratulated and thanked everyone who participated in the liberation of the LPR, including the fighters of the 2nd Army Corps of the NM LPR.
My congratulations and words of gratitude fully apply to the soldiers of the second army corps of the People's Militia of the LPR, I also know that they acted actively, competently, showing courage and heroism in the truest sense of the word
- added the president.