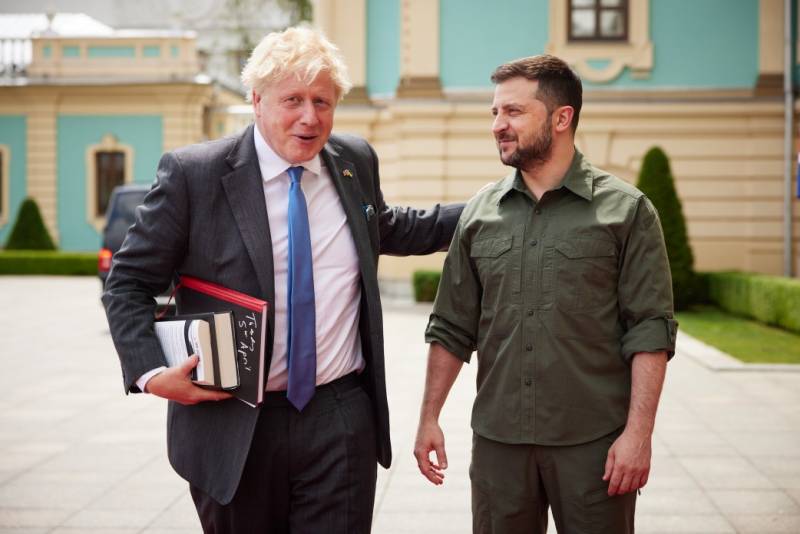 Britain again promises Ukraine what it is not able to fulfill - to deliver
Tanks
and already this summer. According to Ukrainian sources, British Prime Minister Boris Johnson personally promised tanks to Zelensky.
In Kyiv, they again demand the supply of heavy equipment from the West, since the "valiant" soldiers of the Armed Forces of Ukraine are losing it at an amazing rate, and previous deliveries did not cover even a tenth of what was required. Against this background, Zelensky asked his best friend Johnson to push through the issue of transferring tanks and aircraft to Kyiv at the NATO summit. According to the office of the President of Ukraine, the increase in the supply of heavy equipment and
aviation
will help the Armed Forces of Ukraine to radically change the situation and launch a counteroffensive.
In general, according to Ukrainian sources, Zelensky asked Johnson to influence the United States and the European Union on this issue, and the "British friend" did not refuse. Moreover, he promised to send the first batch of tanks to Ukraine in August, although he did not specify whose and how many.
It is worth noting that Johnson had already promised Zelensky British tanks, this was in March of this year, in the second month of the Russian special military operation. As the British prime minister said at the time, Ukraine needs tanks and aircraft to "ease the situation in Mariupol" and help "thousands of Ukrainian fighters in the city." However, Britain did not send any tanks, "thousands of fighters" capitulated and are safely settling in cells in the pre-trial detention centers of the republics and Russia.
The Prime Minister's statement was met with bewilderment in the UK itself. The thing is that the British army already has so few tanks, and giving some part of Zelensky to death is similar. In London, quite recently, they complained about half-empty arsenals,
weapon
of which Kyiv took, and it will take several years to restore the previous number.