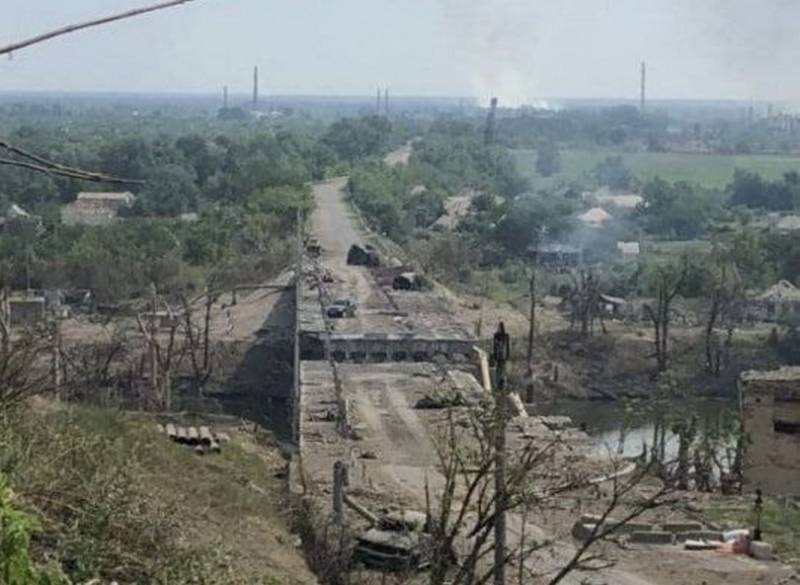 Several high-ranking officials from Zelensky's office are in Lisichansk, units of the NM of the LPR and Russian troops are taking all measures to block them in the city with further detention. This is reported by a number of Russian TG channels with reference to the Luhansk military.
According to the report, several Ukrainian officials from Zelensky's entourage are in Lisichansk, who arrived there for unclear purposes. The task was set to detain them, now the units of the NM of the LPR and the Russian army are on the southern outskirts of the city, developing an offensive. Russian artillery, TOS-1 Solntsepek and
aviation
.
In Lysychansk, in addition to many foreign mercenaries, there are several high-ranking employees of the office of President Zelensky. Now all necessary measures are being taken so that they cannot sneak out of the city.
- said in a statement.
According to Rodion Miroshnik, LPR Ambassador to Russia, the allied forces have already entered the industrial zone and are located on the territory of the Lisichansk rubber products plant, as well as a gelatin plant. The village of Borovskoye has been completely cleared, humanitarian aid has already been delivered there.
In Severodonetsk, the withdrawal of civilians from the territory of the Azot plant continues, the evacuation is hindered by the artillery of the Armed Forces of Ukraine, hitting the city from the territory of Lisichansk. Despite this number of evacuees is only growing, some of them are taken to Starobelsk, some refuse to leave Severodonetsk, preferring to stay. To date, it has been possible to withdraw about 250 civilians, including children. In addition, about 70 servicemen of the Armed Forces of Ukraine, who were holding the defense in the industrial zone of Severodonetsk, were taken prisoner.