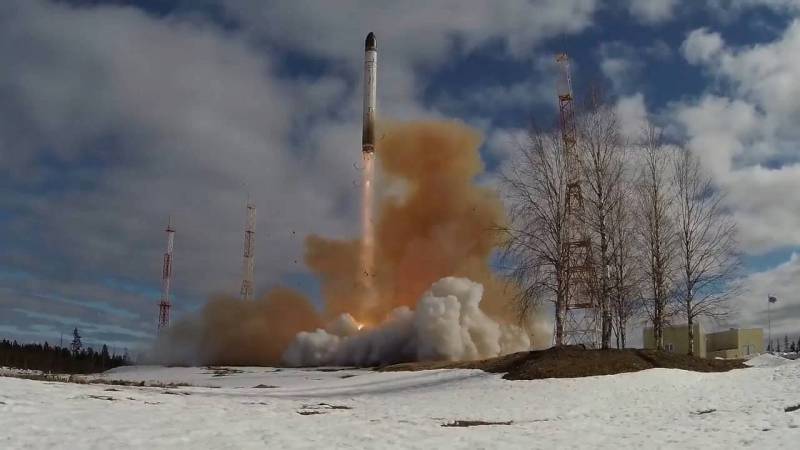 Russia continues to develop and supply new types of weapons that have no analogues in the world. As the President of the Russian Federation said at a meeting with graduates of higher military educational institutions, held today in the Kremlin, the first complex with Sarmat intercontinental missiles will be on combat duty by the end of 2022. At the same time, along with the latest ICBM "Sarmat" (strategic complex RS-28), the Russian army is already receiving the latest generation of air defense and missile defense systems, unique in their characteristics - S-500 installations with a target engagement range of up to 600 km.
The heavy intercontinental ballistic missile "Sarmat" was successfully tested. It is planned that at the end of the year the first such complex will be on combat duty.
- the Russian president told the future officers of the RF Armed Forces.
Earlier, the commander of the Strategic Missile Forces of Russia, Sergei Karakaev, compared the combat characteristics of the Voevoda ICBM, which are now in service with the Strategic Missile Forces, and the Sarmat missile tested at the Plesetsk cosmodrome the day before. According to Karakaev, the new heavy ICBM is 1,5 times more protected from the means of detecting and destroying enemy air defenses than the Voevoda. The Sarmat missile is capable of carrying several Avangard multiple warheads weighing up to 10 tons at once, and the range of ICBMs allows strikes at any point on the Earth.
The head of the state corporation Roscosmos, Dmitry Rogozin, said that a total of 46 such combat systems will be produced, which will replace the Voevoda ICBM.
The appearance of a new ballistic missile in the RF Armed Forces, which has no analogues in the world, greatly worried NATO leaders. Thus, the commander of the Northern Command of the Pentagon Glen David Vanherk said that the new types of weapons developed by Russia could pose a threat to the United States. Military experts even made calculations showing that the new ICBM, which is practically inaccessible to Western missile defense systems, is capable of destroying the British Isles with one blow.
Such a missile could take down half the coast of a continent we don't like.
- Earlier, the head of Roskosmos confirmed the fears of NATO generals.