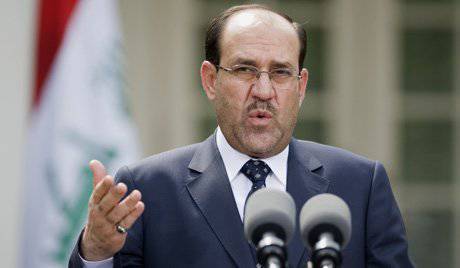 Iraqi Prime Minister Nuri Al-Maliki arrives in Moscow on a three-day visit at the personal invitation of Vladimir Putin. In an interview with the Voice of Russia, member of the Iraqi parliament Ibrahim Ar-Rikabi spoke about the goals of his trip.
"This is a truly important visit. It will concern not only bilateral relations, but also regional problems, primarily the Syrian crisis," Ibrahim Ar-Rikabi, an Iraqi parliament member, told the Voice of Russia in an interview.
"Iraq, like Russia, is in favor of a peaceful solution to the conflict in Syria, and here, I am sure we will find points of contact," he said. "In general, discussing bilateral relations with Russian partners and regional issues are always very interesting and effective. how Russia can look at the situation from the perspective of all its participants, and its own position is never one-sided. In addition, if we talk about the Middle East, the interests of Russia and the Arab countries, especially Iraq, often coincide. "
"In addition to the Syrian perspective, the theme of restoring Russian-Iraqi economic ties will be touched upon during the visit," continued Ibrahim Ar-Rikabi. - We will talk about the energy sector and military-technical cooperation. We have no doubt that the Russian military technologies and experience of the personnel of the Russian army will be able to strengthen our armed forces, bring them to a qualitatively new level, which is especially important today when there is restlessness in the region. We are particularly interested in various defense weapons. "
According to some reports, the amount of potential MTC contracts between Russia and Iraq could amount to 5 billions of dollars.
The Iraqi Prime Minister is accompanied during the visit by and. about. Minister of Defense Saadun ad-Dulemi, Minister of Finance Rafia Issavi, Minister of Oil Abdel Kerim Al-Aybi, Minister of Electric Power Industry Abdel Kerim Aftan and Minister of Industry Ahmed Dali Al-Karbuli The Iraqi delegation also included a number of senior government officials and members of the Iraqi parliament.
It is expected that on Wednesday, October 10, the Iraqi Prime Minister will be received by the President of the Russian Federation.