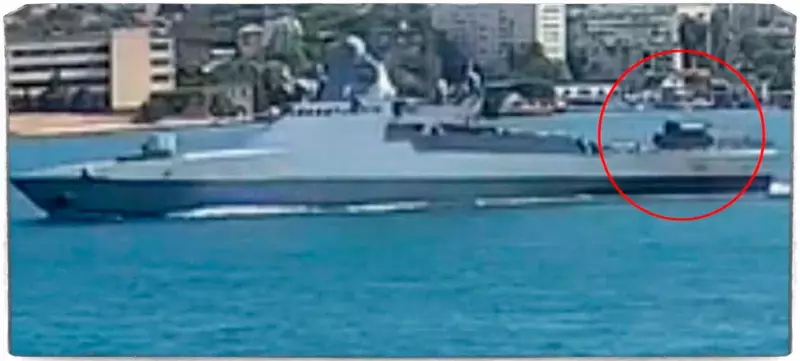 I saw on the Internet a photo of the patrol ship pr. 22160, which has something similar to the BM "Tor" installed on the stern. There are doubts that this is Photoshop, but I want to believe that the matter has nevertheless moved "from the dead center". The quality of the photo, unfortunately, is not very good.
Photographed with a smartphone. A search in Google and Yandex did not find this photo, so there are no 100% guarantees. Perhaps this is Sevastopol, but alas, firstly, the quality is not very good, and secondly, the author of the material, last time, God willing, that he was not the last, was in the City of Russian Glory in 2011, therefore he is not sure of his guesses. If one of the comrades finds this photo in better quality, with reference to time and place, I will be very grateful.
In the discussion, the participants claim that this is the BM "Tor". Quite recently, we discussed that it would be very logical to re-arm Project 22160 with the "Thor" in a stationary version, especially since such an option has already been worked out. Now the issue of strengthening the air defense of ships and vessels in the Black Sea is more than relevant. And four ships with such a highly effective air defense system are more than welcome.
Judging by the photo, the "Thor" is installed at the very stern cut, apparently as much as the distribution of loads on the hull allows, in order to avoid trim to the stern, or so that this trim is not very large and at the same time minimize the influence of the superstructure so that the "shadow" is minimum. It is known from open sources that the BM "Tor-M2KM" weighs 15 tons, i.e. for a ship with a total displacement of 1800 tons, not much at all.
One of the comrades expressed fears that the superstructure would create a "RL - shadow" for the SOC from forward heading angles, albeit not very large. To which I quite reasonably objected that if project 11356 goes head in a pair, then it will cover project 22160 from the forward heading angles. And I would like to dream a little. After all, you can put two BMs, since the dimensions of the aft deck allow. Separate them as much as possible in length and width in order to avoid the impact of an air wave, while starting from both modules. Then, the "combo", which has one "Shtil" and two "Torah" in its composition, will be able to repel a raid of any "density" that the Ukrainian Armed Forces can only provide. Or a couple of pr. 22160 can accompany small convoys to about. Serpentine. Two - three BDK or auxiliary vessels and a couple of "patrolmen" on the beams, which will save the resource of "admirals", which is by no means endless.