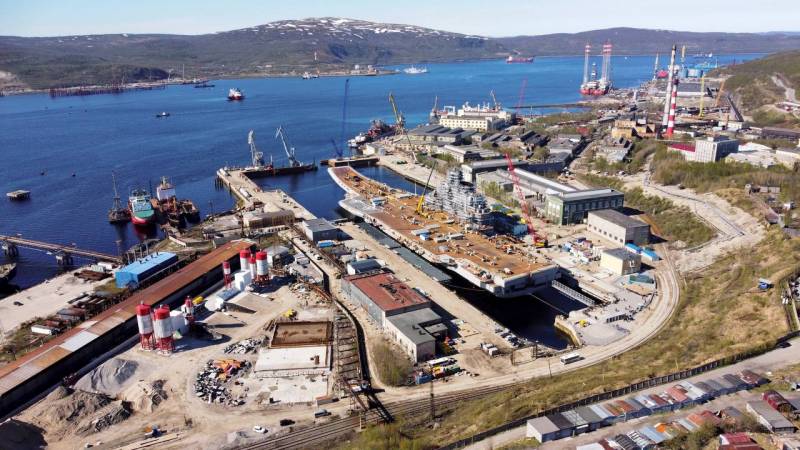 "Admiral Kuznetsov" in the dry dock of the 35th shipyard in Murmansk
Terms of transfer of the Russian heavy aircraft-carrying cruiser "Admiral Kuznetsov" to the combat strength
fleet
are moving again. According to a source in the military-industrial complex, in the course of the work carried out on the ship, previously undetected defects were revealed.
TAVKR "Admiral Kuznetsov", undergoing overhaul and modernization at the 35th shipyard in Murmansk, will return to combat strength no earlier than 2024. The previously named deadlines for the transfer of the ship to the customer in 2023 had to be shifted, since during the work on the cruiser many defects that were not previously discovered were revealed. Their correction led to a shift in terms to the right for several more months.
The transfer to the fleet of the cruiser "Admiral Kuznetsov" after modernization and all subsequent state tests will take place no earlier than in 2024
- leads
TASS
source words.
Note that the information is unofficial, no confirmation from USC has been received. The latest official data announced by the corporation indicate that the Admiral Kuznetsov will be handed over to the military in 2023.
Currently, the cruiser is in dry dock on the territory of the 35th Shipyard in Murmansk, where it was brought on May 20, 2022. As previously reported, work in the dock with the ship must be completed by September, and the cruiser itself must be taken out of the dock before freezing, otherwise the continuation of work will be postponed to 2023. At the same time, ship repairers say that all work on the cruiser is going according to plan.
Last year, the American magazine The National Interest called the Russian aircraft-carrying cruiser Admiral Kuznetsov the most "unlucky ship" in the Russian fleet.