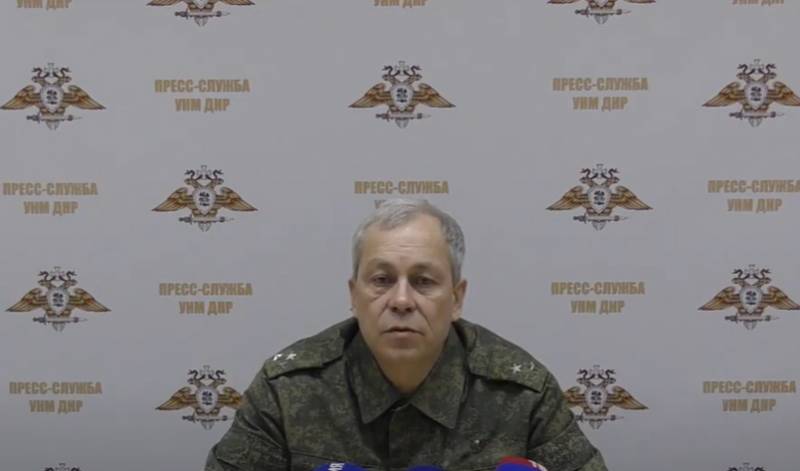 Colonel Eduard Basurin, deputy head of the People's Militia Department of the DPR, made a statement about the multiple increase in enemy activity in terms of shelling Donetsk. Recall that the capital of the Donetsk Republic has recently been shelled daily, and the shells are flying even in those areas that have not been shelled before. Literally every day, civilians die in Donetsk, many are wounded. The militants are shelling residential areas, schools, hospitals, social infrastructure points.
Eduard Basurin, whose statement was published on
TG channel
reporter Andrei Rudenko, notes that "it can lift the veil of secrecy" regarding the increased number of shelling of quarters of Donetsk by the enemy. According to Colonel Basurin, it was possible to identify the concentration of manpower and military equipment of Ukrainian troops on the outskirts of Donetsk. These forces were planning an operation against the capital of the DPR.
In order to disrupt the plans of the Ukrainian side to accumulate manpower equipment, strikes were carried out, as a result of which the enemy suffered more than significant losses - about 700 people and 100 pieces of equipment.
Basurin:
That is why the enemy has increased the shelling of Donetsk. Why? From impotence.
The Colonel of the NM of the DPR noted that Ukrainian troops are also using large-caliber artillery in residential areas, including Pion launchers of 203 mm caliber.
According to Eduard Basurin, the situation in the DPR due to the actions of the Ukrainian side is such that
weapons
Over the past 5 hours, 9 people's militia fighters were killed in the hands of the People's Militia, and XNUMX civilians in the rear.