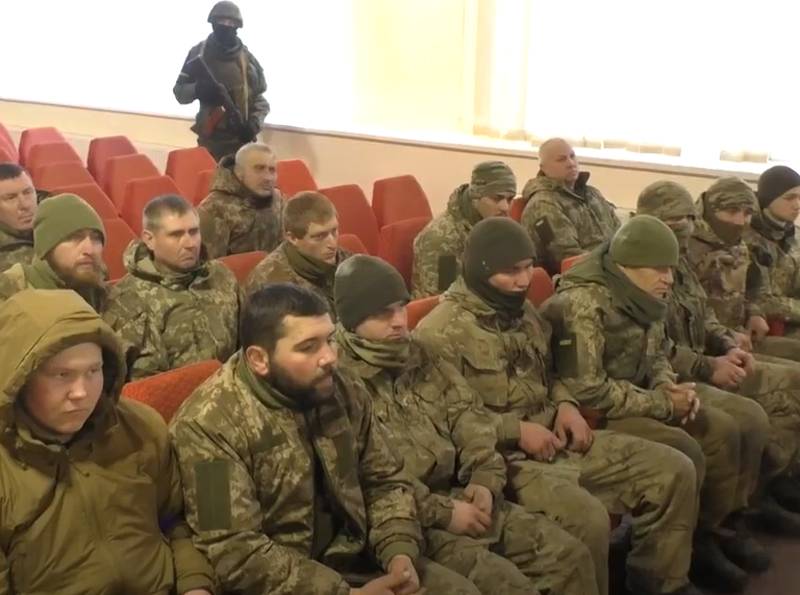 Ukrainian prisoners
Several Telegram channels published a video in which the captive nationalist spoke about foreign mercenaries in the ranks of the Ukrainian army. According to the militant of the national battalion, he personally attended one of the monthly leadership courses, which were conducted by Canadian instructors.
They [courses] were the study of international conventions, unit management and psychological courses - how to bring your fighter out of a stupor in battle. Mostly psychology: hit him with something, but first take it away
weapon
so that he doesn't overwhelm you
- the prisoner of war told about the "original" methods of Western instructors for managing soldiers in combat conditions.
Earlier, the Ministry of Defense of the Russian Federation reported that about 3,5 thousand foreign mercenaries are currently fighting on the side of Kyiv. Moreover, as stated in the Russian military department, the number of Western legionnaires has almost halved - many were destroyed in the Donbass, others, faced with the regular Russian army, simply fled home.
Some Western and Ukrainian media talk about the sad fate of two units consisting of foreign mercenaries - the Canadian-Ukrainian Brigade and the Normandy Brigade. Moreover, if the "Canadian-Ukrainian Brigade" is nevertheless integrated into the Armed Forces of Ukraine, then the mercenaries of the "Normandy Brigade" operate in Ukraine as a private army, which is not subordinate to the military leadership of the "Square".
On June 5, on the personal order of Zelensky, both units were sent to liberate Severodonetsk, when the city was already almost completely under the control of the RF Armed Forces and the NM of the LPR.
As a result of an attempted counterattack, the Armed Forces of Ukraine and the "wild geese" from the foreign legion suffered a crushing defeat. On the morning of June 6, the "Luhansk governor" Serhiy Gaidai reported on yet another "victory":
During the counteroffensive, half of the city was recaptured, but now the situation has worsened, we are holding positions in the industrial zone.
In fact, the National Battalions, Vushniks and even brave foreign mercenaries remained in that part of the city, from which they tried to develop a counteroffensive. At the same time, official Kyiv is silent about the losses among both Ukrainian regular troops and mercenaries. At the same time, information appeared in the Western press about the death of at least four "soldiers of fortune", among which there is a citizen of the Netherlands, as well as Germans, French and Australians.
Apparently, Canadian methods of warfare are good only in theory, but in a real battle, foreign mercenaries and Ukrainian nationalists do not always succeed in "getting out of the stupor".