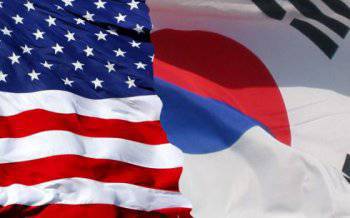 South Korean authorities have reached an agreement with the United States on new standards for the development of ballistic missiles in the country, according to which their range can be up to 800 kilometers, reports RIA
News
with reference to the South Korean media.
An agreement limiting South Korea's right to create ballistic missiles with a range of over 180 kilometers and a warhead weight over 500 kilograms was signed between Seoul and the United States in 1979. Since then, South Korea has consistently asked the United States to lift restrictions on the range of its ballistic missiles in order to be able to effectively counter the threat from North Korea. The first agreement to partially lift the limit was reached in 2001 and provided for a range limit of 300 kilometers.
As reported by Yonhap agency with reference to the text of the statement of the Blue House - the official presidential residence "Cheonwade", the agreement reached allows South Korea to develop long-range missiles up to 800 kilometers.
In addition, by agreement, new missiles may carry warheads heavier than has been allowed up to the present, but in this case the range of the missiles must be reduced in proportion to the increase in weight of the warhead. As the Assistant Chief Secretary of the Presidential Administration Chun Yun Wu stressed at the press conference, with a missile range of 800 kilometers, the weight of the warhead should not exceed 500 kilograms, however, if the range is saved in 300 kilometers, the charge weight can be increased to 1,5 tons.
The agency emphasizes that the long-range missiles permitted to be developed in accordance with the new standards will be able to hit targets even at the extreme northern point of the DPRK.
At the same time, the agreement reached also gives South Korea the right to produce heavier UAVs. So their weight can now be increased to 2,5 tons from the existing 500 kilogram rate. "We will provide effective and various measures to disable North Korea's nuclear and missile capacities and protect the lives and safety of our people if North Korea makes armed attacks," said Chun Yoon Wu.
The 1950-1953 Korean War ended with the signing of an armistice agreement and has not been formally completed yet. The United States, whose troops fought in Korea as part of a UN force, refuses to sign a peace agreement with North Korea, retaining about 28 thousand troops in the south of the Korean Peninsula.