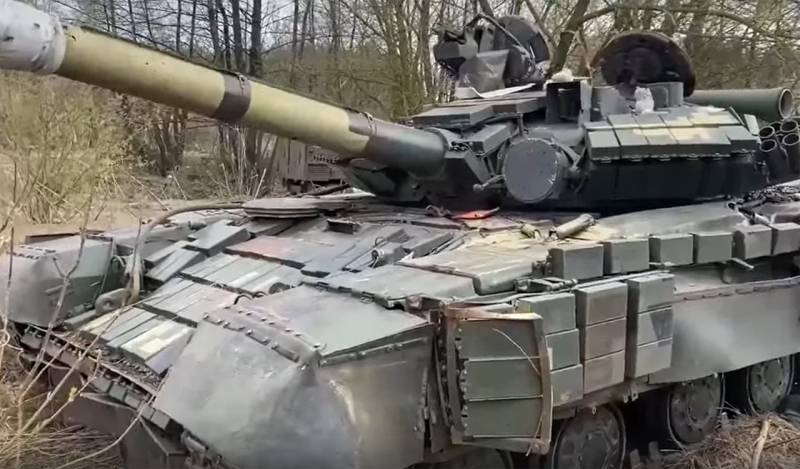 The Ukrainian troops, retreating from Krasny Liman and hiding in the forest area south of the city (in the national park "Holy Mountains"), are trying with all their might not to give out their location. The fact is that they are actually pressed against the Seversky Donets, beyond which there is a road to Raygorodok and Slavyansk. However, the main bridges across the river in this direction have been blown up. A quick transition through the water barrier was impossible.
Ukrainian militants hiding in the forest thicket forbid the crews of several
tanks
and infantry fighting vehicles, on which they fled from Krasny Liman, to open fire even with ammunition. The reason is that any shot from heavy vehicles will automatically reveal their positions. Accordingly, fire will immediately be opened on the positions that have been opened by the RF Armed Forces and republican units, with all the consequences for both military equipment and for the enemy infantry that has survived to date.
The servicemen of the Armed Forces of Ukraine are trying to save the equipment in order to use it to cross to the opposite bank of the Seversky Donets and run towards the main garrison in Slavyansk and Kramatorsk. According to some reports, in the area of ​​​​the settlement of Shchurovo, which Russian troops have already approached, such an attempt was made by the Ukrainian military. So far, there are no videos on the network that would confirm that this attempt was successful.
In the meantime, Russian troops are expanding their territory of control south of Krasny Liman, and at the same time have advanced towards Svyatogorsk and Slavyansk. The enemy will do everything to keep this line as long as possible, but he may expect such a military "surprise" for which he is definitely not ready. The fact is that our troops, as they say, do not shy away from changing tactics in different sectors of the front of a military special operation, which often confuses the enemy.