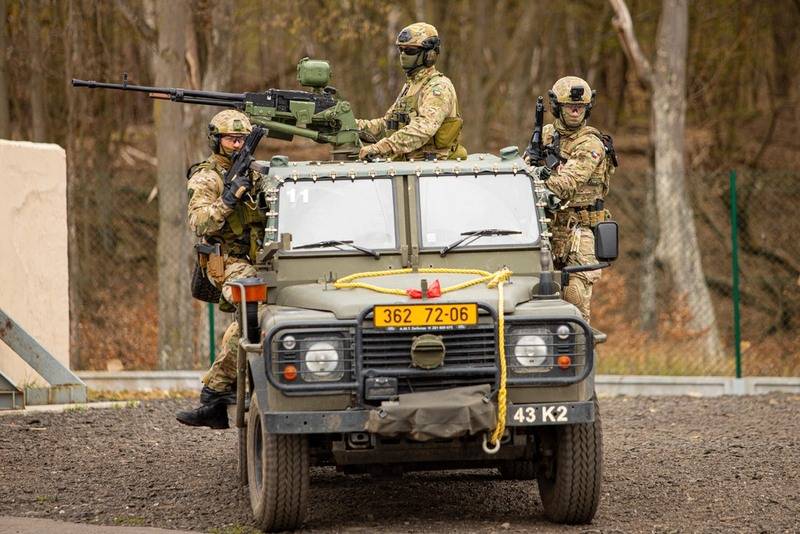 LR Defender Cayman of the 43rd Regiment
The Czech command decided to create full-fledged airborne forces as a "third maneuverable force" and for several months now has been building the 43rd regiment on the basis of the former airborne battalion "Chrudim". Prior to this reorganization, this unit was equipped with light assault vehicles (LUV category) LR Defender Cayman (Special Forces drives LR Defender Cowboy).
These are old cars that have already served their time. Especially now we need more technology. In this regard, the need for new LUVs is undeniable.
- noted in the publication CZDefence, referring to the words of Colonel Robert Dziak, who led the new unit.
Considering that "there are not enough heavy helicopters and large transport aircraft in Europe," the Ministry of Defense decided to limit the mass of new equipment for the airborne regiment to 9,5 tons. For example, the Cayman available in the Czech army weighs about 4 tons, and the Iveco LMV armored vehicles (local designation - LOV 50) - up to 7-8 tons.
Czech partners in NATO offer to replace the Caymans with the purchase of Supacat Jackal, Zetor Gerlach, Oshkosh JLTV armored vehicles, but the country's military transport
aviation
unable to transport them, since only the military-technical cooperation CASA C-295M / MW is in service in this niche. In the near future, the army will receive Bell UH-1Y and AH-1Z helicopters, which are purchased primarily for air support of the Airborne Forces.
But they cannot be used to transport combat vehicles of the airborne regiment. The AH-1Z has no such possibility at all, the UH-1Y has insufficient carrying capacity for this, which is only 3 tons on an external sling
- indicated in the publication.
As the author explains, the Mi-17 is the most efficient helicopter in this niche:
The Air Force also has a modernized Mi-171SM. These are reliable and powerful helicopters that will form the backbone of the air transport regiment of the Airborne Forces. However, their carrying capacity on the suspension is 4 tons and they cannot lift promising machines weighing 9,5 tons.
Heavy transport helicopters (CH-47 or CH-53), medium and large military-technical cooperation are available only to a few NATO countries, and then in small numbers. Therefore, "the Czech army will have to rely only on itself when transporting the airborne regiment." But for this it is necessary to solve the problem with the overweight of the vehicle intended for the paratroopers, otherwise they simply will not be transported on anything.