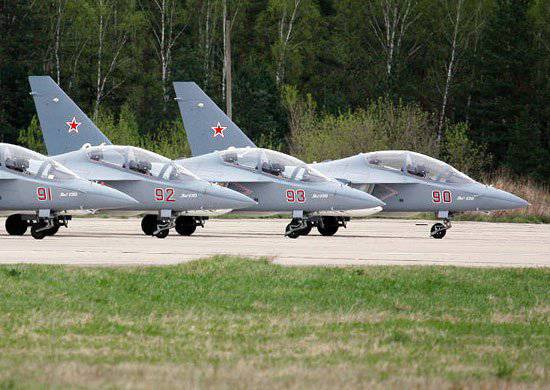 October 5 The pilots of the Borisoglebsky Training Aviation Center of the Russian Air Force carried out the first batch of Yak-2012 combat-training aircraft transferred from the factory aerodrome of Irkut Corporation to its permanent base in Borisoglebsk.
The 3 of the Yak-130 aircraft proceeded along the route Irkutsk-Borisoglebsk, making two intermediate landings at the airfields of Novosibirsk and Chelyabinsk for refueling and crew rest.
Until the end of this year in the academic
aviation
the center of the Air Force Research Center "VVA", located in the city of Borisoglebsk, Voronezh region, will be delivered 12 more such machines. In total, according to the contracts, the Russian Air Force will receive 55 new training aircraft.
The Yak-130 belongs to a new generation of training aircraft. For the first time in Russia, the Yak-130 sold fully digital avionics on electronic equipment. It is equipped with an integrated digital electrical remote control system, which allows for educational purposes to change the characteristics of stability and controllability depending on the type of aircraft being simulated. The reprogramming system allows you to bring the dynamic characteristics of the Yak-130 to the simulated aircraft that are in service with the Russian Air Force.