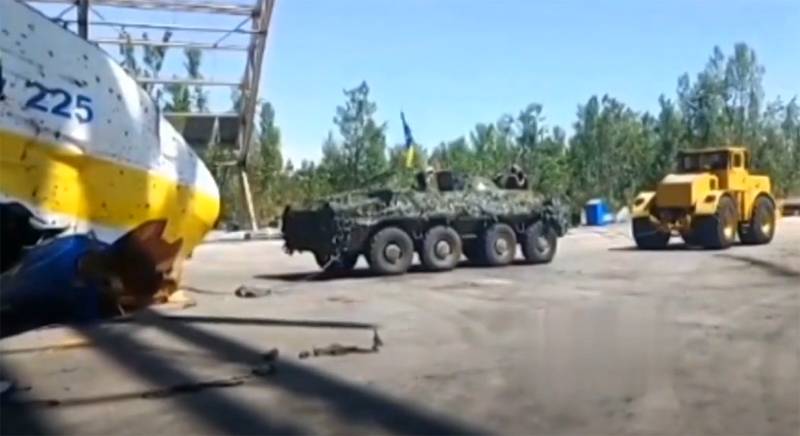 Published footage showing the removal from the hangar of fragments of the world's largest transport aircraft "Mriya" from Gostomel airport near Kyiv. Recall that in February there were heavy battles at the airport. During a quick operation, Russian paratroopers took possession of the facility, after which Ukrainian troops began shelling the airport territory with various types of weapons, including mortars and artillery. This led to the destruction of the An-225, which was in a single copy.
After the Russian troops left the city of Gostomel, and subsequently left other territories of the Kyiv region after the negotiations between the Russian and Ukrainian delegations in Istanbul. Then official Moscow called the withdrawal of troops a gesture of goodwill. The Kyiv regime did not appreciate the good will.
The footage shows how a "road train" in the form of a multi-ton tractor and an armored personnel carrier (on armored vehicles "certainly" the Ukrainian flag) is pulled out with the help of cables what is left of the Soviet-designed aircraft, which Ukraine inherited from the USSR. Ukraine, like many others, was unable to properly dispose of this Soviet legacy.
An-225 "Mriya" made its first flight in 1988. Its development and construction were connected with the proposed further operation in the form of a carrier for the Buran spacecraft. The aircraft was created with the broad cooperation of a number of enterprises of a huge country: from Kyiv to Voronezh, Ulyanovsk and Tashkent.
According to some reports, this huge aircraft made its last flight in the summer of 2021 - at an air parade in honor of the 30th anniversary of Ukraine's independence.
After removal, the fragments of the aircraft will be cut and sent for scrap: