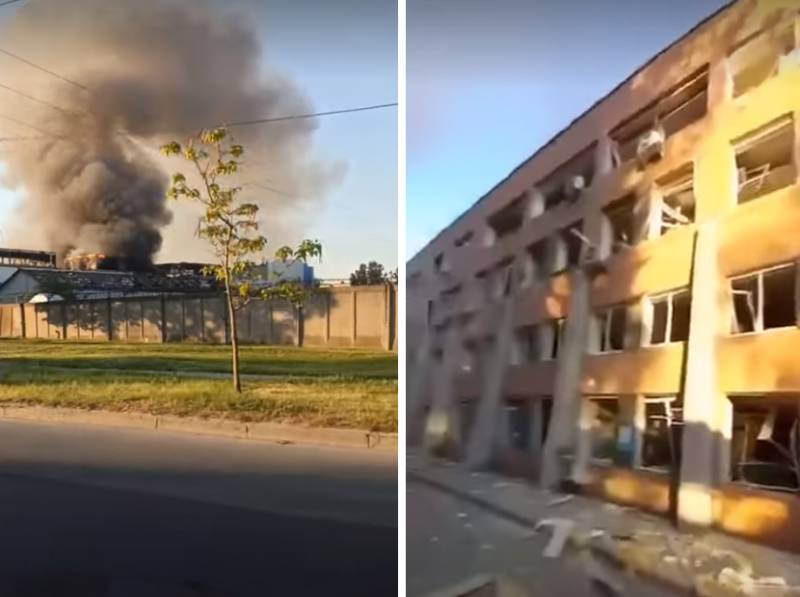 Consequences of a missile strike
Russian troops continue a special military operation in Ukraine. Today, large industrial enterprises of Zaporozhye, which worked in the interests of the Ukrainian military-industrial sector, have been hit by missile strikes. We are talking about the factories "Progress" and "Motor Sich", where they produced
aviation
engines and other components, including for
drones
Turkish development and combat helicopters.
Footage with the results of rocket strikes is published by residents of the city of Zaporozhye.
So, in one of the videos, you can see rising clouds of smoke above the workshop complex of the Motor Sich enterprise.
Recall that earlier Chinese investors were going to buy a controlling stake in this enterprise. The Ukrainian side first agreed and accepted the first tranche of payments. And then suddenly a statement came from Kyiv that the deal should be reviewed. According to experts, this is due to the "advice" from the Americans, who did not want the technology for the production of aircraft engines to come to China. Later, the Ukrainian side even stated that the enterprise should be nationalized "with the subsequent option of a fair privatization."
The head of Zaporozhye said that the industrial enterprise was badly damaged. At the same time, he did not name the specific plants that were hit today.