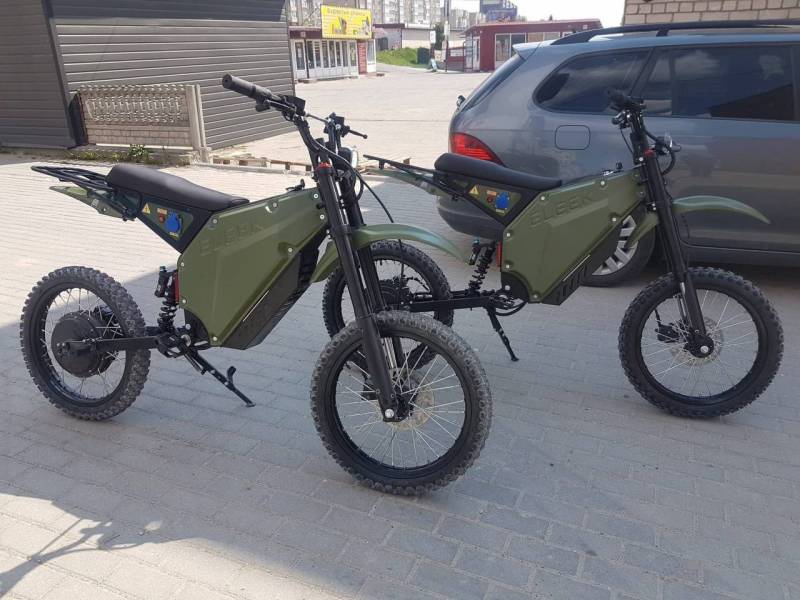 Recently it became known that unusual vehicles began to arrive in separate units of the Ukrainian army. Instead of cars or armored cars, they are encouraged to use electric bicycles. It is argued that such a technique has a number of important advantages and is of great interest to the army. However, not all such promises are realistic, and the new transport may not live up to expectations.
On two wheels
The first reports of the arrival of electric bicycles in the Ukrainian armed formations were received on May 10-12. Light transport appeared in special forces and some mercenary formations. Together with
the news
photographs of equipment and its owners were published on this topic, as well as videos of trips on it, and far from the front line.
According to available information, the army received two types of bicycles made by Ukrainian companies Eleek and Delfast. This technique is expensive, but it is transferred to the army for free. Production and supplies are said to be paid for by collecting donations.
The number of bikes transferred remains unknown. The rather high cost and the chosen method of financing can seriously limit the pace of assembly and supply. In this case, we are already talking about two types of equipment, and several products of the same model can already be present in one frame. In addition, the collection of donations and deliveries do not stop.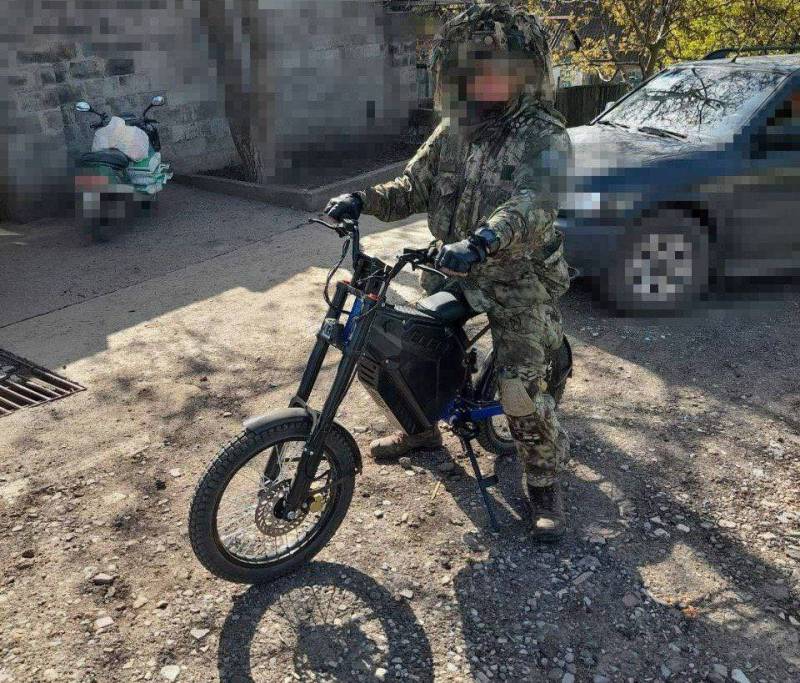 Ukrainian fighter riding a bicycle "Atom"
Some Ukrainian sources claim that the electric bikes were developed taking into account the requirements and wishes of the army. However, in the delivered products, serial models that have been present on the civilian market for a long time are easily recognized. Apparently, adaptation to army operation was limited only to painting some parts in a protective color.
The resulting bikes are used primarily in the original role of light single-seat rapid transit. In addition, with the help of a standard frame trunk, some cargo is transported on them. So, photos with bicycles were published, on which transport containers of NLAW grenade launchers and other similar items are fixed.
weapons
.
It is curious that so far photos and videos with electric bicycles are filmed only in the rear. There is no reliable information about the appearance of such equipment in the combat zone. There is also no information about its use in certain operations. It should be noted that bicycles have not yet become trophies of the Russian or Republican troops. However, this can be considered a matter of time.
Technical features
At the moment, it is known about the supply of electric bicycles of two types. These are Eleek Atom and Delfast Top 3.0 products. Bicycles of these models are as similar as possible to each other in appearance and in their design. Both samples use the same technical solutions and similar components and assemblies, although with different characteristics. Key elements of bicycles are of foreign origin, and Ukrainian enterprises are engaged only in assembly.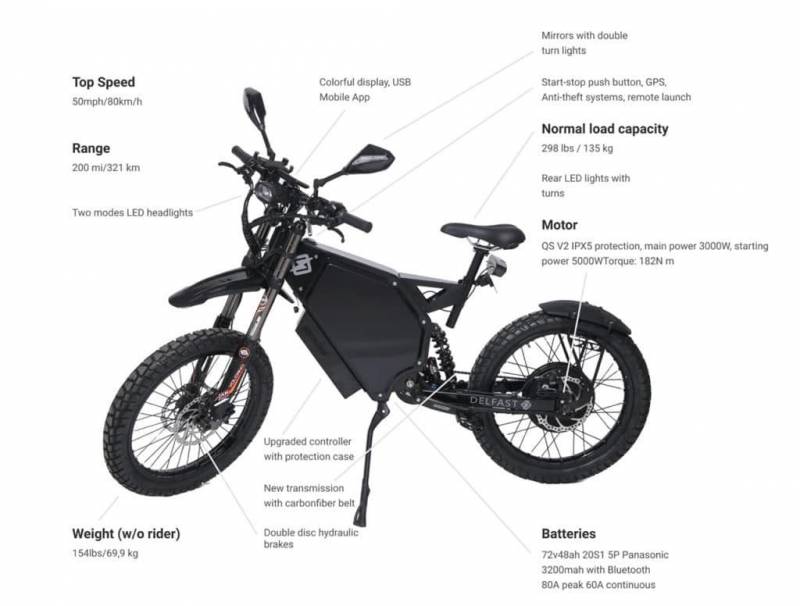 The architecture and design of the Atom and Top 3.0 are similar to motocross or enduro bikes. In both cases, a compact frame is used, on which the battery and controller are fixed under a common casing. The bikes are equipped with a front fork with shock absorption and a rear swing-arm suspension based on a spring.
On both e-bikes, the front wheel is equipped with a disc brake. At the back, a ready-made imported motor-wheel is used. The Atom product is equipped with a 3 kW motor, the Top 3.0 uses a more powerful 5 kW motor. In both cases, a recovery mode is provided. The motor-wheel is complemented by traditional chain-driven bicycle pedals.
Both products are equipped with the necessary control systems. They monitor the condition of the battery and motor, are responsible for charging and using electricity. An interesting feature is the presence of USB connectors for charging / using subscriber devices. The bike kit includes a charger for using a 220 V household network.
Despite the similarities, the two bikes can be distinguished by the design of the saddles. So, a motorcycle-type saddle is also attached to the Atom frame, behind which there is a short trunk frame. "Top 3.0" received a traditional bicycle saddle with height adjustment. A larger trunk can be installed on its rack.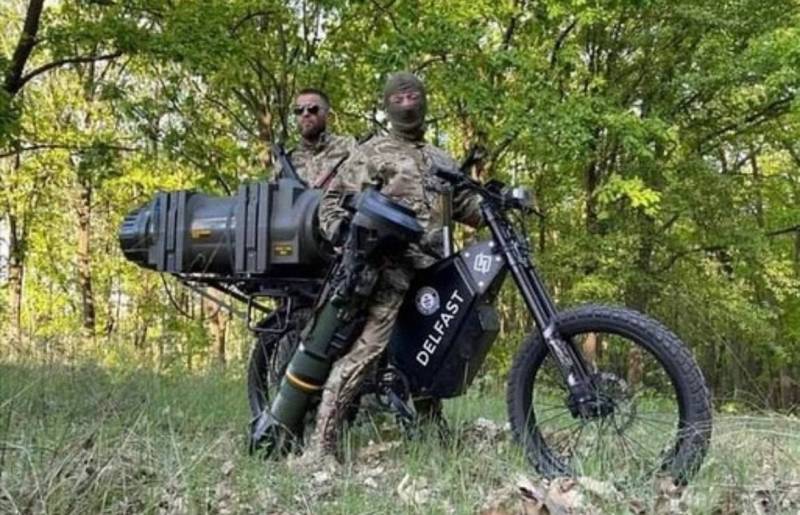 "Delfast" with rider and cargo
Bicycles have a mass of about 70 kg and can carry one person, as well as some cargo. Declared the possibility of driving on asphalt or dirt roads. On a good track Top 3.0 speeds up to 40-45 km / h and has a cruising range of 320 km. Atom accelerates to 90 km / h, but the battery charge is only enough for 100-150 km.
Benefits and problems
Reports of e-bike shipments point to a number of benefits of the technique. It is alleged that it is distinguished by high running characteristics and carrying capacity sufficient for operation in the army and solving combat or auxiliary tasks. It is also noted that electric transport is almost silent and, unlike a conventional motorcycle, does not unmask itself in the infrared spectrum. In addition, new bicycles do not need scarce gasoline.
It is assumed that electric bicycles can be used by reconnaissance and sabotage groups, crews of anti-tank systems or MANPADS, etc. In fact, we are talking about any fighters or units that need light, fast and maneuverable vehicles to move along a given route or to quickly change positions.
However, all such estimates appear to be overly optimistic. The fact is that electric bicycles as a class have a number of characteristic shortcomings, and their use in the military sphere is associated with additional difficulties and limitations. As a result, civilian commercial vehicles will not be able to cope with all military tasks, showing acceptable reliability and survivability.
First of all, the survivability and reliability of the design raises questions. It is unlikely that "Atom" and "Top-3.0" are able to move for a long time over rough terrain without damage to the structure and negative consequences for the cyclist and / or cargo. High loads occur in these modes, and the equipment is hardly designed for them. In addition, when transporting an NLAW grenade launcher or a heavier product, the load on the bike is further increased with understandable results.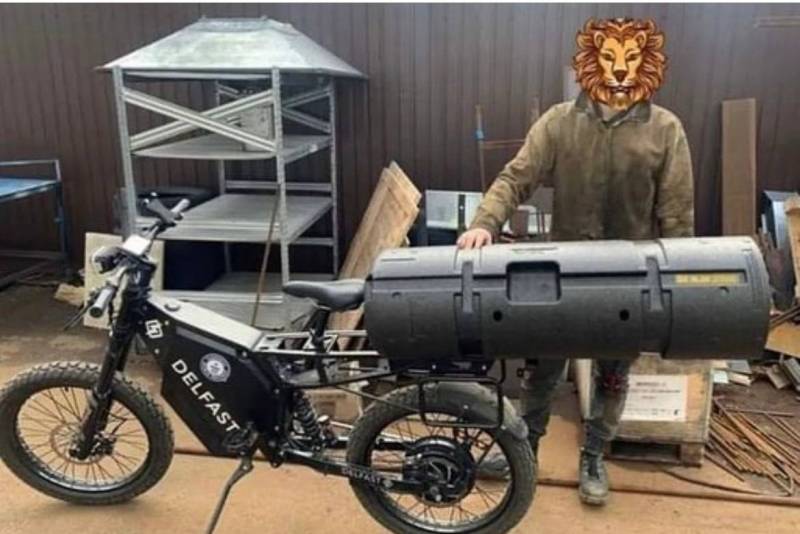 Military operation loads not only the frame and chassis, but also the electrical components of the bicycle. At the same time, driving characteristics should fall - speed and power reserve on one charge. Long-term negative effects on the battery and motor wheel are also possible.
The operation of an electric bicycle in frontal conditions is associated with a number of additional restrictions and problems. So, not always and not everywhere it is possible to charge the battery, even from a household network. Repair in the field is possible only by replacing entire units, which requires an established system for supplying spare parts.
In general, e-bikes have extremely limited prospects in the context of military operation. They can show acceptable performance only on good roads, without significant load and other significant restrictions. At the same time, in all roles and areas, they will lose in all respects to traditional technology with internal combustion engines. Full competition with conventional motorcycles is simply impossible.
Useless novelty
Thus, a curious and characteristic situation is developing around electric bicycles for Ukrainian armed formations. Commercial firms "bought" their own products with donations and handed them over to the army. At the same time, they earned and built their products. The fundraiser is ongoing and apparently new deliveries and new profits are expected soon.
As a result of these processes, army units received at least not the most useful equipment. They try to use it and adapt it to current needs and tasks, but one cannot count on much success. Obtaining all the desired results is hindered by objective technical limitations of both specific samples and the entire class as a whole. However, the main goal of this "assistance program" could be the earnings of producers - in which case it is successful and copes with the task.