American experts today are actively working on the project of the unmanned shuttle X-37B. It is reported that at the moment the shuttle is preparing for the third mission (OTV-3). This mission will be carried out in October. I would like to consider the mission in detail, but, for obvious reasons, the work is carried out in the strictest secrecy, reports Cnews.ru.
It is planned to launch the shuttle X-37B on board the Atlas-5 launch vehicle. Start should happen from the spaceport in Florida. While the exact launch date is not disclosed, because, as reported by the American side, there may be changes related to weather conditions and the results of the preparation of the start.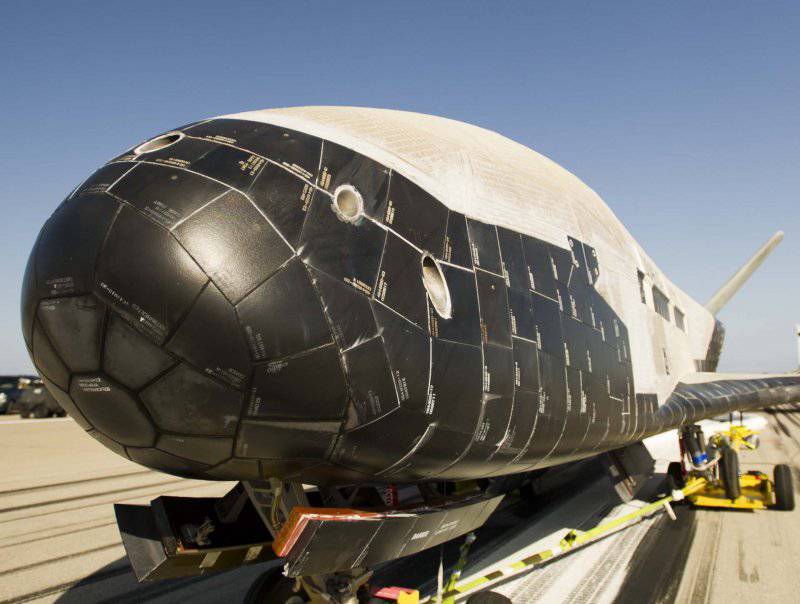 There is no information about how long the launch of the shuttle X-37B will have.
Today there are versions that the mission may well not be near-earth. This version is pushed by the results of experiments, during which a record of the duration of the mission was recorded. The record was 469 days. This value is quite acceptable in order to use the shuttle when studying other celestial bodies of the solar system.
It is known that the American-made space object of the Mars Science Laboratory, which managed to lower the Curiosity unit to Mars, flew to the Red Planet 255 day. It turns out that the supply of "strength" of the new shuttle is almost 2 times higher.
It is not entirely clear whether the X-37B shuttle will be able to beat the world record of orbital stay or not, but one thing is clear that we can expect a lot of holes in space research.
Experts say that Americans may well use their new spacecraft to destroy orbital satellites and also bombings from orbit. In addition, the special trajectory of the shuttle makes it extremely difficult to observe the object.
It is reported that X-37B has a 10-meter length, weight in 5000 kg with a wingspan of 5 m. As a means of lifting it can take on board about 0,9 tons of cargo. And this is enough to accommodate the thermo-nuclear warhead W88.