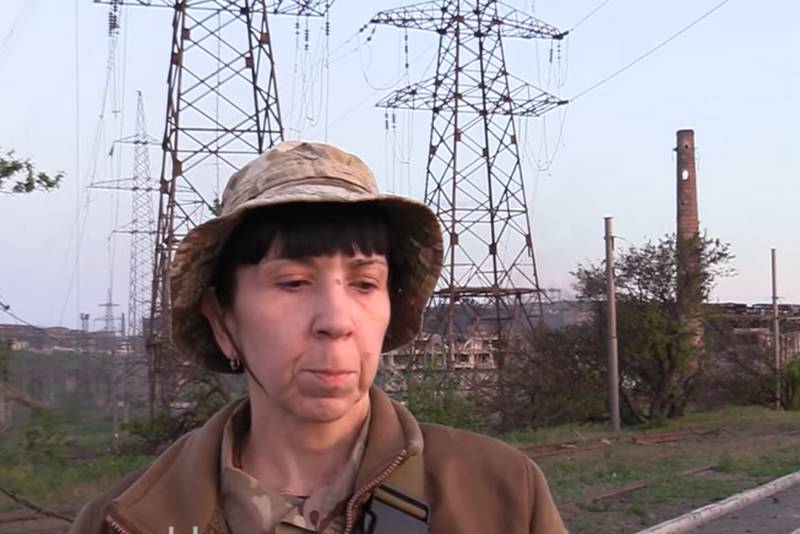 Footage continues to appear with military personnel of the Armed Forces of Ukraine and militants capitulating at the Azovstal plant in Mariupol. From the territory of the plant for the surrender of prisoners, including women. Representatives of the Ministry of Internal Affairs of the DPR publish preliminary conversations with those who surrender. The statements of those are already traditional: "I don't know anything", "followed the order", "against the war", "did not shoot".
Among those who came out today is a girl who generally stated that she was a "civilian", moreover, from Shakhtyorsk:
I didn't have time to evacuate.
Another woman who came out gave her details: Chernobay Olesya Vasilievna, senior sergeant, head of a mechanical repair shop, repairman, Azov regiment (*an extremist formation banned in the Russian Federation). By the way, one of the few surrendering prisoners who admitted their involvement in Azov.
Notable dialogue:
And what did you fix?
In fact, nothing. There was a position. There were no other workers in this workshop, except for me. I took care of the itinerary.
The Azov serviceman herself* is from Kremenchug, Poltava region.
It turned out that her husband also served in Azov*.
Continuation of the dialogue:
How did it happen that you and your husband ended up in Azov *.
Well, after all, the family should be together.
Do you have anything to say to the residents of the DNR?
No.
And the people of Ukraine?
I love my parents, children. I love life.
But, despite the fact that this woman had nothing to say to the inhabitants of the DPR, the head of the repair shop of the Nazi armed formation had to go to Yelenovka (DPR), where, probably, the opportunity to tell about herself and her affairs in Azov * and love for life in all details will certainly be presented. After all, the residents of the DPR, who died at the hands of Azov *, certainly loved life no less than Olesya Vasilievna Chernobay.