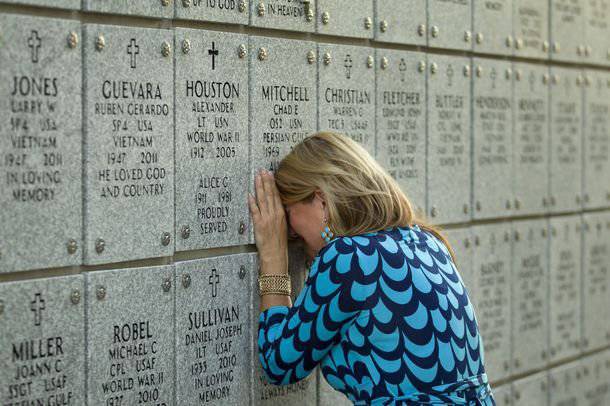 In the photo - Kimberly Mitchell. She cries at the grave of her husband, Chad Mitchell. Chad was born in 1969, went to war in Iraq, survived, but in 2010 he died from a drug overdose and found eternal rest in the Houston national cemetery.
Chad is one of hundreds of Texan soldiers who died not in the war zone but found their deaths at home. The results of the semi-annual study
Statesman.com
It is said that war veterans die in America from suicide, car accidents and overdoses, which in many cases can also be considered unproved acts of suicide. These people survived on the battlefields of Iraq and Afghanistan, write American journalists, but did not survive the return home.
The "Statesman" study paints a dark and tragic picture of the fate of those Texan soldiers who fought in Iraq and Afghanistan, who died after being discharged from military service. A large number and a significant proportion of former soldiers who died from drug overdose, prescribed by a doctor, or from toxic combinations of narcotic drugs, suggests that the federal authorities of the country are either unable to adequately monitor the situation or are in no hurry to respond.
The study carefully analyzed the causes of death for 266 Texas veterans involved in the "Enduring Freedom" and "Iraqi Freedom" operations. The sources were autopsy reports, toxicology reports, inquiry reports, reports from the accident site and documents from the Department of Veterans Affairs. Obituaries were also studied, and relatives were interviewed. This is how the "Statesman" pulled into the light what was hiding in the shadows until now.
It was found that:
- More than one in three veterans died from a drug overdose, a lethal combination of different drugs, or outright suicide. Their average age at death was 28 years;
- Almost every fifth veteran died in a car accident.
For those veterans who were registered with the primary diagnosis of post-traumatic stress, the indicators are much more alarming: 80% died from an overdose, suicide or in a car accident (in the latter case, one person). And only two of 46 diagnosed with post-traumatic stress disorder died from the disease.
It turns out that many veterans in Texas have committed suicide by taking prescription drugs containing hard drugs. Often they were taken along with strong painkillers. Former military men are considered to be a particularly vulnerable group of people who are inclined to take such drugs.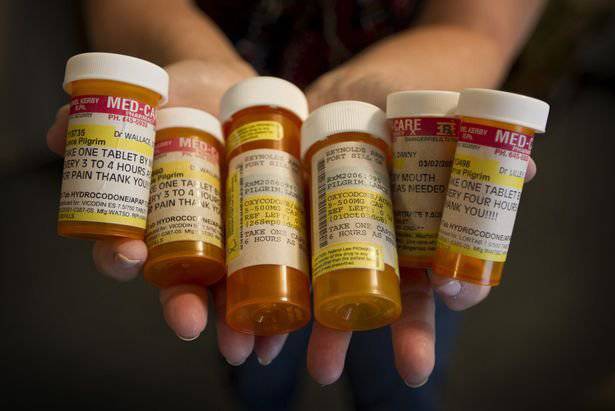 The investigation "Statesman" is a tragic mosaic made up of pain, despair and hopelessness.
40-year-old
Chad mitchell
, participant in seven overseas operations, settled in Austin after resigning from the Navy
fleet
. He died in September 2010. About half a dozen prescription drugs were found in his body, including sedative drugs and powerful painkillers oxycodone and methadone (all this was prescribed to him in a private clinic). Mitchell suffered from post-traumatic stress disorder, chest pain from surgery and nerve pain in his shoulder after a wound received in Iraq.
Justin langvis
, veteran of the war in Iraq, 31 year. He shot himself in January 2011 at Fort Hood. This man was a military doctor during the fighting in Fallujah and Najaf and survived the explosion of an improvised explosive device (he was wounded). The study also notes that several soldiers from his unit died during the deployment, and their names are also engraved on the memorial wall, where the name of Langvis, who committed suicide, stands.
24-year-old
Paul Norris
killed, lost control of the Honda Civic: crashed into a stone wall along the street in El Paso. According to the police report, Norris exceeded the speed. And his father said that his son, as a rule, drove the car carefully, but, probably, behind the wheel of him, memories of Iraq again overcame ...
Statistics on American veterans is incomplete. The fact is that not all veterans are registered. In the course of the study, for example, an 44-year-old veteran was identified who retired from the Navy in 2007 and was buried in the cemetery for the poor of Travis County. He shot himself. In his apartment, the police found an almost empty bottle of rum and a thirty-eight caliber pistol dropped from his hand.
As a result, eleven years after the troops entered Afghanistan and two years after the end of hostilities in Iraq, the American people still do not know how their former soldiers who have returned home die. There is no government agency in America that would deal with the fate of hundreds of thousands of veterans who are not registered with the Department of Veterans Affairs (VA) - which is almost half of all former military personnel who returned from recent wars. As for death certificates, they can also underestimate the number of suicides, including from drug overdoses. So say the experts.
Critics are skeptical that the VA will (and will) do a large-scale analysis and give the public a complete picture of the causes of death of American veterans.
But a few years ago, the Bay Citizen organization in San Francisco told the press that, according to 2007, more soldiers who returned were killed at home than in battles.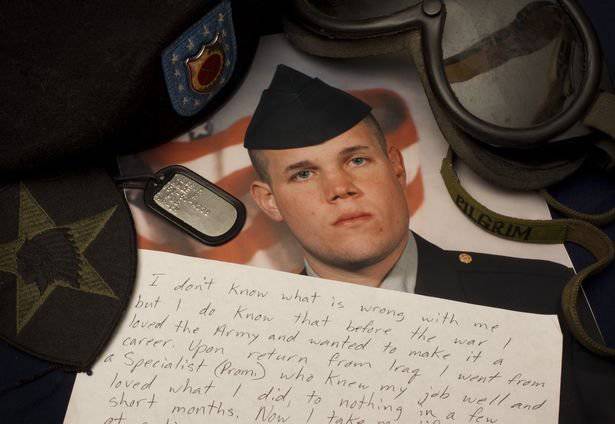 Lance Pilgrim, an army veteran, was one of the first soldiers to participate in the Iraqi operation in 2003. He died from an 18 August overdose on 2007, just six days before his 27 anniversary. He wrote this letter a couple of years ago, telling it in detail how he left his favorite service and for several months felt like an "empty place"
The Statesman study also showed that among the Texas veterans who have not been in Iraq or Afghanistan for a long time, there are a small number of those who in VA are still mistakenly considered parties to conflicts.
Here are some data from a Texan study.
47 veterans
of 266 died from an overdose of drugs or toxic drug combinations; 40 of them - after taking the medicine prescribed by the doctor. Five overdoses of heroin or cocaine have been reported. One died of aerosol, another one of Ecstasy. In addition to seven, all those who died of drugs were younger than 35 years. The first of these died 23-year-old army veteran from the Houston area. Cause of death: overdose of cocaine, hydrocodone and alprazolam (better known as "Xanax"). He died two years later after taking part in one of the first Iraqi operations.
45 veterans
from 266 committed suicide; 32 of them are younger than 35 years. The veteran who participated in 2003 in the Iraqi operation, the 26-year-old native of North Texas, died first. He committed suicide in 2005. (Researchers claim that the current number of suicides may be higher, because medical examiners and justices of the peace often do not want to declare an overdose as a method of suicide: this has not been fully proven).
More
50 veterans
, or 18% of their total number, died in car accidents, and 35 of them were accidents with one vehicle. About half of the veterans exceeded the speed when drunk.
Researchers believe that their analysis provides an unprecedented picture of death, which mows veterans who have returned home. As for the department, the VA really does not represent how bad everything is.
And those who work closely with veterans say that the Statesman figures look familiar to them.
However, VA implements some programs. Now it is planned to introduce new treatment programs, correct protocols for prescription drugs and conduct relevant research on pain and post-traumatic stress disorders, as well as on other problems of veterans of recent conflicts. The department spends about $ 70 million per year on suicide prevention and plans to increase funding annually (up to 2014 per year). VA's total mental health budget has grown from 2009, by 39%, to about 6 billions of dollars.
However, it is believed that all this is not enough. After all, a complete assessment of the mental health of veterans (more than in 9 from 10 cases) is carried out only once - during the first 14 days after the soldier returns home, as required by the Department's policy.
In 2010, 22-year-old Clint Dickey drove from Wako College Station to a meeting with a VA representative. An indifferent doctor prescribed him for back pain caused by trauma in Afghanistan, the pills that should have been taken 4-6 weeks. The veteran died from an accidental overdose of prescription drugs after a few days. His widow, Samantha, suspects that the pain made her husband feel so bad that he got oxycodone without a prescription. "If he had not been ignored, he would never have reached the point," she said.
In the summer of 2012, VA announced that it would hire 1600 new doctors.
Potent drugs pose a risk of death for veterans. Doctors VA over the past ten years have written much more prescriptions for powerful painkillers - only vacation in pharmacies hydrocodone, bought by veterans, in the period from 2001 to 2011. jumped more than six times. These drugs are addictive, especially strong in the young. Nearly a quarter of veterans, according to 2010, were given opiates by prescription.
And in conclusion - two more terrible numbers:
—
3.800.000:
this is the number of prescriptions for narcotic pain pills prescribed by military doctors to patients in 2009;
—
420.000:
this is the number of 5 veterans of millions of people who participated in different wars, received treatment from VA physicians and have substance abuse problems (2010).
Observed and translated by Oleg Chuvakin
- especially for topwar.ru