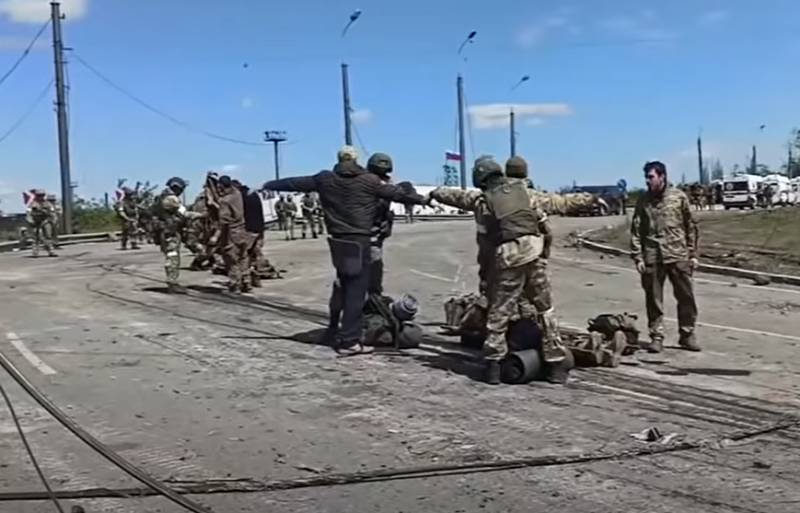 There are more and more footage of the mass surrender of Ukrainian militants on the territory of the Mariupol enterprise Azovstal. Attention is drawn to the fact that some enemy servicemen are washed, clean, with trimmed beards, in clean camouflage. And from other captives coming out of the basements of Azovstal to surrender, as they say, it smacks of sewage from a few meters away.
Those who accept the capitulation say that the "clean" come out mainly neo-Nazis "Azov" (*an extremist group banned in Russia), who had access to water and electricity in bomb shelters, and many of whom over the past few days, or even weeks, did not get out to conduct hostilities, delegating these actions to other (apparently, less "privileged") formations. That is, even in this, there is a clear segregation in the Ukrainian troops.
The plot of the Zvezda TV channel shows a mass exit of the Ukrainian military from the basements of the Azovstal plant. Apparently, a preliminary search is being carried out, including an examination of the bodies for tattoos. These tattoos often betray inveterate Nazis, who will have to answer to the fullest extent of the laws of the DPR for adherence to Nazi ideology and war crimes.
To date, about 1000 representatives of the enemy troops have left the cellars of the Mariupol metallurgical plant to surrender. The total number of captured Ukrainian military at the moment exceeds 5 thousand people. For comparison, this is about 10 times more than the indicators mobilized during the so-called 4th wave in the Lviv, Zakarpattia and Ivano-Frankivsk regions of Ukraine, taken together.
New shots: