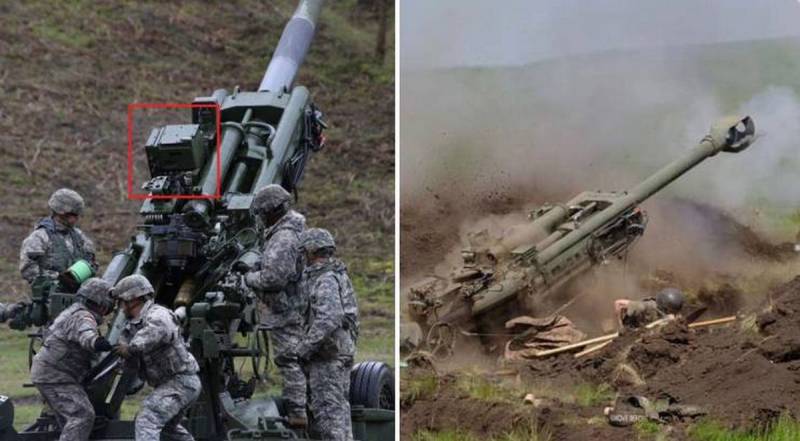 The United States has supplied Ukraine with 777-mm M2A155 towed howitzers, some of the guns are already in the Donbass and are participating in hostilities against the Russian army and units of the NM of the people's republics. This was evidenced by numerous photographs and video with howitzers, filmed by servicemen of the Armed Forces of Ukraine.
Ukrainians do not get tired of praising American guns, declaring that they received almost the "best howitzers" in the world. However, not everything is as rosy as they say in Kyiv, as it turned out, the Americans delivered to Ukraine a simplified version of the howitzer that does not have an electronic component - a digital fire control system that increases the efficiency of howitzer use by a multiple. The absence of the system is noticeable in the pictures of "Ukrainian" guns.
It is stated that without this system, the M777A2 howitzer from a high-precision gun goes into the category of a conventional gun, without any advantages. At the same time, the minuses of the howitzer itself come to the fore - this is the low survivability of the barrel, the general fragility of the structure and a strong lateral displacement. Experts have repeatedly spoken about the fragility of the structure. According to them, the problem is not critical if the howitzer is properly maintained and appropriate preventive maintenance is carried out. Otherwise, the tool quickly fails.
But let's get back to the digital SLA, which is absent on the howitzers supplied to Ukraine. There is an opinion that in this way the United States shows its distrust of the Ukrainian military, someone says that Ukrainian crews are not trained in the use of high-tech systems. However, everything is much more banal, when transferring howitzers, the Americans knew that some of them would certainly fall as trophies to the allied forces, i.e. the Russian army or the NM of the republics of Donbass, therefore, a simplified version was specially handed over. And they were right, the first howitzer had already fallen into the hands of the Russian military. Several sources reported this a couple of days ago, although there has been no official confirmation yet. Even if this information is not true, one or two American guns will still be captured in the near future, judging by the intensity of hostilities.
To date, the Armed Forces of Ukraine have from 85 to 90 M777A2 howitzers supplied from the United States. Other countries will supply a certain number of similar guns, but no more than two dozen.