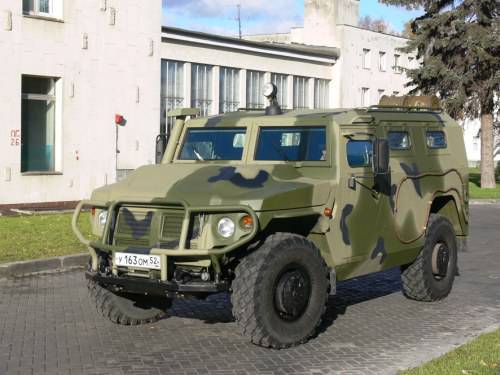 At the upcoming 14-th International Exhibition of State Security Equipment INTERPOLITEX, which will be held from 26 to 29 on October 2010, in Moscow in the territory of the All-Russia Exhibition Center, the Military Industrial Company plans to present another new development.
At the company's booth (1C12), for the first time, a full-scale sample of the new version, which has already become widely known in our country and abroad, of the Tigr armored vehicle - VPK-233114 "Tigr-M" will be presented.
The machine was developed by the designers of the Military Engineering Center in order to expand the scope of use of the special Tiger vehicle.
Its main feature is that on it
set
domestic diesel engine YMZ-5347-10, made according to the environmental standard Euro-4. In addition, the new Tiger model eliminated some of the flaws identified during the operation and combat use of the previous versions of this machine, and also took into account the additional requirements of the Armed Forces of the Russian Federation.
The car is designed to transport personnel and various goods, towing trailed systems, as well as mounting weapons and military equipment.
The design of the STS "Tigr-M" made many improvements aimed at improving its performance properties, reliability, ergonomics, anti-bullet and mine protection.
A new, more powerful (215 hp instead of 205 hp), domestic turbocharged multi-fuel diesel engine with intermediate air cooling YAMZ 5347-10, is installed on the machine.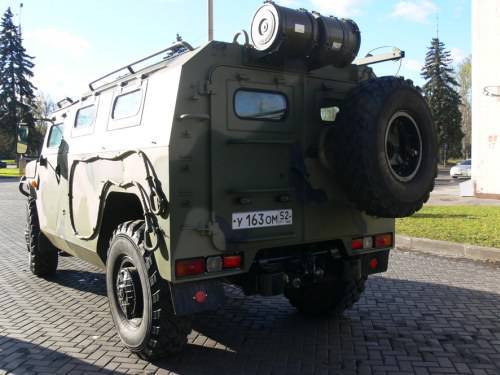 Permeability of the machine over weakly bearing soils was significantly increased due to the use of a new bridge design with forcibly locked gear bevel differentials.
Significantly increased the effectiveness of the braking system of the car through the use of new braking mechanisms, as well as the installation of an auxiliary mountain brake with pneumatic drive, controlled from the driver's seat.
To protect the engine from small bullets
weapons
the hood is armored. In addition, Tigre-M has bolt locks and an improved sealing system for all doors, an air conditioning system, a filter unit FVU-100А-24, a preheater of increased heat output PZhD-16 (16 kW instead of 12 kW) and increased number of seats with 6 to 9 people.
STS "Tigr-M" was successfully tested at 21 Research Institute of the Ministry of Defense of the Russian Federation and by the end of this year the first batch of such machines for the Ministry of Defense of the Russian Federation will be manufactured at Arzamas Machine-Building Plant.