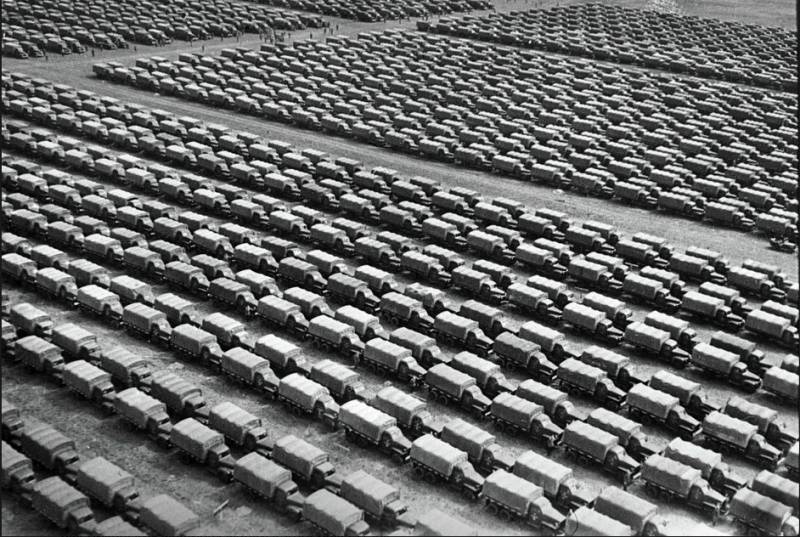 A natural continuation of what was started here:
No panic: lend-lease is not a recipe for victory. Aircraft
Having looked at the issue of deliveries more closely, and at the use of Lend-Lease equipment even more closely, we came to a very interesting conclusion: aircraft are very problematic, but issues of use and maintenance
aviation
technology is incomparable to
tanks
and other armored vehicles. Amazing, right? In fact, everything is very natural.
But let's go in order.
Tanks and other armored vehicles.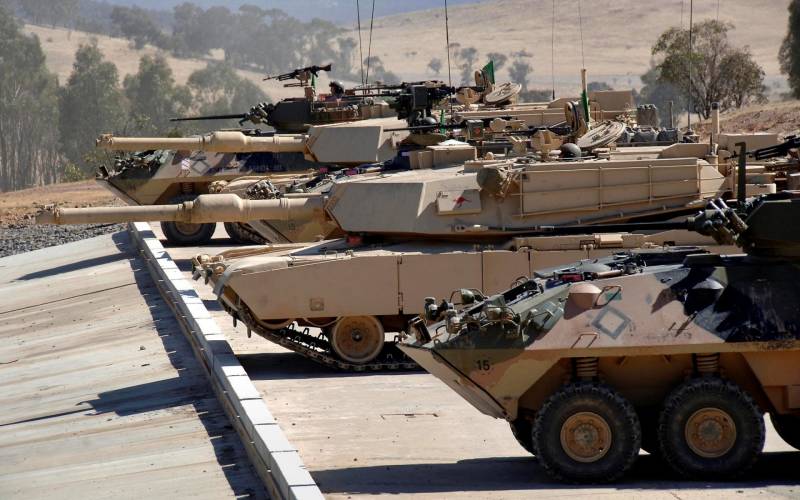 It is no easier here than with airplanes, although not so hopelessly. In general, it is possible to teach a driver a more or less decent possession of a tank of an unfamiliar design, fundamentally different from the Soviet base. Approximately 3-4 months. In general, according to our tank expert Alex TV, Soviet tanks are more difficult to manage than Germans or Americans, and therefore it is not so difficult to train a driver.
An intelligent instructor, a training ground and not to spare diesel fuel - this is the recipe for success. And in a few months, the driver will be able to perform combat missions on the "new" equipment of the Leopard 1 type no worse than on the T-64.
The trouble is elsewhere. We need to train the technical staff again. Engine, transmission, instruments - everything will require maintenance. It is the service, it is still necessary to live up to the repair. But if this service does not exist, the tanks will simply become disposable.
But to serve such ancient structures is very, very difficult.
Air defense "Gepard"
The Bundeswehr is going to send 50 units to Ukraine. More, apparently, nowhere.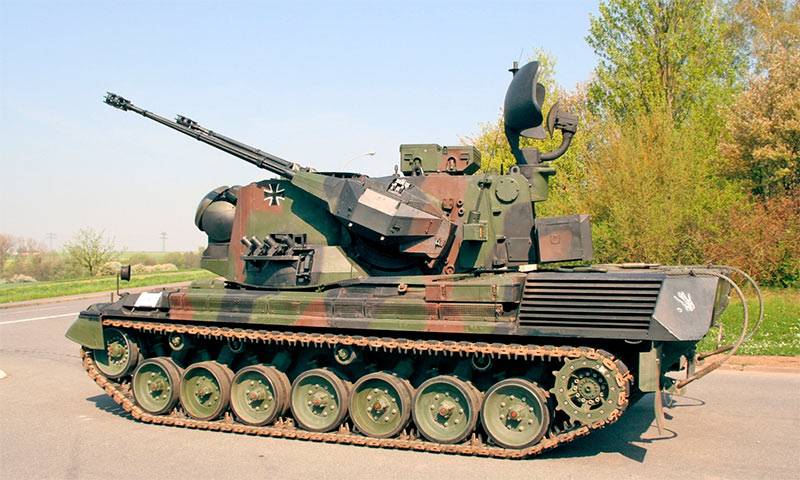 This is how the original "Flugabwehrkanonenpanzer Gepard" is translated, although only an inveterate optimist can call the Gepard tank. Despite the general similarity of the hull and running gear, the armor of the "Cheetah" can only protect against fragments, since it is sheets of ordinary rolled steel.
But that's not the point. The fact is that this museum archaism was developed in the sixties of the last century. And he entered service with the Bundeswehr in 1976. Who could be the real opponent of this shooting game? That's right, the Soviet Mi-8 and Mi-24 helicopters.
Today, the Gepard is so outdated that only infantry fighting vehicles and armored personnel carriers, for which there is a threat of armor-piercing shells of 35-mm Oerlikons, can act as its opponents. The problem is that the "Gepard" does not have a tank corps, so modern BPMs can easily open the "air defense tank" with their automatic guns, which, by the way, are not inferior in terms of caliber.
Of course, the Germans will gladly give these installations to Ukraine. Why not give away? Nobody needs them anymore, so... True, the issue of ammunition is very navigated. For there are simply no shells. They say that Brazil is ready to supply 300 shells, that is, almost 000 rounds of ammunition. For 1000 cars that will have to be at the disposal of the Armed Forces of Ukraine, quite decently, 50 b / c per car. That is, you can make war, if not very actively and not for a very long time.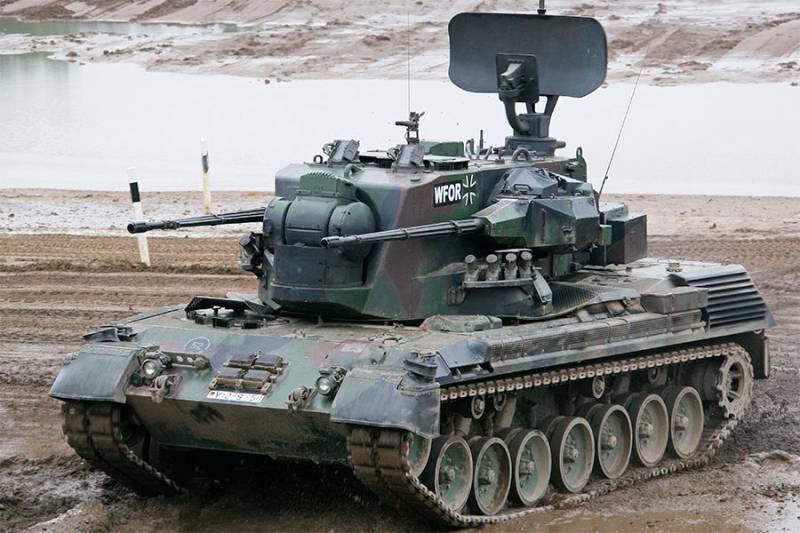 If we rely on the experience of our tank expert, during a special operation in Chechnya, Russian tankers easily spent 2-3 rounds of ammunition per day when the fighting was going on. Unfortunately, we do not have one of the crews of the same Tunguskas surrounded by us, but something tells us that it will not be difficult to shoot 2-3 b / c "Cheetah" in a day. What about light armored vehicles, what about aviation assets, of which Russia has more than enough.
So judge now for yourself, 20 rounds of ammunition per car - is that a lot or what?
Or how. Moreover, it somehow looks doubtful. Yes, the Brazilians, who have long been haunted by the fame of very punctual and pedantic people, will, of course, sooner or later collect the declared number of shells and bring them to the other side of the world. The question is - will they be late?
"Leopard"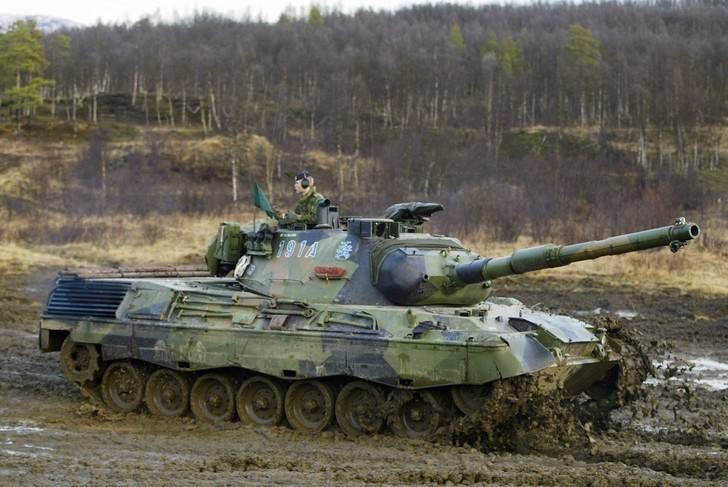 Yes, a big name, a very good tank. For the end of the last century. Today, the machine is also frankly outdated and simply cannot be compared with the Russian T-72B3. Considering that they want to make Ukrainians happy with the FIRST models of the series, then everything is very modest here. The Leopards of the first modifications did not even have barrel stabilization. Yes, the British L7А3 gun was very good at that time, but today 105 mm pose no threat to modern tanks.
And then questions arise similar to those that were asked in the first article: who and where will serve all this "splendor"?
Indeed, unlike an aircraft that can fly to an airfield in friendly Romania and go through all the necessary maintenance procedures there, this does not shine for a tank. Tank -
weapon
front edge, respectively, no one will do all the procedures with him in the rear.
The tank must be serviced at a small distance from the front line in order to return to service as quickly as possible. I emphasize that we are talking about maintenance, and not about repairs. According to our tank expert, maintenance is even more important than repair, because it is precisely the correct and timely maintenance that can delay the moment the combat vehicle leaves for repair as much as possible.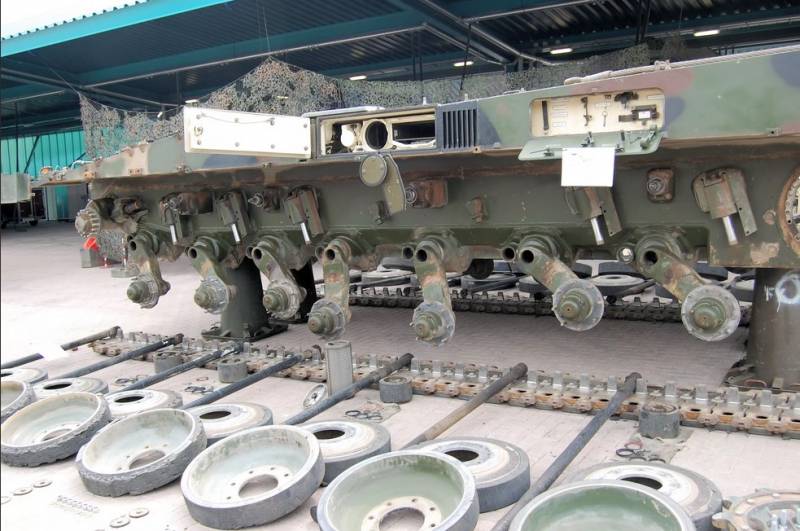 For now, we are only talking about German technology, which the Bundeswehr distinguishes from its generosity. With her, not everything is as bad as with other components of the joyful Lend-Lease list.
Approximately the same questions as in the first part: who will maintain and repair completely foreign equipment?
By the way, the time figures are in no way inferior to those of aviation: six months, no less. Yes, the tank is structurally simpler, but it has much less electronics than an airplane, but there is where to dig not with a laptop, but with a sledgehammer and other precision tools.
Well, the primary training of technicians can be carried out on the territory of Romania or Poland, fortunately, the Poles have Leopards. But it is doubtful that in the field it is possible to teach how to work with the engine and other elements of the MTO. This will still require training under the guidance of appropriate specialists from the manufacturer. That is, from Porsche. Without this, tanks are simply doomed to cease to be combat units.
Another difficult issue is spare parts. It is not easy even logistically, because it will be necessary to create from scratch not only a repair, but also a supply base.
That is, to drag across the whole of Ukraine a fairly wide range of spare parts and consumables, without which it makes no sense to import tanks at all, unless of course ...
Unless, of course, this is just a one-time action to write off old equipment and transport it for recycling on the territory of Ukraine.
Of course, there is an option when part of the imported equipment can be used as donors. This is normal practice. Some equipment is dismantled and used as a source of spare parts. A very dubious and unreliable business, which in any case requires skillful hands and appropriate tools.
And if we are talking about the much-awaited "Abrams" ...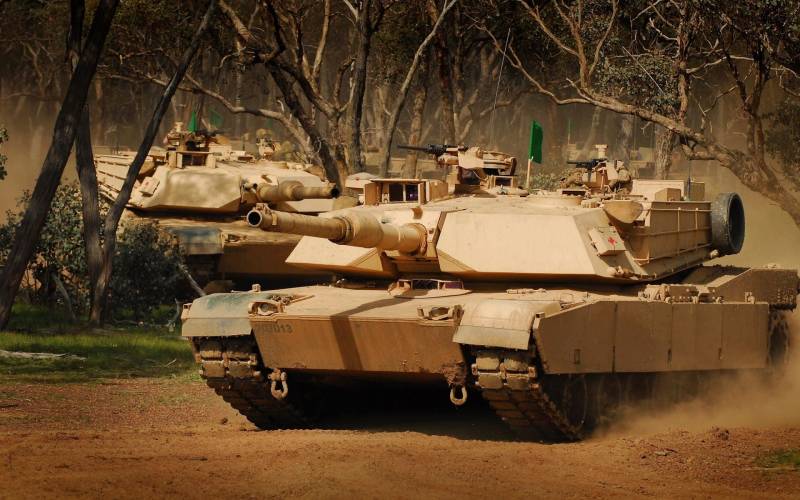 I predict that this will be another horror film for Ukrainians. Yes, of course, the "modern" M1A2 Abrams tank is a "masterpiece" of creation, but there are very serious nuances.
Main engine. Overweighted up to 70 tons, the car is moved not by a diesel engine, but by a gas turbine engine.
A turbine with the same power is much smaller and lighter than a diesel and allows you to "give out" a decent amount of horsepower to move this chest. And even the terrible voracity of the turbine is not the main problem, although fuel is a problem for Ukrainian reality. In principle, for defensive battles, when you need to shoot hordes of Russian tanks without moving too much, it's enough.
The turbine is capricious, requires maintenance, replacement of filters and a huge amount of fuel. But this is not the number one problem for the Ukrainian military. And the fact that they historically do not know how to use turbines. It just so happened that the only Soviet tank that was equipped with a gas turbine engine, although it was created on the basis of the T-1, was manufactured at the Kirov plant in Leningrad / St. Petersburg.
And here is the most unpleasant moment: in order to maintain such a complex and delicate technique in working condition, the efforts of more than one specialist are needed. In the experience of the Second World War, each battalion of "Tigers" had a company of technical personnel who served the "wonder tanks", which still broke like damned.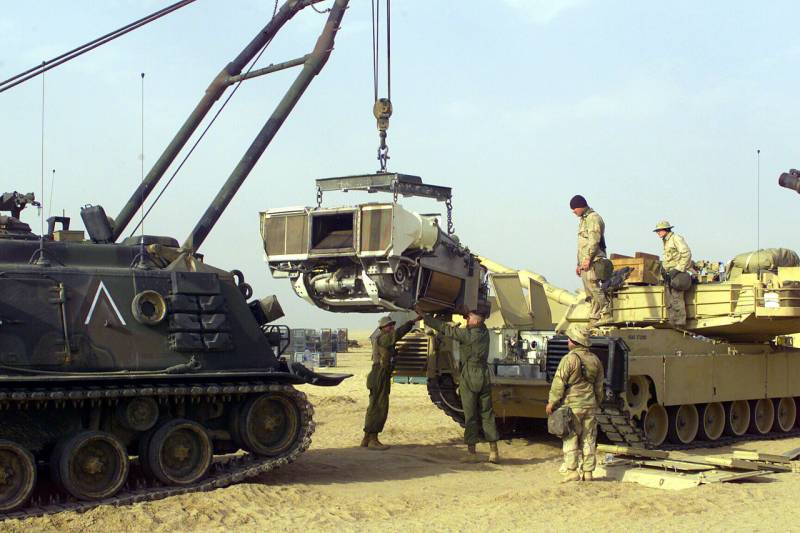 Approximately the same awaits "Abrams" in the Ukrainian open spaces. If you recall the "Desert Storm" in 1991, there "Abrams" moved mainly along the roads so that they could be refueled without problems.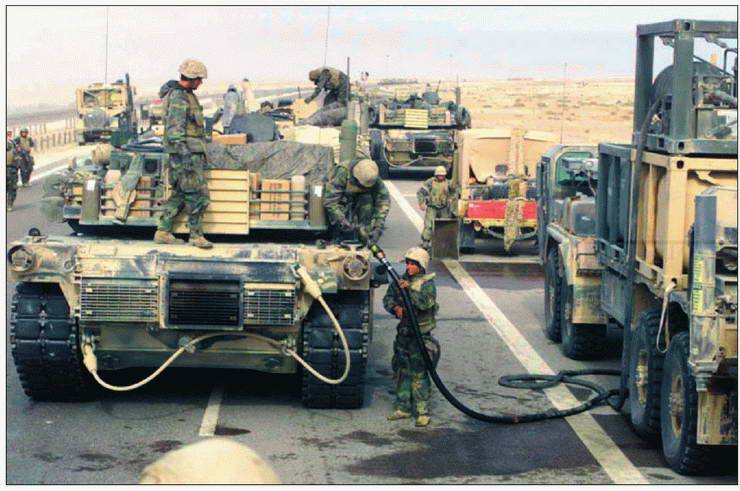 In Ukraine, there will be problems at every turn, and the point is not even that the bridges will not withstand, there are no hands. Hands and heads will need to be prepared.
If planes, as mentioned above, can be taken to the territory of a third country, then this is not the case with tanks. So, after raising glasses for Lend-Lease, a hangover will come very quickly.
***
It is possible in some way to lead a subtotal on the problems of the lend-lease agreement:
- logistical problems for the delivery of equipment;
- logistical problems in the delivery of spare parts and ammunition;
- crew training;
- training of technical personnel serving the equipment;
- training of technical personnel repairing equipment;
- supply of repair base and technical documentation.
The list is not terrible. But for the normal implementation of the supply of all this junk to Ukraine and the training of the technical staff of the Armed Forces of Ukraine, it takes time. Not one month. More than a dozen instructors who are ready to work "on the road", that is, either in Romania or in Poland. In Ukraine itself, it seems to be very dangerous.
Time. While they are preparing crews and technicians, while they are collecting shells around the world ... By the way, Rheinmetall has already announced that it cannot supply more than one ammunition load to its Leopards.
Of course, if you search well, you can find it. Here it is appropriate to recall Admiral Gordey Levchenko, who, together with the naval attache in the UK Sklyarov and Ambassador Maisky, was looking all over the UK for liners for the trunks of the Royal Sovereign battleship, which was to become Arkhangelsk.
There were no high-explosive shells for the battleship's guns either. The battleship was not new, which allows us to draw analogies. And the commander of the detachment of the transferred ships, Gordey Levchenko, while several hundred Soviet sailors and specialists brought the ships transferred to us to life, rushed about in search of everything necessary. And found.
Why this small
historical
excursion? And besides, in 80 years everything will be exactly the same: all illiquid assets will be collected from warehouses and sites and solemnly handed over to Ukraine. And only then will begin a frantic search for spare parts, components, ammunition and, most importantly, those who want to go to Ukraine to train Ukrainian military and technicians.
The adopted lend-lease law in the United States is nothing more than the tip of the iceberg. It was the easiest thing to vote for the law, we know this from our reality. But to enforce the law properly is much more difficult. It takes people, time, money.
Today, many in Ukraine are too encouraged by the fact that the law has been signed. And allow yourself unfounded hopes. New technology, rapid counteroffensive and all that. But the more you think about the list of equipment voiced by the Ukrainian side, the more you question its truth.
Yes, the old "Cheetahs", "Leopards", "Abrams", "Bradleys" - that's welcome. And welcome to the hangar with the problems voiced in the articles.
F-16s... You know, they weren't given to Ukraine even at the best of times. They tried to forcibly transfer the Bulgarians, and they fought back with their hands and feet, because this is a COMPLETELY different plane, but the Ukrainians were not given, as they did not ask. And the very idea of ​​ukroletchikov in the cabins of the "Sokolov" smells like fires and pieces of burnt duralumin on the ground. Moreover, long before the start of real battles in the air.
MLRS
As for the announcement of deliveries of HIMARS and M270 MLRS, then there is no need to indulge in optimism. In the United States, there are just over four hundred of these installations on the balance sheet, and besides, they are scattered around the bases. It is unprofitable to give away a new (since 2005 in service) MLRS / OTRK system for nothing. Moreover, the complex has already passed the test in combat conditions and other countries are buying it.
As for the M270 MLRS, yes, good guys from the USA can send this installation to Ukraine. Considering that the youngest installation today is "only" 20 years old, then it can be installed. The M270 MLRS costs a little, 4 million apiece. Of course, no one will give up tactical missiles to Ukraine, but shells can.
And for the MLRS M270 MLRS there will really be everything that is for the Abrams. Issues of skill, maintenance and repair.
***
Alas, modern war is a war, including resources of a technical nature. Who will deliver, repair, restore faster. You can also give examples from the Second World War, when simply masterpiece (sarcasm!) Tanks "Tiger" and "Panther", produced by the piece, could not oppose anything to the shaft of "Shermans" in the west and T-34 in the east.
Today everything is exactly the same. Perfectly trained crews can sit at the controls and levers, but if their equipment does not have proper maintenance and repair, it, the equipment, will cease to be combat.
Yes, the tank can still be buried in the ground and used as a pillbox. But the planes are gone.
At the time of THAT lend-lease, let's pay tribute to the Americans, they were able to provide us with everything we needed: engines, gearboxes, gearboxes, machine guns, cartridges for them. It remains only to be seen how Lend-Lease-2022 will not yield to Lend-Lease 1942.
To be honest, there is a very big doubt that it will be even a little like. Not those times, oh, not those ...
I express my deep gratitude to Alexey Kuznetsov (Alex TV) for filling in the gaps related to armored vehicles and their operation.