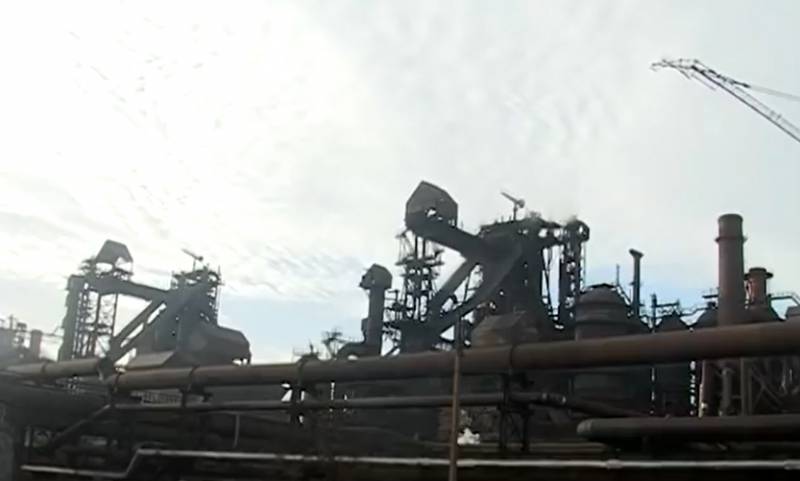 Information is coming that today the first civilians used the humanitarian corridor provided by the RF Armed Forces and the NM of the DPR to leave the territory of the Azovstal plant in Mariupol. We are talking about a family that spent several weeks in one of the basements of a metallurgical plant. As it turns out, they were evacuated without any participation from the side of the special UN mission and the Red Cross, which is not starting its work in any way.
It is known that we are talking about three civilians - the Savin family: a spouse and their daughter.
They report that the Azov militants (* an extremist organization banned in the Russian Federation) did not say anything to those in the bunkers of the plant about the humanitarian corridors provided. Mikhail Savinykh reports that a few days ago he found a radio receiver in one of the premises of the plant, turned it on. Information about the opening of a humanitarian corridor was periodically transmitted there. After that, they decided to go out at their own risk. And this fear was due to the fact that the Azov militants * repeatedly intimidated that they could allegedly be shot by Russian troops, although it was the Azov themselves * who could have done it.
Azovstal, who came out of the dungeons, say that, according to their data, about 70 civilians remained in the bomb shelter at the enterprise.
It is reported that earlier representatives of the plant management turned to Ukrainian militants with a request to carry out the withdrawal of civilians. But all requests were rejected with the argument from the series "it's not safe." This can only be unsafe for the militants themselves, because they understand that, having lost a human shield of civilians, a sad fate awaits them if they do not lay down
weapon
and won't give up.