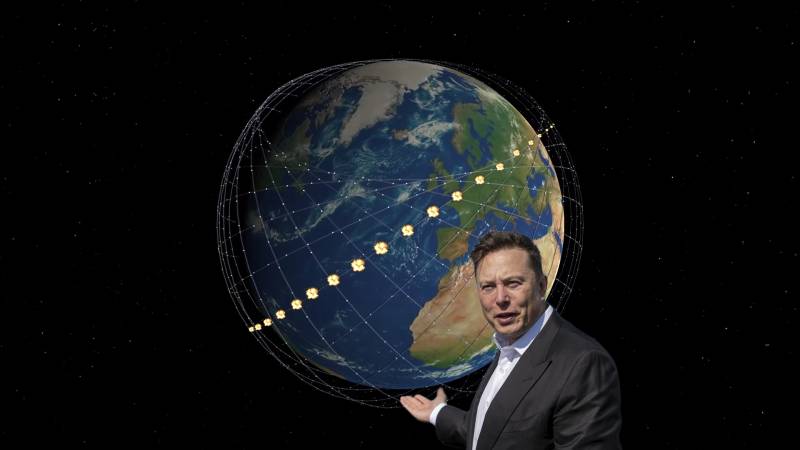 "What happens if the Russians and the Chinese target satellites? Will this be a threat to Starlink?" - such a question was asked by journalists to Elon Musk in connection with the conduct of a Russian special operation in Ukraine. The answer was:
"It was interesting to look at the Russian anti-satellite demonstration a few months ago in the context of this conflict. Because it caused a lot of controversy among satellite operators. It even posed some danger to the space station where the Russian cosmonauts are located. So why did they do it? This was a message before the aggravation of the situation in Ukraine. If you try to disable Starlink, it won't be easy because we already have over 2 satellites. That means a lot of anti-satellite missiles. I hope we don't have to test this in practice, but I think we can launch satellites faster than they can shoot them down with anti-satellite missiles."
Ilon Mask
Battle for supremacy in space
Why kill them at all? Starlink can provide relatively inexpensive high-speed communications across the entire surface of the planet (in the future). And, besides, is Elon Musk so progressive, pushing the world towards a better future?
It is possible that a better future will be built in the West for some, but the problem is that, judging by the actions of Western politicians, there is no place for Russia in this world, and we will have to gnaw it out by force
weapons
.
As has been repeatedly said, dominance in outer space is the basis of dominance on the surface of the planet. And this is confirmed during the conflict in Ukraine. The Armed Forces of Ukraine (AFU), not having their own orbital grouping, but receiving data from US intelligence satellites, through US communications satellites, are able to resist the technically superior armed forces of the Russian Federation (RF Armed Forces) by an order of magnitude, inflicting quite sensitive strikes from time to time .
It is believed that Starlink satellites cannot be used for reconnaissance, although this statement cannot be unconditionally trusted, but even their use as a means of communication is a significant help to the enemy, and Starlink terminals in Ukraine, according to some reports, there are already thousands.
By supplying Ukraine with Starlink terminals, Elon Musk is actually an accomplice of Nazism.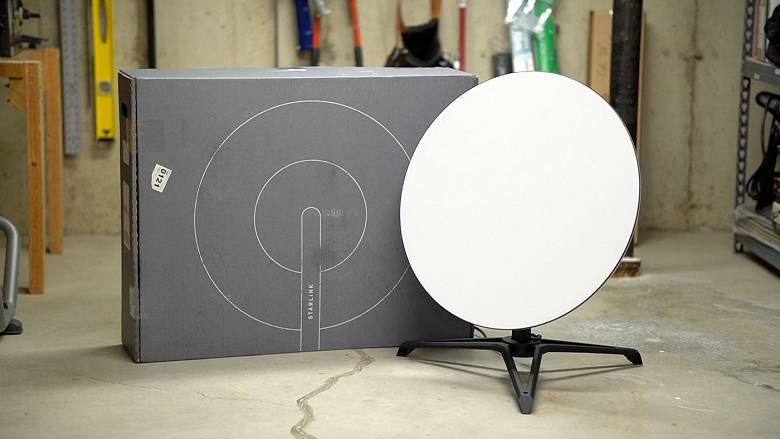 Starlink satellite communication terminals - well, big business also cooperated with Hitler very willingly ...
But the problem is not in Ukraine. If there is political will, the Armed Forces of the Russian Federation will grind the Armed Forces of Ukraine, no matter what weapons the Western countries supply them with. You can send Stingers and Javelins, but where can you get experienced fighters who can use them effectively?
You can send anti-aircraft missile systems and combat aircraft, but where can you get professional operators, pilots and technicians capable of servicing them, and most importantly, the fuel with which they need to be refueled, of course, provided that the RF Armed Forces
will act
harshly and uncompromisingly, destroying both the fuel base of the Armed Forces of Ukraine and the very possibility of supplying fuel from outside
The important thing is that Starlink is just the first "swallow", an example of the fact that high-tech communications satellites can be quickly produced and put into orbit in huge quantities - they are truly baking like pies. And now private radar reconnaissance satellites have already appeared that can work in any weather, which we talked about earlier in the article.
Capella Space's All-Seeing Eye: Harbinger of the Satellite Intelligence Revolution
. There is no doubt that the number of small-sized rapidly deployable satellites for various purposes launched into the Earth's orbit will continue to grow exponentially.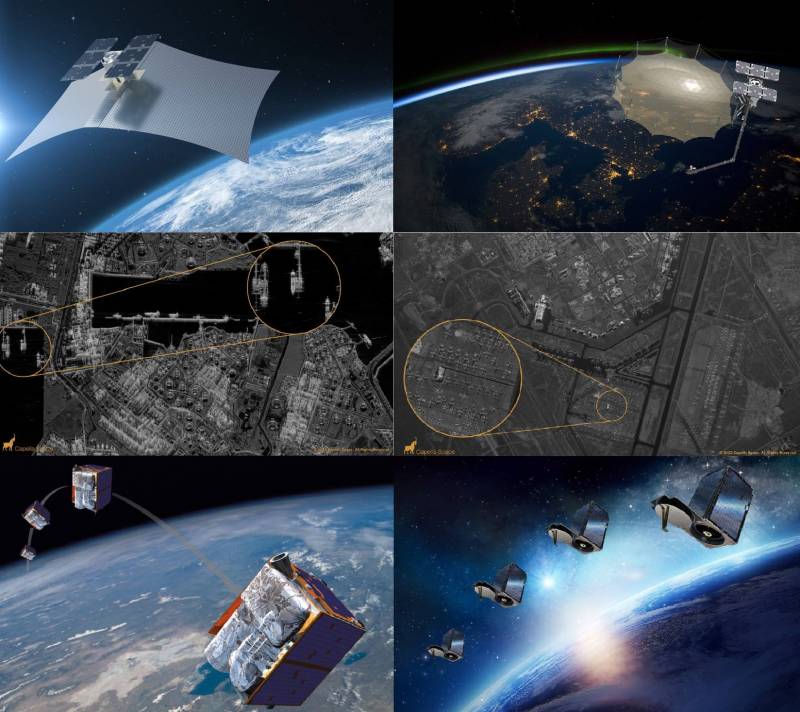 Very soon, relatively inexpensive, but highly efficient small-sized satellites for various purposes will fill low Earth orbit (LEO)
What will happen if the RF Armed Forces collide in a limited conflict that does not involve the use of nuclear weapons with a really strong adversary? With an adversary who will have sufficient stocks of long-range strike weapons?
In this case, the presence of a highly effective reconnaissance satellite constellation of reconnaissance, communications and control will allow the enemy to destroy Russian troops without entering into direct combat contact.
Aircraft will be destroyed at airfields
,
ships and submarines will die before they leave their bases
, ground forces will not be able to create any large shock fist, move with significant forces, and organize an effective supply of fuel and ammunition.
Surface ships at sea will also be guaranteed to be detected and destroyed from a distance exceeding the range of their detection tools.
.
We have discussed all these issues many times before. If someone thinks that it will be different, that you can simply build a strong surface fleet, provide ground armed forces with modern
tanks
and infantry fighting vehicles with active protection systems (KAZ), to purchase "classic" fifth-generation fighters for the air force, and everything will be fine, then he is deeply mistaken.
Only superiority in space will ensure victory, and its absence guarantees defeat.
On the other hand, the US Armed Forces without satellites, without intelligence received from orbit, without space-based communication systems, will lose a significant part of their advantages - they will not receive target designation of long-range precision-guided munitions, unmanned aerial vehicles (UAVs) will not be able to operate beyond the radio horizon or out of range actions of the communications equipment of the repeater aircraft, many horizontal and vertical communications will disappear in
multi-domain forces
.
Countermeasures
How can Russia counter the US in space? Surpass the number and quality of reconnaissance satellites? This is impossible, we will not be able to produce and put into orbit satellites even in an order of magnitude less than the United States and other Western countries. And the presence of its own developed satellite constellation does not negate the superiority of the United States and NATO in the number of long-range precision weapons and UAVs.
Jamming enemy satellite constellations by means of electronic warfare (EW) and blinding with lasers? So far, nothing has been heard about this - nothing like this is used in Ukraine. Functional defeat in general is not a very reliable thing, and it is difficult to assess the effectiveness of suppressing enemy reconnaissance and communications equipment at any given time.
All that remains is the physical destruction of enemy spacecraft, but there are a number of problems here too. In part, the problem of the destruction of spacecraft was considered in the articles
Достучаться до небес
и
Orbital Cleaners
.
Existing means can destroy one, ten, one hundred satellites, but what if there are thousands of them - tens of thousands? A situation will arise when putting new satellites into orbit will indeed be cheaper than destroying them, even if one anti-satellite missile will carry several interceptors. The advantage will be with those who can both produce satellites cheaper and put them into orbit cheaper.
In terms of launching into orbit, the United States already has a significant help - partially reusable launch vehicles of the Falcon family, although so far they do not create a decisive advantage. The situation may change after the start of the use of the fully reusable two-stage Starship rocket, which we talked about in the article.
On the verge of a revolution in space
.

Starship could be a game changer in outer space. Image by wikipedia.org
If this happens, and Starship really makes it possible to radically reduce the cost of putting cargo into orbit, then after a very short period of time the US armed forces will realize what an advantage this can provide them, and in the foreseeable future, not only reconnaissance, communications and control satellites may appear in orbit , but also
space echelon of an anti-missile defense system capable of intercepting hundreds or even thousands of warheads
and
space-to-surface orbital impact systems
.
Based on the foregoing, it is necessary to ensure a radical reduction in the cost of destroying enemy spacecraft, primarily in low orbit. This can be achieved on the condition that one orbital interceptor destroys not one, but several dozen, or better, several hundred enemy satellites.
Project orbital interceptor "Reaper"
Massively launched into orbit satellites are deployed in clusters from one launch vehicle and then are separated into their orbits. Knowing their orbit, you can launch an interceptor spacecraft in such a way that it alternately flies past the satellites that you want to destroy. At the moment of flight at a minimum distance, the interceptor will release a compact and inexpensive ammunition, which will destroy the enemy satellite. The interceptor itself will then go to the next satellite, then to the next, and so on, and so on, until it runs out of ammunition.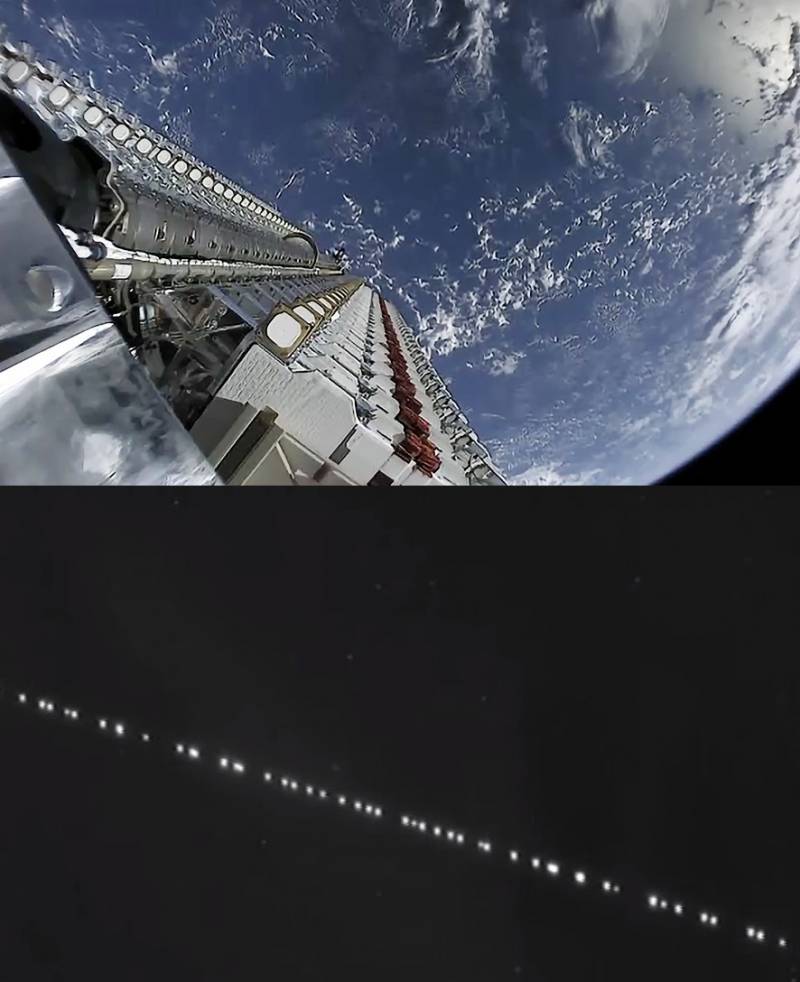 Small low-orbit satellites are massively deployed in clusters from one "large" carrier. Image by wikipedia.org
When attacking "on the forehead" on approaching the target, there is a risk that the interceptor will then fly into a cloud of fragments left from the attacked target and its own attacking ammunition. Based on this, it may be preferable to attack the enemy satellite after the interceptor passes by it. In this case, the launch of the attacking ammunition will be carried out in the opposite direction - all fragments will remain behind the interceptor.
The Reaper-type orbital interceptor must include radar and / or optical means of detecting and tracking a target, fuel and attitude control / flight path correction engines, an instrument compartment and a weapon compartment.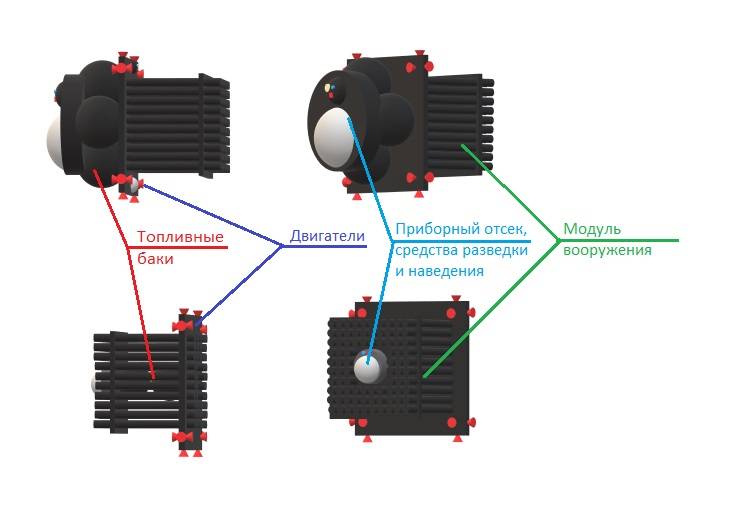 Conceptual image of several variants of the Reaper orbital interceptor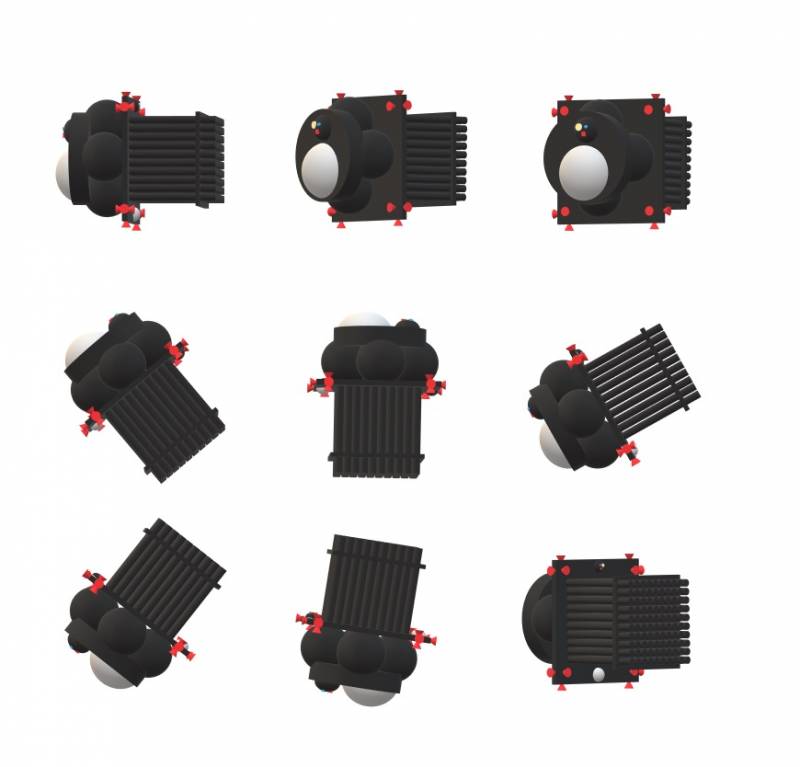 Reaper-class orbital interceptor concept
The Reaper-type orbital interceptor, launched into orbit, should move slightly away from the intended location of the enemy satellite. At a certain moment, the orientation engines turn the interceptor flying by inertia, and then at the calculated point of the trajectory, when the tail of the interceptor is directed at the enemy satellite, a shot is fired.
The attacking ammunition hits the enemy satellite, and the interceptor receives an acceleration that corrects its flight path to fly past the next target satellite. Thus, the cycle is repeated as long as the interceptor has damaging ammunition. Additional correction of the flight path must be carried out by the engines of the interceptor.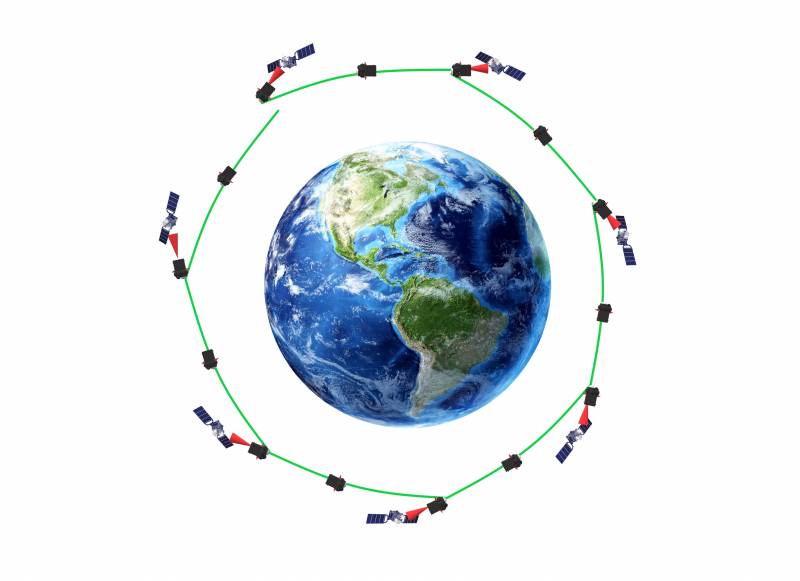 Possible scheme of operation of the orbital interceptor "Reaper"
The Reaper orbital interceptor can use various types of ammunition. In the simplest case, this can be shrapnel ammunition, the easiest to manufacture and, accordingly, the cheapest. However, it is possible that the range and accuracy of shrapnel ammunition will not be enough.
As an alternative, unguided munitions with remote detonation on a trajectory or unguided munitions with a proximity fuse (or a combination of these solutions) can be considered. And finally, the most complex and expensive ammunition of the Reaper orbital interceptor can be a guided munition with guidance in a laser beam ("laser trail") or with radio command guidance.
Ultimately, the type of ammunition used must be determined by the results of calculations and tests. It is possible that the ammunition load of one Reaper orbital interceptor may include several types of guided and unguided munitions.
One interceptor can potentially carry hundreds of damaging ammunition. For example, if the diameter of the launcher of one ammunition is about 150 mm, then a package of 100 ammunition in the 10x10 format will be a square with a side of just over 1,5 meters, respectively, a package of 400 ammunition will have a dimension of a little more than 3x3 meters.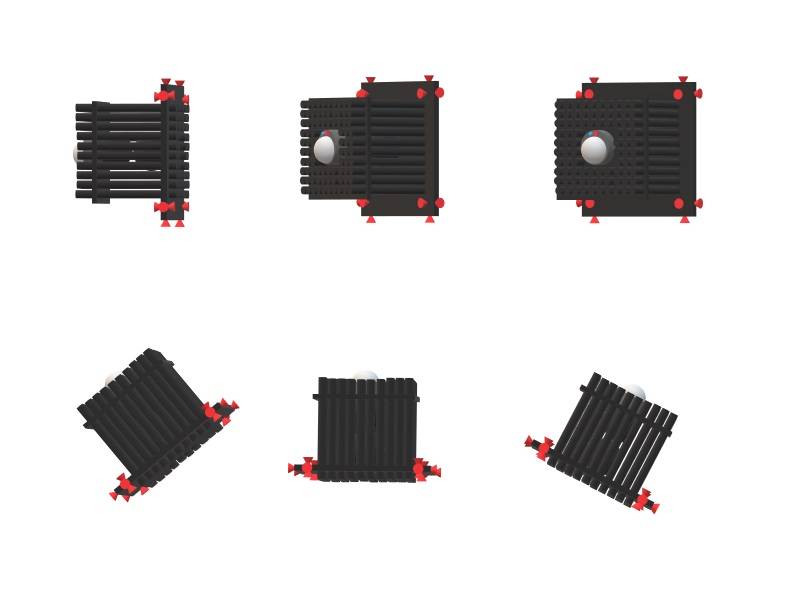 Reaper-class orbital interceptor concept
Potentially, an adversary can force their satellites to change location using built-in orbit correction engines when an interceptor approaches. If the satellites are equipped with their own attack detection system, this will significantly increase their cost, and will not allow them to be produced in large quantities, and commands from the Earth may be too late. In addition, the supply of fuel on board the enemy satellites will in any case be limited - they will not "jump" in orbits for a long time.
To counteract the evasion of enemy satellites from attack using orbit correction, an interceptor provocateur, not equipped with radar and ammunition, of the most primitive design can be developed. Its only task will be to approach enemy satellites on commands from the Earth in order to force them to change orbit and waste fuel. Its fuel supply can be much larger than that of an interceptor, so it can make many orbits, forcing enemy satellites to "jump" in orbits, wasting fuel. Such "provocateurs" can be launched from time to time, even in peacetime, to slightly "cheer up" the enemy.
Enemy counteraction
Of course, the enemy can try to destroy the orbital interceptors - this can be implemented in several ways.
The first is equipping satellites with self-defense systems. But this will make them complex and expensive, since they will need reconnaissance equipment, weapons, and so on, and this contradicts the very concept of massive and inexpensive satellites.
The second is the destruction of an orbital interceptor by an anti-missile launched from a land, sea or air carrier. To counter this threat, the orbital interceptor can launch small-sized decoys with corner reflectors and Luneberg lenses that increase the effective dispersion surface (ESR) of the simulators, as well as thermal emitters designed to deceive the thermal homing heads of interceptor missiles. At the same time, the orbital interceptor itself can be covered with a screen that reduces its thermal and radar visibility when viewed from the earth's surface.
The third option is the creation by the enemy of their own orbital interceptors. It will be more difficult to make such ones to destroy the maneuvering orbital anti-satellite interceptor of the Reaper type, but sooner or later it will come to this. However, this will already be the next round of space confrontation.
If enemy satellites are to be launched by the thousands, then Reaper Orbital Interceptors must be launched by the tens, maybe hundreds. In case of a sudden attack, the enemy simply will not have time to hit them all, especially considering that both the "provocateur" interceptors mentioned above and simply false targets can be launched at the same time. The advantage of space is that it is much more difficult to distinguish a light decoy in space than in the atmosphere.
Launching into orbit
Cheap and fast launch of the payload into orbit is a topic for a separate discussion. For orbital interceptors, perhaps the best solution would be to use obsolete strategic missile cruisers (SSBNs) converted to floating spaceports, which was previously discussed in the article
From under the water to space
. True, the ability of modernized submarine-launched ballistic missiles (SLBMs) ​​to launch such a massive payload as an orbital interceptor into an orbit of about 700 kilometers is still in question - a space interceptor will presumably weigh several tons, while existing projects of launch vehicles launched from SSBNs, can put into orbit 600 kilometers only 80 kilograms.
Perhaps this problem can be solved by creating a highly efficient overclocking module. A huge advantage of this solution is the ability to create a highly secure, operationally deployable stock of orbital interceptors. For example, four floating launch sites based on Project 667BDRM SSBNs with 16 launch vehicles each are potentially capable of launching 64 orbital interceptors into orbit. If each of them is capable of hitting about 100 enemy satellites, then as a result, over 6 enemy low-orbit satellites can be disabled at the same time. Of course, provided, as mentioned above, that it will be possible to realize the possibility of launching orbital interceptors into orbit using modified SLBMs with an additional upper stage.
An alternative option is the creation of Russian reusable launch vehicles of various classes. This issue was previously discussed in the article
Projects of reusable launch vehicles in Russia: do they have a future
?

Russia is quite capable of developing promising reusable launch vehicles
And finally, no one has canceled the possibility of launching orbital interceptors using classic launch vehicles. Here, as they say, "at least a carcass, at least a scarecrow", after all, Russia carries out dozens of space launches a year. If necessary, there can be no doubt that this figure can at least be doubled, that is, the Russian space industry will provide the possibility of withdrawing the required number of orbital interceptors to clean up enemy satellite constellations.
Conclusions
The creation of an orbital interceptor of the "Reaper" type is a difficult, but technically quite feasible task. It can be assumed that this weapon could have been created even on the basis of technologies of the late 80th century. The chosen orbital interceptor concept does not require highly complex seekers, hit-to-kill direct hits, active phased array antennas, or high-speed microprocessors. This weapon could have been created in the USSR of the XNUMXs, and it can be created in Russia now, no matter what sanctions our opponents impose on us.
From recent:
"U.S. Vice President Kamala Harris issued an official statement saying that the United States is committed to halting anti-satellite missile testing and also urging other countries to follow the U.S. example."
Yes of course. Having gained an advantage in space, the United States is very afraid of losing it. Having lost the advantage in space, the satellites in orbit, the US military will lose a significant part of its combat capability. Much more than the Russian or Chinese Armed Forces will lose, having lost their satellites.
It is not known what the Chinese will do, but the Russians are simply obliged to target US and NATO satellites, which definitely include Starlink satellites. Depending on the development of the military-political situation, we simply may not have any other way but to clear the orbit.