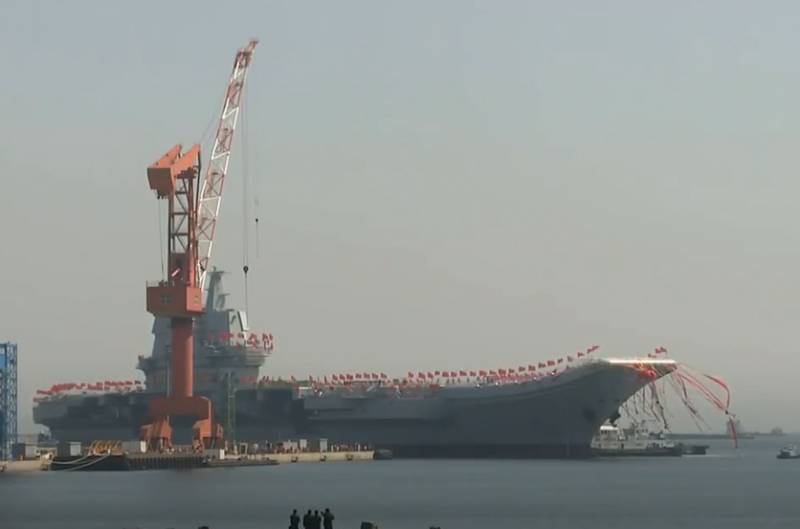 Illustrative photo: aircraft carrier Type001A "Shandong"
On Saturday, April 22, China marks the 73rd anniversary of the founding of the People's Liberation Army Naval Forces. On the eve of the Chinese Navy, they released a video dedicated to this event, in which they talked about the implementation of the program for the creation of aircraft carriers and announced the launch of the third aircraft carrier in the very near future.
The new ship is planned to be put into service with the PLA Navy by the end of 2022. The ship is equipped with advanced technology, including electromagnetic catapults.
In a promotional video produced by the Navy Political Publicity Bureau and the Broadcasting Center
News
The PLA, describes the development of the entire program for the construction of China's aircraft carrier group from the first ship and the second aircraft carrier with carrier-based J-15 fighters.
Chinese social media users enthusiastically greeted the news of the upcoming launch of the third aircraft carrier, leaving comments under the video that included: "I'm so excited"; "Will there be a live stream for the commissioning event?"; "Type 003 Coming, When Will the New J-31 Carrier-Based Fighter Arrive?".
Western media tried to add a fly in the ointment to the announced event of a Chinese national scale. It was stated that initially the aircraft carrier should have been launched precisely on the 73rd anniversary of the formation of the military
fleet
China. But this was prevented by the outbreak of COVID in Shanghai, where the ship is being built.
At present, China has experience in building two aircraft carriers, which is very important for launching a third ship. I think it can be launched in the second half of 2022,
Song Zhongping, a Chinese military expert and TV commentator, told Global Times.
The carrier group, together with escort ships, allows China to ensure the presence and upholding the interests of the PRC in various regions of the ocean. At the same time, China is positioning itself as a global maritime power.