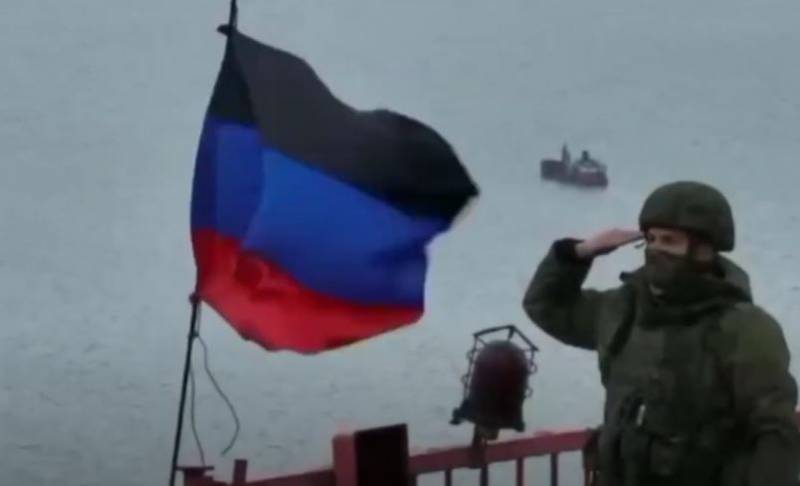 Russian troops, with the support of the allied forces of the republics of Donbass, continue to fight with units of the Armed Forces of Ukraine. The 57th day of the special operation for the demilitarization and denazification of Ukraine is coming to an end.
Before we move on to the summary of the Ministry of Defense, a little about the main events of this day. On Thursday, April 21, the city of Mariupol was declared liberated from Ukrainian nationalists, the remnants of which were blocked at Azovstal. The flag of the DPR was raised over Mariupol.
The President of Russia gave the order to stop the assault on the Azovstal industrial zone, instead to carry out a complete blockade of the plant so that "the fly does not fly." Part of the combat units of the Russian Armed Forces and the NM of the DPR are being transferred to other areas, the main work on blocking the militants and cleaning up will be carried out by the Russian Guard, the Chechen SOBR and other special units.
Also today, the troops of the NM LPR reached the border of the Kharkov region and cleared the road to Kharkov.
Now to the data from the Ministry of Defense. During the day, the Russian Aerospace Forces launched strikes with high-precision missiles at 14 objects of the Armed Forces of Ukraine. In the area of ​​N. p. Popasnaya destroyed the command post, two ammunition depots, two areas of concentration of manpower and armored vehicles, as well as two strongholds of the nationalists. Ammunition depots were destroyed in the area of ​​the settlement. Slavyansk and Shoelaces, armored vehicles and personnel in the areas of Cherkasskoye and Aleksandrovka. In total, up to 120 nationalists and more than 30 armored vehicles and vehicles were destroyed.
Operational tactical
aviation
during the day, it attacked the positions of the Armed Forces of Ukraine in the Krasny Liman and Drobyshevo regions, and two RAV warehouses were destroyed in the Zaporozhye region.
Artillery and rocket troops attacked 450 military facilities of the Armed Forces of Ukraine, mainly strongholds and places of accumulation of enemy personnel and armored vehicles. Artillery worked in the areas of the settlement. Velyka Kamyshevakha, Chervonoe, Pashkovo, Novaya Dmitrovka, Kharkiv region. Anti-aircraft gunners shot down one drone.
In total, since the beginning of the special military operation, the following have been destroyed: 140 aircraft, 106 helicopters, 512 unmanned aerial vehicles, 254 anti-aircraft missile systems, 2422
tank
and other armored combat vehicles, 266 multiple rocket launchers, 1051 field artillery pieces and mortars, and 2274 special military vehicles
- summed up in the Ministry of Defense.