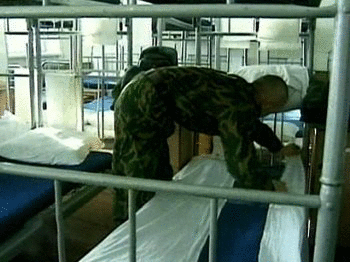 Two contract officers of the famous Kantemirovskaya division are accused of beating the private - one of them, allegedly, used soap wrapped in a towel for this. According to RIA "
News
"This was reported on Monday by the main military investigative department of the UK.
A lawsuit was filed under the article "abuse of office with the use of violence" filed against military personnel under the contract of the military unit 19612 (deployed in Naro-Fominsk) by the commander of the 1 anti-aircraft missile battery of senior lieutenant Andrey Sychev and the commander of the 2 anti-aircraft missile battery of captain Alexey Chernikov .
The investigation found out that in August of this year, during trainings in the Astrakhan region, suspects beat ordinary Dmitry Varivod because he did not execute the "hang up" command, and also recently made several minor violations of the order of service.
"Sychev wrapped a laundry soap in a towel, after which he began to inflict multiple blows on the private soldier's body," the article notes. Doctors ascertained in the soldier a closed head injury, as well as numerous abrasions on the face and body.
Sychev and Chernikov face up to ten years in prison.
The anti-aircraft missile battery, where contract soldiers serve, is part of the 4th Guards
tank
division known as Kantemirovskaya.