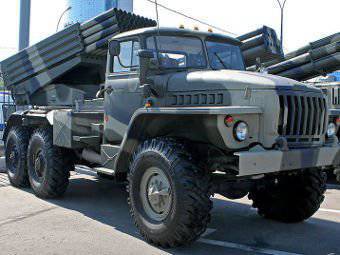 State tests of multiple launch rocket launchers (MLRS) Tornado-G came to an end, the corresponding act should be prepared in the middle of October, said the general director of Motovilikhinskie Zavody (Perm) Nikolay Bukhvalov.
"September 30 was the last day when state tests ended, October 15 should be prepared an act," he said, Interfax reports.
At the same time, Bukhvalov noted that the company does not yet have a contract with the Ministry of Defense of the Russian Federation for the supply of Tornado-G.
Meanwhile, earlier the head of the Russian Ministry of Defense, Anatoly Serdyukov, announced the conclusion of an agreement with OAO Motovilikhinskiye Zavody about the supply of multiple launch rocket systems (MLRS) Tornado-G to the 36 troops.
"We have already concluded the contract for the party from 36 MLRS Tornado-G this year, we are not planning anymore," said Serdyukov.
Commenting on this statement, Bukhvalov said: "There is no contract, apparently, he (Serdyukov - approx. LOOK) has some information that allows him to say so. Perhaps the completion of the tests and the good work of these machines at the exercises allowed the Minister of Defense to say, but we do not have any confirmation of this. We hope that in the near future we will have it, since the Minister of Defense said. "
At the same time, Bukhvalov added that in case of signing a contract, deliveries on it will begin in 2013 year.
As the newspaper VIEW, reported in March of last year, information appeared that the Ministry of Defense will begin to purchase new Tornado-G multiple launch rocket systems, which should eventually replace the BM-21 Grad, which has been in service since 1963.