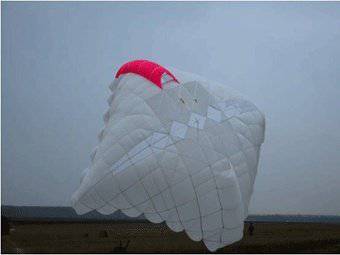 Honored parachutist - tester Vladimir Nesterov, who has more than twelve thousand jumps behind him, will test the innovative D-12 parachute system. The new parachute, designed for training and combat jumping with full service armament and equipment, was developed with the support of the holding
Aviation
equipment "(part of the Russian Technologies Corporation).
The D-12 parachute assault system is designed for combat and training jumps from IL-76, IL-76М, Il-76MD aircraft, Mi-8 helicopter and its modifications. It has a wide range of adjustments, is made of lighter and more durable materials, which allows the paratrooper to take with him more payload.
"D-12 is a parachute system of a new generation," said Sergey Astakhov, director of the FSUE "Research Institute of Parachute Engineering". - With a total flight weight of 160 kg, the D-12 ensures reliable operation in the 150-4000 altitude range and a comfortable landing for a paratrooper at a speed of no more than 4,5 m / s. The main parachute provides an average horizontal speed of movement up to 4,5 m / s forward and back, as well as a turn in any direction on the 180 for a time not more than 15. Suspension system has a wide range of adjustments. The developed parachute system can rightly be called an innovative product with a completely new quality, surpassing world analogues in many ways. "
During the test jumps, Sergey Astakhov, Director of the Research Institute of Parachute Engineering, Professor Vladimir Aparinov, D-12 Project Executive Officer, D-12 System Design Team, will be in attendance at the aerodrome.
Holding "Aviation Equipment" is part of the corporation "Russian Technologies". Includes 36 enterprises located throughout the country: in Moscow, Moscow region, Ufa, Samara, Ulyanovsk, Omsk, Arkhangelsk region and other regions of Russia. The company is a supplier and service station for the maintenance and repair of aviation equipment. In the Russian market and in the CIS countries, the company offers products to the world's leading manufacturers of aviation equipment from Europe, America and Asia. The holding's customers are such companies as Aeroflot, Sukhoi, Transaero, Airlines, UTair and other major participants in the air transportation market.
FSUE "Research Institute of Parachute Building" is the leading developer in the field of parachute building in Russia. The institute carries out fundamental and applied research in the field of parachute technology, the development of parachutes of all types and their manufacture for Russian and foreign customers. The main activity of the institute is inextricably linked with the development of aviation, rocket and space technology. Institute of
develops and manufactures parachute systems for manned and unmanned spacecraft, parachute systems for rescue of rocket blocks weighing up to 70 tons, brake landing parachute systems for all types of aircraft, parachute rescue systems for aircraft crews, airborne human and cargo systems, as well as special parachute systems systems and parachute systems for ammunition, including those operating in supersonic modes.
Russian Technologies is a Russian corporation established in 2007 year to promote the development, production and export of high-tech industrial civilian and military products. All in "Russian Technologies" includes about 660 organizations. The corporation consists of 17 holdings: 12 of them are in the defense industry, 5 is in civilian industries, and 22 is a direct management organization. Headquarters is located in Moscow. Corporation organizations are located in the territory of 60 subjects of the Russian Federation and supply products to markets in more than 70 countries of the world.