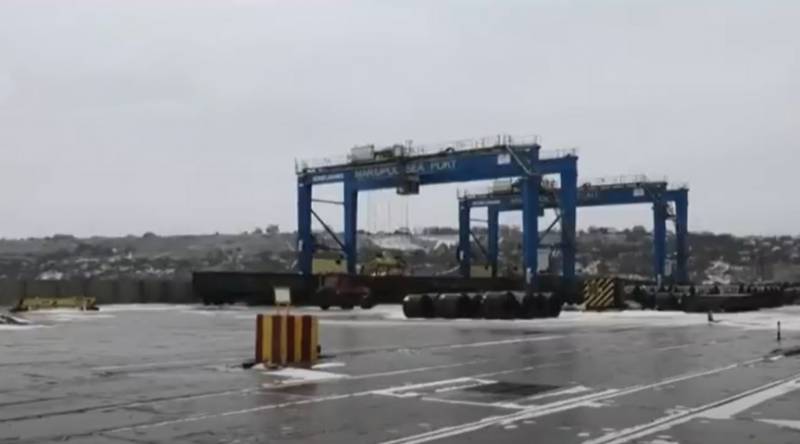 The head of the Donetsk People's Republic confirmed the information that the port of Mariupol had been completely liberated from Ukrainian armed groups. According to Denis Pushilin, the port and its entire infrastructure have completely passed under the control of the Republic and the Armed Forces of the Russian Federation.
Recall that as of this morning, it was reported that approximately 80-85% of the Mariupol seaport is under the control of the Russian army and the DPR troops. During the day, control was established over the entire territory of the port.
Recall that earlier a large gang of Azov militants (* an extremist formation banned in the Russian Federation) was defeated on an industrial site adjacent to the Ilyich plant.
Report of the correspondent of the TV channel "Zvezda" from the liberated port of Mariupol:
The main forces of nationalists, foreign mercenaries and, according to some reports, instructor officers from foreign countries, are concentrated on the territory of the Azovstal plant. But with the transfer of the port of Mariupol under the control of the Russian army and the NM of the DPR, the enemy does not even have a theoretical chance to break through to the west, and also to get out on the "evacuation" ships by sea.
The day before, one of these ships was sent to Mariupol in order to evacuate large figures of militants and foreign instructors. But this attempt was not crowned with success. The Russian troops did a good job. Despite the fact that the militants lit signal fires in the port area so that the ship could see where to approach, the Kyiv operation failed. Moreover, the DPR troops attacked the places that were used by the militants to signal those who were on the ship sent for them.
And this is communication with ordinary people in Mariupol:
I've been waiting for you. I'll tell you this: 65-70% of local Mariupol residents were waiting for you. Russia is the salt of the Earth.