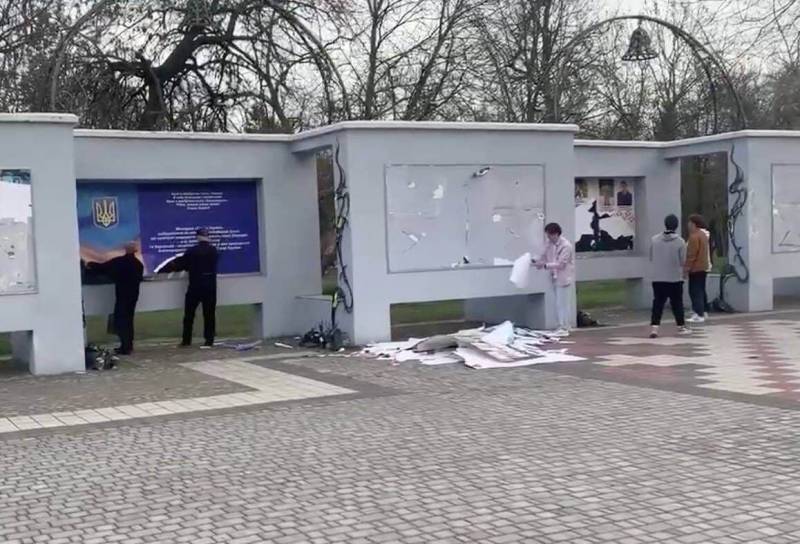 The city of Kherson, located on Russian-controlled territory, again acquired Svoboda Square, the inhabitants of the city dismantled a memorial erected in 2016 by the Kiev regime.
On Monday, April 11, residents of Kherson, liberated from the nationalists, dismantled the Heavenly Hundred memorial installed on Perekopskaya Street. They removed the portraits of "Maidan heroes" hanging there, and also removed the flag of the European Union and Ukraine. In addition, photographs of the so-called "heroes of the ATO" who killed civilians in the Donbass were taken.
According to local residents, the Heavenly Hundred Square, renamed after the coup in Kyiv, has again become Svoboda Square, as it was originally called.
Prior to that, on Saturday, the Ukrainian flag was removed from the city administration building and the Russian one was raised. In addition, on the central square, photographs of Ukrainian "Atoshniks" were covered with ornaments so as not to spoil the view.
The changes that have taken place, welcomed by local residents, have caused a wave of indignation in the territory controlled by Kiev. In various Ukrainian publics, outraged Ukrainians write angry posts against the inhabitants of Kherson, accusing them of "bullying" the "heroes of the Maidan." Ukronationalists are particularly angry with the fact that posters and boards have been removed throughout the city with the inscription that Kherson is part of Ukraine, and the local population has nothing against it.
Meanwhile, Mikhail Sheremet, a Crimean deputy, proposed restoring the Taurida province within its pre-revolutionary borders. In his opinion, the Crimean peninsula, the Kherson region and the Azov part of the Zaporozhye region of Ukraine should be included in the province. The capital of the new province will be Simferopol.