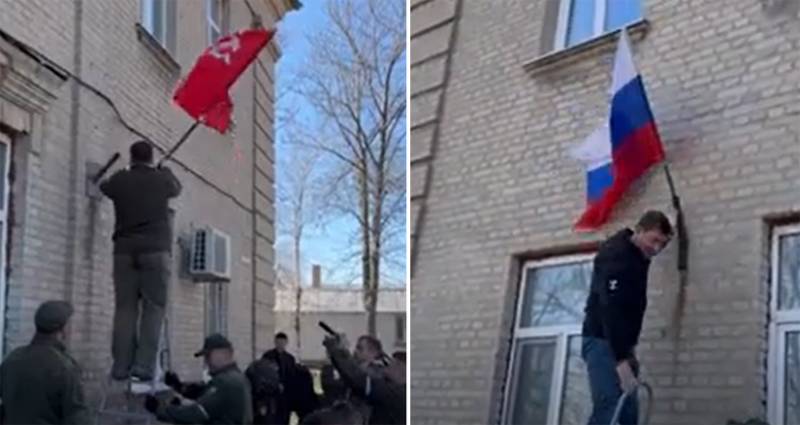 From the Zaporozhye region, there are reports that the Russian tricolor has been raised over another settlement in this region. We are talking about the urban-type settlement of Rozovka, a district center located in the area of ​​the Zaporozhye-Mariupol highway, literally a few kilometers from the border of the Donetsk People's Republic. Also, a railway passes through Rozovka, connecting the territory of the Zaporozhye region with the DPR - in the direction of Volnovakha.
The Russian flag was hoisted over the building of the local administration by the head of the Donetsk People's Republic Denis Pushilin and the representative of the Federation Council of the Russian Federation Andrei Turchak.
In addition to the Russian tricolor, the banner of Victory was also hoisted on the Rozovka administration building.
Recall that the territories of the Zaporozhye region are partially under the control of the Armed Forces of the Russian Federation and the NM of the DPR. The territories south of Energodar, including Melitopol, Berdyansk, as well as the east of the region, including the regional center of Rozovka, are included in the territories liberated from the troops of the Kiev regime. To date, these territories are preparing to introduce a dual-currency system of commodity-money relations - in Russian rubles and Ukrainian hryvnia.
Rozovka with a population of about 3,5 thousand people (Zaporozhye region) on the map:
In the district center, among the significant objects, one can single out the experimental station of the Institute of Grain Economy of the UAAS (Ukrainian Academy of Agrarian Sciences).