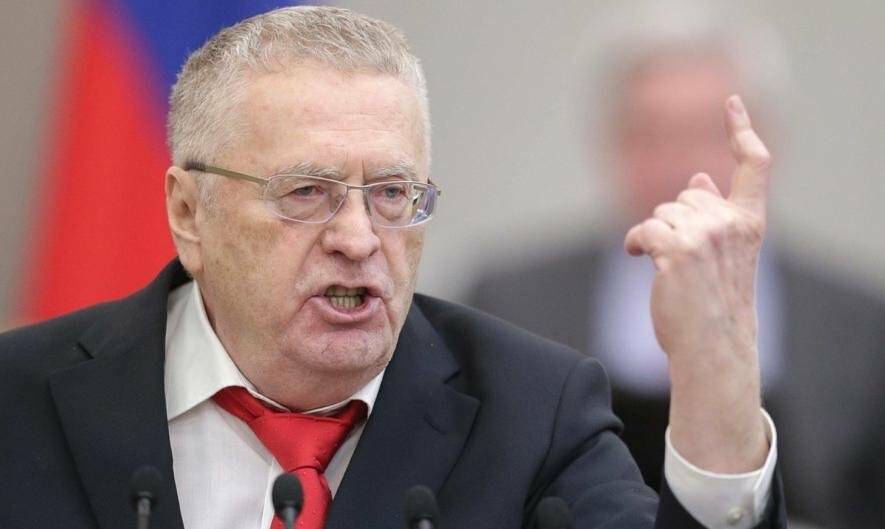 The leader of the LDPR faction, Vladimir Zhirinovsky, died after a serious and prolonged illness, said State Duma Speaker Vyacheslav Volodin on his Telegram channel. Everyone knew about his illness, and it seems that absolutely everyone wanted him to get out, but ...
"After a severe and prolonged illness, Vladimir Volfovich Zhirinovsky passed away. Bright, talented politician. For all of us, this is an irreparable loss. May the bright memory of him always be in our hearts," Volodin wrote.
It is difficult to imagine the State Duma without Zhirinovsky. It is in its current form and actually began with his triumph in 1993, shortly after the shooting of our Moscow White House.
Even the Constitution of the Russian Federation of December 12 of the same 1993, many, not without reason, are ready to associate with the leader of the Liberal Democratic Party. And I can't believe he's dead! This cannot be, because Zhirik is immortal. And how can one not recall one of his statements:
"And until my death I will participate in the elections, I will even participate from the cemetery, and from there I will give you signals that I am lying there"
For the first time I saw Vladimir Volfovich Zhirinovsky during the first presidential elections in Russia. And that was back in 1991. Let me remind you that at that time Russia was still a republic within the USSR.
By the way, the party headed by Zhirinovsky was called at that time LDPSS - the Liberal Democratic Party of the Soviet Union. I then worked in the main editorial office of the propaganda of the State Radio and Television, and Zhirinovsky more than once appeared in our programs with his election program.
And before the broadcast in our office, we just chatted about this and that. What was immediately remembered by the still quite young politician? First of all, by its originality, its enthusiasm and desire to rebuild Russia. The energy emanating from him, and clearly positive, as they say, overflowed.
And all of us, editorial journalists, noticed that he always spoke without a piece of paper, that he did not have any pre-written cheat sheets and theses. And he spoke somehow even cheerfully and used figurative words. Nobody was bored with Zhirinovsky.
And this absolutely distinguished him from almost all representatives of the party nomenklatura, who regularly broadcast on our air not in the language of Pushkin and Tolstoy, but in the great and powerful office. By the way, in those elections, Zhirinovsky received more than six million votes and took a confident third place with his party.
Then I worked as a parliamentary correspondent for Rossiyskaya Gazeta, and I crossed paths with Vladimir Volfovich many times: I asked questions at briefings, I took interviews. Until very recently, he remained the most original, and perhaps the most striking politician in Russia. And like no one else, he knew how to use the verb "to burn people's hearts."
When Zhirinovsky went to the podium, even those who, during the speeches of other speakers, preferred to drink coffee or chat with friends, approached the monitors. Because Zhirinovsky was a speaker from God. And this should be recognized even by those who were not at all a fan of the permanent leader of the Liberal Democratic Party and a State Duma deputy with a solid record of parliamentary work.
Party colleagues called his death "a blow to all of Russia", and the politician himself - "a great man who entered himself into
history
our country and the whole world. "And in general they are right. Another such extravagant person who knew how to ignite the people is hard to find in the modern history of the country.
Zhirinovsky cannot but be given his due - he always remained himself. Recently, there are many of his prophecies on the Internet that have become a reality. He had long predicted the Crimean Spring - the return to Russia of the peninsula, generously given to Ukrainian comrades under Khrushchev.
He absolutely accurately predicted Western anti-Russian sanctions. It can be said that he also predicted a special operation as the only real way out of the political impasse. Someone believed that he had the talent of a prophet, someone claimed that Zhirinovsky had access to the most secret intelligence materials, and not only Russian!
"I don't guess like gypsies at the station, I say what I think is necessary, based on the amount of my knowledge and past history. To give a correct forecast, you need to know the past well and correctly evaluate the present.
About what will happen to Ukraine, he said this:
"Little Russia, Novorossiya, all of eastern and southern Ukraine are Russian lands. Therefore, if ever the question of Ukraine's independence arises, it will be only within the six western Ukrainian regions. These are Transcarpathia, Lviv, Ternopil, Ivano-Frankivsk, Volyn and Rivne, just these regions. The capital will be Lvov, and in a few months Polish troops will be there."
But most importantly, he believed in the great future of Russia and did everything possible to make it come soon!