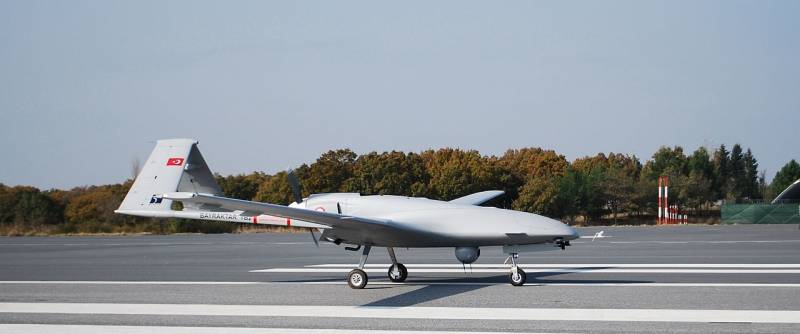 UAV Bayraktar TB2 Turkish Air Force. Photo by Wikimedia Commons
Until recently, the air force had a fairly large fleet of unmanned aerial vehicles for reconnaissance and strike purposes. They tried to use this technique against Russian troops - but it was only enough for a month. To date, the strike unmanned "fleet" has been completely destroyed, and its restoration through imports is hardly possible.
Import dependency
In 2018, Ukraine and Turkey signed a contract for the supply of several unmanned
aviation
Bayraktar TB2 complexes. In accordance with it, in the coming months, the Ukrainian Air Force was to receive six
drones
, as well as control stations and weapons. Since 2020, the possibility of launching joint production has been discussed, incl. with the assembly of finished products at Ukrainian facilities and using a locally produced engine.
The exact number of delivered and jointly assembled UAVs remained unknown until recently. However, Russian intelligence managed to establish it, and at the end of March, our Ministry of Defense disclosed this information. It was reported that at the time of the start of the Special Operation, the Ukrainian Air Force had 36 Turkish attack drones.
It should be noted that TB2 are not the only UAVs in the Ukrainian army. In service there is equipment of a number of other types of local and foreign production. However, only Bayraktar is capable of carrying full-fledged air-to-ground weapons.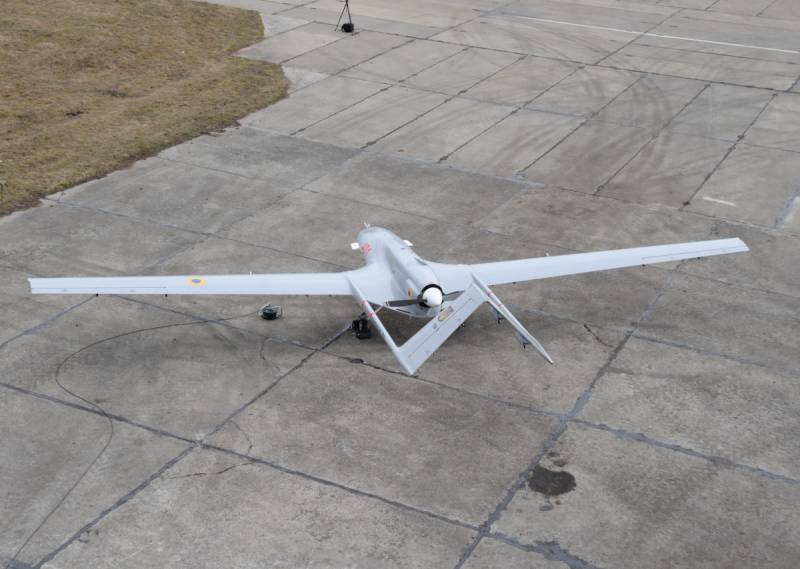 One of the Ukrainian "Bayraktars" of the first batches. It has been destroyed by now. Photo by Wikimedia Commons
Thus, all the strike capabilities of the unmanned fleet of the Ukrainian Air Force were provided by only one type of equipment. At the same time, he was of foreign origin, which imposed certain restrictions and was potentially a source of serious problems.
Forced demilitarization
The Ukrainian military has tried to use its unmanned systems against Russian forces and is even said to have achieved some results. Kyiv propaganda regularly talked about certain victories of the Bayraktars, but this information often did not receive confirmation. Moreover, some of these reports turned out to be lies, and "evidence" was forged.
Meanwhile, Turkish-made UAVs faced opposition from Russian military air defense and naturally suffered losses. In addition, home airfields were destroyed by various means. A few days ago, the Russian Ministry of Defense reported that 35 TB2 products were destroyed in the first month of the Special Operation.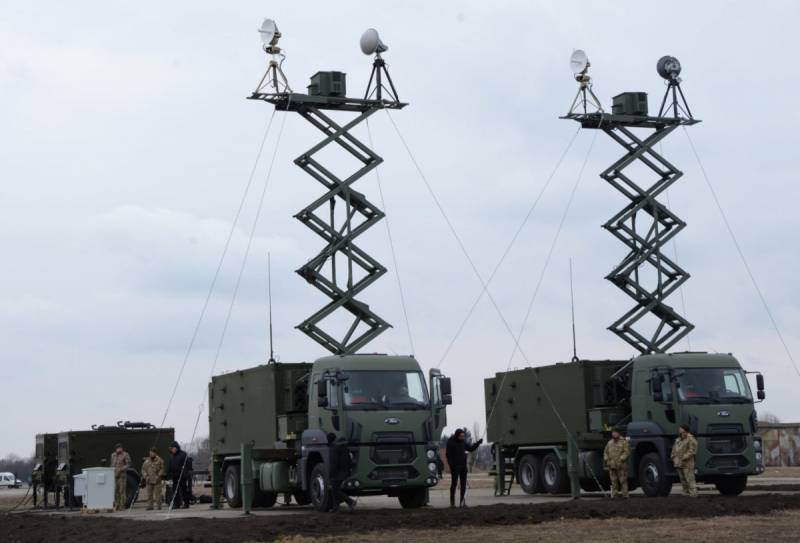 The Ukrainian UAV control station is another target for a Russian strike. Photo by Wikimedia Commons
In the following days, the defeat of the Bayraktar TB2 UAV was again reported. It follows from them that our air defense has completed the destruction of the entire previously identified fleet of such equipment. However, the enemy received new products of this type from unknown sources - and anti-aircraft gunners will again not be left without work.
Turkish supplies
The origin of the "extra" Turkish-made UAV is quite understandable. Under the first contracts, Ukraine received at least 6 such items, and in 2020, plans were mentioned to supply another 48 units, ready-made or in the form of assembly kits. According to all agreements and plans, in the near future the Ukrainian Air Force could create a fleet of 54 Bayraktars.
Until February 24, at least 36 units entered service, and continued deliveries were expected. New information on this matter appeared in mid-March, after the start of the Special Operation. Domestic and foreign media reported that Turkish military transport aviation secretly delivered a new batch of drones to Ukraine.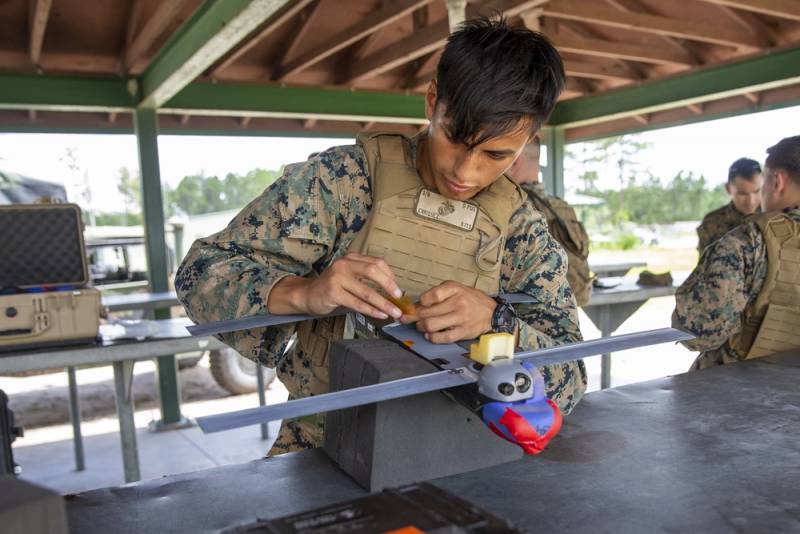 Service loitering ammunition Switchblade 300. Photo by the US Department of Defense
The volume of this party is unknown, but it could partially make up for the losses incurred. In the following days and weeks, Ukrainian specialists could prepare the received equipment for operation and send it into flight. And then to lose the first of the new drones - already the 37th in recent weeks.
American help
In recent weeks, Ukraine has received a number of UAVs of various types from foreign countries. Such military-technical assistance included only light reconnaissance systems, while no heavy and/or strike vehicles were supplied. However, in mid-March, the situation changed, and it became known about the imminent delivery of military equipment.
The United States announced its intention to supply Ukraine with 100 AeroVironment Switchblade loitering munitions of an unnamed model. The transfer of such products is expected in the near future, but the exact dates were not called. In addition, the practical benefits of such supplies are questionable.
It should be recalled that a lot of various UAVs are produced in the USA, incl. medium and heavy complexes for reconnaissance and strike purposes. However, they do not plan to transfer such equipment to Ukraine. Such military-technical assistance is hampered by several legal and political factors.
American reconnaissance and strike UAV MQ-1. Photo by the US Department of Defense
Features of the export of American heavy UAVs were recently reviewed by Breaking Defense. It recalls that any export contract for military products must be approved by the State Department. This agency reviews the agreements against US policy and international agreements and then makes its decision whether to allow or deny exports.
Curiously, the State Department views drones and their sale in light of the Missile Technology Control Regime treaty. As a result, attention is paid to the performance characteristics of the product and its potential in the context
weapons
mass destruction. Light and medium UAVs with limited performance easily pass this test, and their sale is allowed without special restrictions.
Unlike them, medium and heavy complexes with weapons and other special abilities are allowed to be delivered only to the closest allies. Despite all the statements and assurances, Ukraine is not among the closest friends of the United States. Accordingly, she does not have to rely on receiving heavy MQ-1 or MQ-9 and American-made Hellfire missiles. US policy will allow the Ukrainian army to arm itself only with ultra-light Switchblades. Of course, if by the time they are delivered, this army will still exist.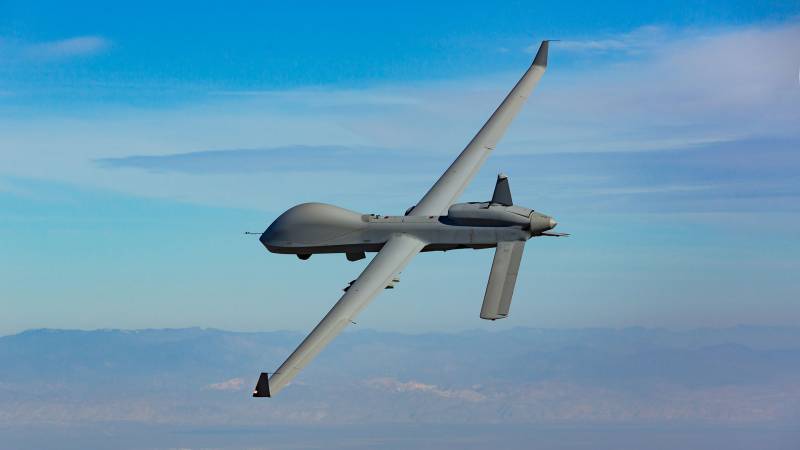 Heavy MQ-9C in flight. Photos of General Atomics
Deliveries and losses
Over the past few years, Ukraine, with the help of Turkish industry, has been able to build a fairly large fleet of unmanned aerial vehicles with reconnaissance and strike functions. The air fleet of 36 or more Bayraktar TB2 products in the future made it possible to conduct active hostilities against the republics of Donbass and inflict significant damage on them with limited risks for Ukrainian troops.
However, the Russian army, with all the necessary forces and means, stood up to protect the recognized republics, which did not have a developed air defense. In just a month, our military air defense destroyed the entire fleet of Ukrainian strike UAVs and knocked out a lot of drones of other classes. This reduced the capabilities of the Ukrainian army, and also dealt a blow to its pride: Bayraktar had high hopes, but it did not justify them.
Recent ones
news
show that Ukraine is trying to get new TB2 and make up for the losses incurred. However, the volumes of deliveries of Turkish equipment are small and do not allow to restore the former number of the fleet. You can't count on receiving similar strike UAVs from other countries at all. At the same time, Russian troops will do everything possible to destroy the newly arrived devices at airfields and in the air.