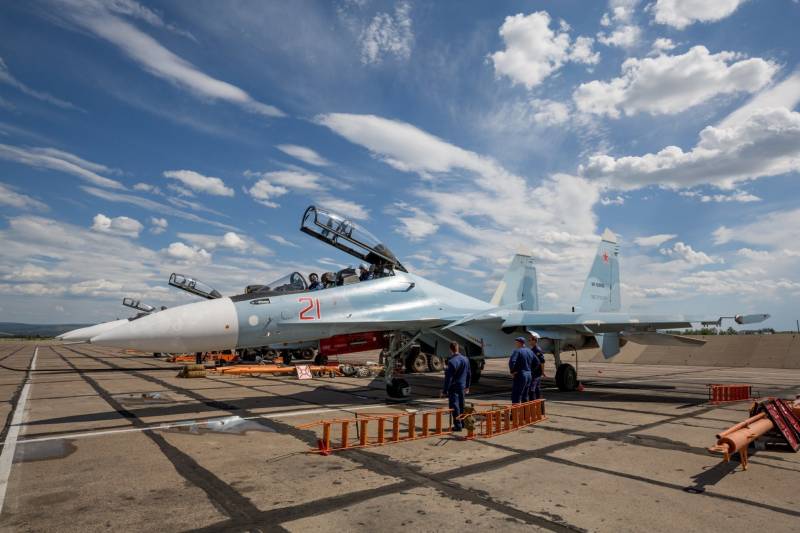 In the previous article -
Survival of military aviation on airfields under the influence of long-range precision weapons
we considered the trend of increasing risks for combat and auxiliary
aviation
in terms of the possibility of its destruction by the enemy in their bases with the help of high-precision
weapons
long-range, receiving target designation from space reconnaissance means (in the first place).
USA vs Russia
As already mentioned in the above material, Russia has approximately 1300 combat aircraft, while the United States has from 5000 to 15 long-range precision weapons, and possibly more. In the event of a conflict between the United States and the Russian Federation, our adversary, due to the developed constellation of reconnaissance satellites, will have much greater opportunities to destroy Russian combat aircraft in their bases than Russia currently has during a special operation in Ukraine.
It can be assumed that the intervals between the passages of US reconnaissance satellites are much shorter, and in the future they will gradually decrease until reconnaissance information is received in 24/365 mode or close to it. Combined with the ability to retarget in flight some samples of American high-precision weapons, saving equipment by simply moving it from one position to another will not work.
You should not rely on anti-satellite weapons either, it will be extremely difficult to shoot down all reconnaissance satellites, and the more there are, the more difficult it will be to solve this problem. This issue has been discussed in detail in articles
Достучаться до небес
и
Orbital Cleaners
.
It is also worth mentioning Elon Musk's answer to a press question:
"What happens if the Russians and the Chinese target satellites? Will this be a threat to Starlink?"
The answer was this:
"It was interesting to look at the Russian anti-satellite demonstration* a few months ago in the context of this conflict. Because it caused a lot of controversy among satellite operators. It even posed some danger to the space station where the Russian cosmonauts are located. So why did they do it? This was a message before the aggravation of the situation in Ukraine. If you try to disable Starlink, it won't be easy because we already have over 2000 satellites. That means a lot of anti-satellite missiles. I hope we don't have to test this in practice, but I think that we can launch satellites faster than they can shoot them down with anti-satellite missiles. "
We will argue with this statement in a separate article, but even depriving the enemy of a significant part of the constellation of reconnaissance satellites will not exclude the possibility of delivering massive strikes with long-range precision weapons.
Of course, even the United States will not be able to destroy all Russian aircraft on airfields, just as Russia could not achieve this in Ukraine, but what will the loss of, for example, half or even two-thirds of the fleet of combat aircraft mean? How effective will the Russian Air Force be after this, given that we are already lagging behind in terms of the quantity and quality of aviation equipment in service?
It can be assumed that, as in the case of Russia and Ukraine, the US will have many other targets in Russia, so the relative impact on the Russian Air Force will decrease. However, it is necessary to understand that it is the Air Force that is the most mobile and aggressive force capable of operating at great depth and destroying objects in the depths of enemy territory, seizing air supremacy and preventing the enemy from capturing it.
By destroying or significantly weakening the RF Air Force, the enemy will secure a significant advantage for himself, will not allow the RF Armed Forces to conduct active offensive operations, and will deprive him of the initiative. That is why, in a number of scenarios, the Russian Air Force may become the main priority for the US Armed Forces.
There is an opinion that any massive launch of cruise missiles by the enemy will be detected by over-the-horizon radars (ZGRLS) and will cause Russia to launch a massive nuclear strike in response. It is far from certain that this will be the case, especially if the enemy openly declares in advance that strategic nuclear forces facilities and command centers will not be attacked.
You should not rely only on anti-aircraft missile systems (SAMs) - their capabilities are limited, with a simultaneous attack by hundreds of ammunition from one air base, SAMs will intercept part of the attacking cruise missiles (CR), maybe quite a large part of them, but there is no doubt that the enemy will to form a missile attack squad precisely taking into account the opposition to it with the help of air defense systems.
Then how can Russian aviation be saved at base airfields?
take cover
First of all, as already mentioned on the pages of the Military Review, all aviation equipment of the RF Armed Forces should be stored in arched shelters. There is a huge difference between defeating openly standing planes and helicopters, and the same planes and helicopters, but standing in camouflaged concrete shelters. In the first case, one cluster munition is enough to destroy a dozen or several dozen aircraft units, in the second case, at least one precision-guided munition must be spent on each arched shelter.
Moreover, the
the number of arched shelters should be several times greater than the number of aircraft potentially placed in them
. For example, if the air base hosts 100 combat aircraft and helicopters, then the number of arched shelters should be 300 units. Wasteful?
In no case. An arched shelter is a long-term investment. They can be based as aircraft of the fourth generation, as well as the fifth, sixth and so on. Their construction does not require microcircuits and thermal imaging matrices, satellites and launch vehicles, that is, some kind of high technology, which is currently in short supply. Built today, tomorrow or the day after tomorrow, they will last for decades or even centuries.
A similar logic can be traced in the "square-nested" placement of intercontinental ballistic missiles (ICBMs) in silo launchers (silos), which was previously considered in articles
The evolution of the nuclear triad: prospects for the development of the ground component of the strategic nuclear forces of the Russian Federation
,
The evolution of the nuclear triad: generalized composition of the strategic nuclear forces of the Russian Federation in the medium term
,
Nuclear math: how many nuclear charges does the US need to destroy Russian strategic nuclear forces
? There comes a time when protection is more important than stealth.
Arched shelters will protect aircraft not only from fragments of cluster munitions - it is far from a fact that they can be hit by small-sized ammunition of modern unmanned aerial vehicles (UAVs), which can also be used to destroy Russian aviation, and indeed, depending on the execution, they will break through far from any air bomb or rocket.
As the capabilities of satellite reconnaissance increase and they enter the 24/365 mode of operation, the enemy will have more and more data on which arched shelter planes or helicopters will be covered in, and which will be empty. This will require additional action from aerodrome personnel. In particular, movements between arched shelters of decoys - mock-ups of airplanes and helicopters can be periodically carried out.
There are ways to further confuse the reconnaissance of a potential enemy. So, arched shelters can accommodate not only aircraft and helicopters that are in service, but also put into reserve (taking into account what we talked about earlier - the construction of an excess number of arched shelters). Even if some aircraft has not been flying for a long time, but can potentially be restored, or it is generally only suitable for "cannibalizing" spare parts, but in any case, it can still serve as a false target for the enemy's CR. In addition to distracting enemy reconnaissance from real targets, reserve or "collapsible" aircraft and helicopters will be kept in better conditions, which will either allow them to be restored with less effort, or to keep spare parts in better condition.
As an additional measure of informational countermeasures, light mobile shelters can be provided, hiding in which particular arched shelter the landed aircraft is hidden. The mobile shelter must be transported together with the airfield tractor (integrated with it?) over the covered aircraft or helicopter, while the tractor can drive up to several arched shelters in turn - go and understand in which particular protected object was hidden.
It is clear that large-sized transport aircraft and strategic missile-carrying bombers cannot be hidden and placed in this way, although, perhaps, some shelter options can be invented for them. For example, by analogy, combat vehicles withdrawn to the reserve can be used as decoys.
In addition, concrete partitions with a light roof above them can be erected between the bases of large-sized aircraft. Firstly, when one aircraft is hit on the ground, when the enemy ammunition explodes on the ground, and not in the air, there is a chance that neighboring aircraft will survive. And secondly, light shelter will make it difficult to determine the presence of an aircraft in it, as well as identifying its type and technical condition.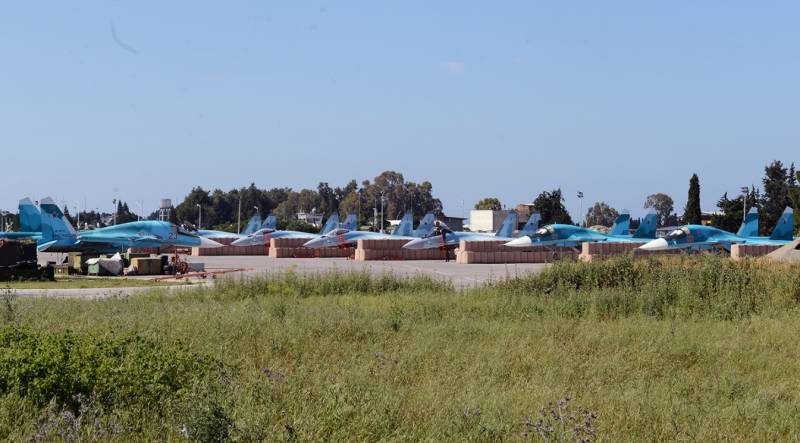 Su-34 and Su-35S aircraft of the Russian Aerospace Forces at the Khmeimim airbase (Syria) - even such partitions may well protect adjacent aircraft when a mini-UAV-kamikaze or a mortar mine is blown up. Image: Mikhail Khodarenok, gazeta.ru
dodge
There are two ways to dodge an enemy attack. The first is to change your location, the second is to deflect the enemy's blow.
The first method includes changing the location of the target aircraft (airplanes, helicopters, UAVs) as within the same air base, as we discussed above - an excessive number of arched shelters, which makes it difficult to determine in which particular one the target aircraft is located , and by increasing the number of air bases on which aircraft of various types can be based. In this way, we will not only reduce the number of potential targets within one air base, but also create uncertainty for the enemy - on which of them how many aircraft will be located at any given moment.
After taking off from one air base and completing a combat mission, the aircraft can land on one of three, four, or five others, the tired pilot will be replaced by another, the aircraft will be refueled, serviced, re-armed, and it will again, without delay, enter the battle. What else does this say? The fact that there should be more pilots than aircraft, by analogy with the replacement crews for nuclear submarines in the United States.
As for deflecting the enemy's strike, you can try to implement this scenario by influencing the navigation aids and the means of guiding the attacking ammunition. Long-range attack precision munitions may contain several types of navigation aids and guidance aids. For example, the following can be used as navigation aids: a GPS satellite navigation system, an inertial navigation system (INS) and a TERCOM type terrain flight correction system.
The inertial navigation system has limited capabilities, with it alone, without GPS and TERCOM systems, high-precision ammunition is unlikely to reach the target. We will not be able to influence the work of the INS.
It is also unlikely to jam the GPS signal over a large area, and if it is jammed near the air base, then the accuracy of the INS will be enough for the high-precision ammunition to overcome the remaining distance and reach the target with the required accuracy.
Thus, it is necessary to understand that with a high probability, long-range precision-guided munitions of the enemy will be able to reach the area of ​​the attacked air base.
Potentially, the option of replacing GPS coordinates can be considered, and this substitution should be insignificant so that the algorithms of smart ammunition do not recognize it (if any). It is not necessary to take the enemy missile too far, it is enough to bring it to false targets, the positions of which can be equipped near the air base.
Such false positions can include mock-ups of aircraft as well as easily erected mock-ups of arched shelters. In times of peace, false arched shelters can be used to store supplies of little value such as building materials or the like. Additional activity around decoys will only confuse enemy reconnaissance. The technical implementation of the possibility of replacing GPS coordinates is questionable, especially since the enemy is constantly improving the noise immunity of satellite navigation systems, nevertheless, Russian electronic warfare (EW) systems are also developing and improving.
Looking ahead, it can be predicted that from a certain point on, ANNs based on the principles of quantum physics will become so perfect that precision-guided munitions will be able to do without external sources of correction along the entire flight route, but this is a matter for the next 5-10 years, or even several decades. .
If the enemy's precision-guided munitions have reached the air base, then it is necessary to minimize the probability of their hitting pre-planned targets.
In the final section, precision-guided munitions can use optical and / or radar homing heads (GOS). They can be countered by placing decoys, mockups, and devices that prevent them from working properly.
As such, we can offer shipborne systems for setting up metallized smoke and aerosol screens used by the naval
fleet
(Navy) of the Russian Federation, or specialized aerosol camouflage systems designed specifically for the protection of ground facilities, capable of largely closing the air base from the "look" of enemy missiles. Of course, this will not protect the air base from missiles in principle, since navigation systems will already bring them to the target area, but it may well protect specific objects from destruction, and it will make it difficult to orient precision-guided munitions in the final flight segment.
Defend
Of course, first of all, this is a layered defense with the help of air defense systems. Yes, they will not shoot down all missiles. Yes, the enemy will form a squad to hit targets, based on the presence of air defense systems at the facility. However, without air defense systems, the enemy will be able to attack air bases with much smaller forces, redirecting the remaining "free" ammunition to other targets.
In addition, the presence of an air defense system will force the enemy to make maximum use of the terrain to hide the approach of attacking ammunition. And knowing this need will allow you to deliver another blow to the enemy.
There is such a type of weapons as anti-aircraft mines. Currently, they can only hit objects moving at limited speeds, up to about 400 kilometers per hour. Already in this version, they can be useful for repelling strikes inflicted by UAVs capable of making their way to the protected air base at low altitude. And in the future, it is possible to increase the range of speeds of targets hit by anti-aircraft mines, and then anti-aircraft mines placed on probable attack routes with long-range precision-guided munitions can cause significant damage to them.
And finally, the last frontier -
Air defense active defense systems (KAZ-PVO)
. In this article, they should first of all be focused on hitting small, low-speed targets. To destroy long-range cruise missiles, specialized systems with high-power destructive ammunition are needed.
Air defense active protection systems should be located directly next to the arched shelters intended for the storage of aviation equipment. Their impact will make it possible to maximally weaken the enemy's strike in the final flight segment of long-range precision-guided munitions.
Conclusions
Keeping aviation at home airfields is of paramount importance, given the impact that the air force has on the effectiveness of combat operations by the armed forces as a whole.
The limited amount of modern aviation combat equipment makes its loss at home airfields an unacceptable luxury.
Ensuring the comprehensive security of the Russian Air Force at base airfields should become one of the priorities in the construction of the Russian Air Force.
Improving high-precision munitions and constellations of reconnaissance satellites of our potential adversaries will potentially require profound changes in the structure of the Russian Air Force, the performance characteristics of advanced aviation systems and support systems.