Ammunition "Kub-BLA" on the launcher
In recent years, the Russian defense industry has developed several unmanned aerial vehicles of the "loitering ammunition" class. Soon it
weapon
was tested by the army, received high marks and entered the troops. The ammunition showed its capabilities and potential in Syria, and now they are confirming them as part of the Special Operation in Ukraine.
New designs
The topic of loitering ammunition (AP) has not been worked out in our country for a long time - despite the notable successes of the unmanned industry as a whole and the emergence of foreign projects of this kind. However, later the situation changed, and in 2019 Zala Aero presented two such UAVs at once, and also announced new developments based on them.
Ammunition "Kub-BLA" and "Lancet" coped with factory tests and were presented to the Ministry of Defense, after which a new stage of testing began. The products received fairly high marks, although there were some comments and suggestions for further development. Based on the results of these events, mass production was launched, and deliveries to the troops also started.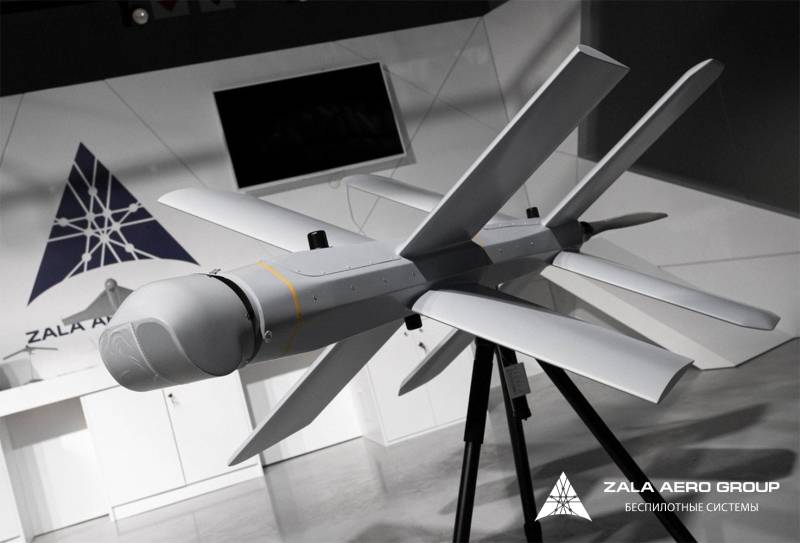 To date, Zala Aero has managed to develop and bring, at least to testing, a whole line of BBs. It includes products "Cube-UAV", "Lancet-1" and "Lancet-3" with different characteristics and capabilities. New samples are also being developed on the basis of existing ones.
Combat application
Just a few months after the first show, in 2019 the party
drones
"Cube-UAV" was delivered to Syria for experimental military operation in a real conflict of low intensity. The following year, the army received a batch of Lancet-3 products to conduct similar tests. A few weeks ago, in mid-February, the Russian press reported on the use of another AP of the Lancet family in the Syrian operation.
Some details of the Syrian weapons tests are known. Officials and unnamed sources reported the use of several dozen loitering ammunition. They were used to destroy stationary and mobile targets of various kinds - various buildings, fortifications, vehicles, etc.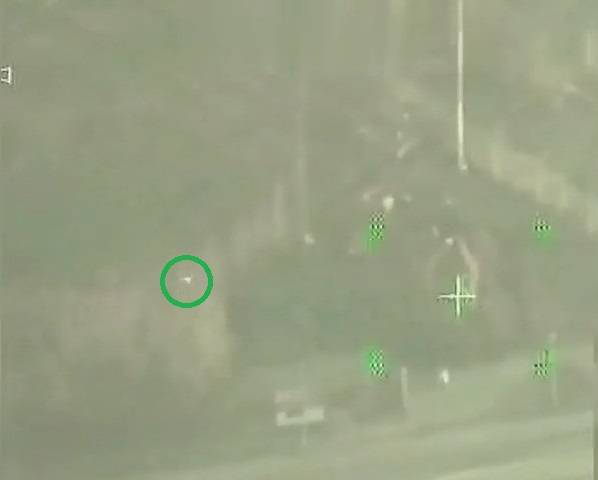 Combat use of an AP of unknown type. The circle marks the device flying up to the target
Video recordings of the combat use of new ammunition were also shown. Filming from reconnaissance UAVs of objective control made it possible to evaluate the features of the use and capabilities of such warheads. In particular, hits on stationary targets and successful "chases" of moving ones were clearly demonstrated. One of the recordings shows how the UAV flies under a canopy and hits objects under it.
Back at the end of February, the first reports appeared about the use of Russian BBs as part of the Special Military Operation in Ukraine. In particular, various photographs and videos were published in various sources. However, there were no official data on this subject for some time, and the question remained open.
Confirmation was received on March 19 - the Ministry of Defense published a video with several episodes of the use of BB. Filming from a reconnaissance UAV shows how the ammunition flies up to the intended ground target and undermines it. Both shown episodes demonstrate the exact defeat of objects in urban areas without misses and collateral damage.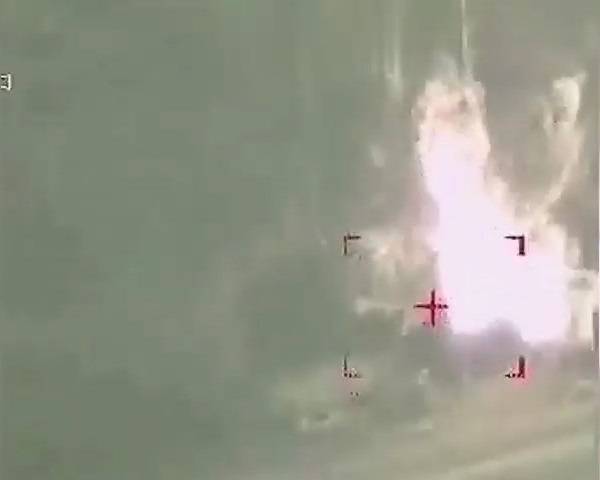 Details of the combat use of Russian BBs have not yet been given. The number of launches and targets hit, the success of breaking through the remaining air defenses, etc. is unknown. At the same time, it can be assumed that the new weapon is used in fairly large quantities and complements other shock systems. At the same time, not everything goes smoothly - there are known cases of failures, which, however, should not seriously affect the overall efficiency and statistics.
Material part
The Russian army is currently armed with at least three types of loitering ammunition. First of all, this is the very first sample from Zala Aero - "Cube UAV". Such an aircraft is a plastic "tailless" 950 mm long with a wingspan of 1,2 m. It is equipped with an electric motor with a pusher propeller and an autopilot with satellite homing or an optical system.
"Cube-UAV" develops speed up to 130 km/h and can stay in the air for up to half an hour. The designated target is attacked from a dive; its defeat provides a 3-kg warhead. The power of the charge is sufficient to deal with unprotected equipment, buildings and manpower.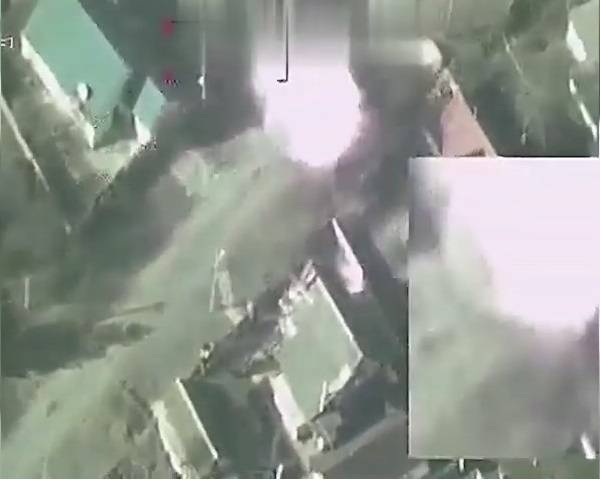 The product "Lancet-1" is built according to a different aerodynamic configuration and has an elongated fuselage with two sets of X-shaped planes. The takeoff weight of such a warhead is only 5 kg, of which 1 kg falls on warheads. Despite its small dimensions, the Lancet-1 is equipped with a fairly advanced control and guidance system, built using an optoelectronic unit and satellite navigation.
With the help of an electric motor with a pusher propeller, the Lancet-1 is capable of speeds up to 110 km / h. The battery charge is enough for a flight of 30 minutes. followed by a fall on the target.
"Lancet-3" is built according to the same scheme, but differs in increased size and weight. Other equipment was also used and combat characteristics were improved. The non-standard UAV weighs 12 kg and carries a warhead weighing 3 kg. Flight characteristics generally remained at the same level, but the flight duration increased to 40 minutes.
Combat capabilities
All loitering ammunition, including the domestic "Cube" and "Lancet", have similar principles of operation. Such a product starts from the launcher and is sent to the intended target area, where it begins to search for it. The detected target is taken for tracking, after which the UAV falls on it and undermines the standard warhead.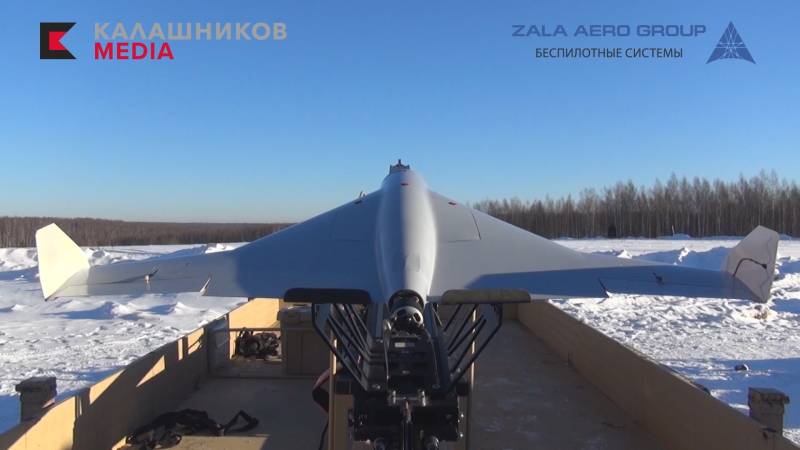 Domestic warheads are intended to destroy various ground and surface targets. High-explosive fragmentation warheads weighing up to 3 kg ensure confident destruction of various objects, up to light armored vehicles. Targets with more powerful protection are dealt certain damage, incl. excluding further tasks.
During the tests, the Lancet devices also showed the fundamental possibility of working in the "air mining" mode. In this case, the loitering product is looking for enemy aircraft, and when it is detected, it attacks them. This mode is intended to combat enemy helicopters and UAVs.
BBs of the Lancet family, equipped with optoelectronic systems, can be used as aerial reconnaissance means - in addition to full-fledged reconnaissance or reconnaissance-strike UAVs. However, the simplified composition of the optics limits their ability to provide target designation to other weapons.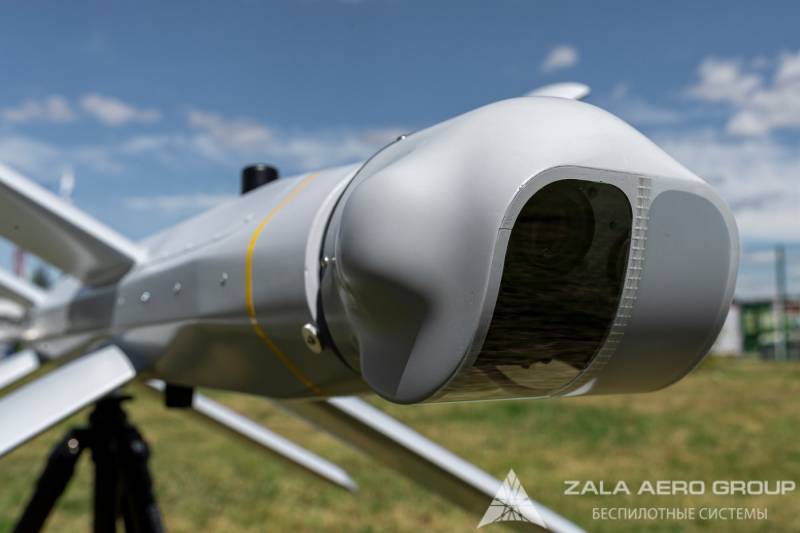 With all this, "Cube-UAV" and "Lancet-1/3" are small in size and weight. Transportation / carrying of these complexes and their preparation for use are not associated with any difficulties. However, weight reduction limits the flight characteristics and parameters of the warhead.
Practical results
Loitering munitions have a number of strengths, but at the same time face objective limitations. They are easy to transport and use, and also show fairly high combat performance. At the same time, the existing warheads, in terms of flight and other characteristics, are inferior to "traditional" UAVs with reconnaissance and strike capabilities.
Nevertheless, in general, APs are a promising and interesting tool for solving various combat missions. In various situations, they are quite capable of complementing other ground-based and air-based weapons with different guidance principles, greater power, etc. As a result, a full-fledged multi-component weapon system is being created, which is distinguished by wide combat capabilities and high flexibility of use.
Thus, in recent years, another important tool has appeared at the disposal of our army for part of the combat missions. The benefits of "Cubes" and "Lancets" have already been shown at test sites and in a real Syrian operation. Now they are participating in another Special Operation and successfully increasing their combat score.