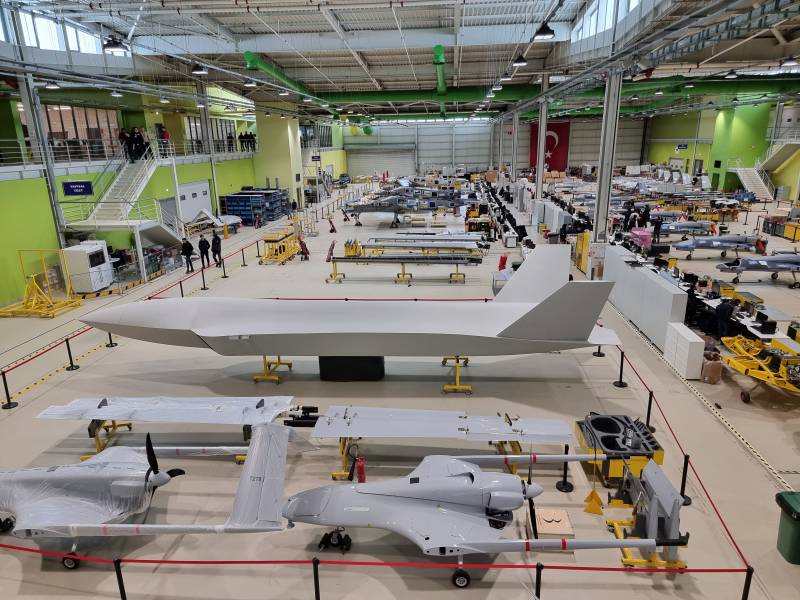 Turkey hosted a presentation of a prototype of a new strike unmanned aerial vehicle Bayraktar Kızılelma ("Red Apple"), developed by Baykar Makina. The new drone will be equipped with a jet engine.
Baykar Makina presented the combat UAV Kızılelma. As follows from the information posted on the official website of the company, the maximum takeoff weight of the Red Apple will be 5,5 tons, of which up to 1,5 tons will be payload. The AI-322F and AI-25TLT turbojet engines produced by the Ukrainian enterprise Ivchenko-Progress must provide speeds of 800 km/h and more. Claimed stay in the air - 5 hours.
Note that the contract for the supply of Ukrainian engines was signed in November last year. Also then there was information about two versions of the drone - subsonic and supersonic. Hence the contract for two types of engines. How it will actually be has not yet been revealed.
The drone, formerly called MIUS (Muharip İnsansız Uçak Sistemi), will be able to work in tandem with manned fighter jets and carry various weapons, including air-to-air missiles. The company plans that Bayraktar Kızılelma will replace fifth-generation manned fighters.
The company said that the new drone will be adapted for use from the Turkish flagship landing ship TCG Anadolu, which is still under construction. In addition to the Bayraktar Kızılelma, the new Turkish UDC will also carry the Bayraktar TB3, an upgraded version of the Bayraktar TB2. Thus, Turkey intends to expand the range of drones produced for use in the Navy.