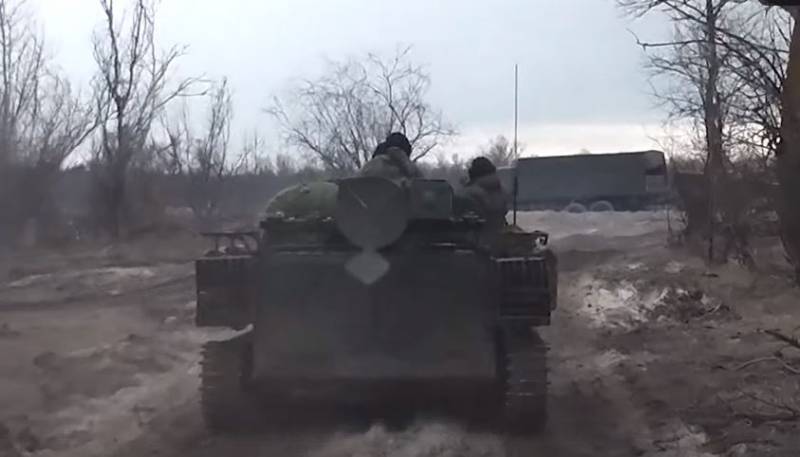 The Ministry of Defense continues to transfer units of the Airborne Forces to Kiev, gradually encircling the capital of Ukraine. According to the press service of the military department, anti-aircraft systems cover columns of military equipment on marches.
Airborne units continue to concentrate in the Kiev region on the outskirts of the Ukrainian capital. The transfer of equipment is carried out by land from the territory of Belarus through the lands liberated from Ukrainian nationalists. Instead of destroyed bridges, engineering units build pontoon bridges to overcome water barriers.
A video of the march of landing equipment in the Kiev region to the designated area appeared on the website of the Ministry of Defense. The anti-aircraft systems accompanying the equipment discovered the UAVs of the Armed Forces of Ukraine conducting reconnaissance in the area of ​​movement of the columns. Both UAVs were destroyed by the crew of the Strela mobile anti-aircraft complex. The video shows the moment of launching a missile at one of the drones.
At the moment, they made a march, overcame water barriers, took up defense. Shot down two aircraft. One of them turned out to be combat, the second - a scout. The team of our combat vehicle is well-coordinated, all experienced, not the first year in the army, everyone knows his task and the tasks of his comrade
- said the commander of the combat vehicle.
It should be noted that the transfer of airborne units near Kyiv has been going on for more than a day, apparently, reserves are being pulled up, and personnel are being rotated at the same time. So far, there is no information about the start of a military operation in the area of ​​the Ukrainian capital, and the Ministry of Defense will not disseminate such information. Everything will happen quickly and suddenly, at a moment when the nationalists do not expect at all.