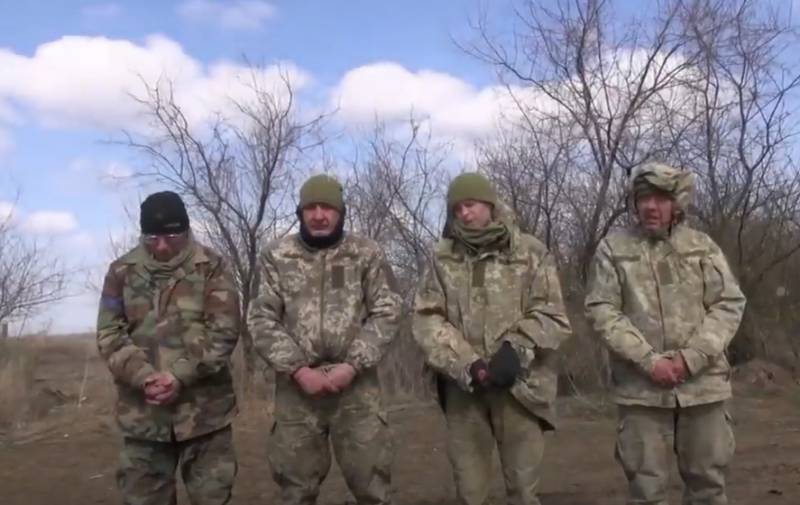 Captured Ukrainian soldiers
The American Institute for the Study of Military Conflicts continues to publish its assessments of what is happening in Ukraine. In the latest publication of the summary, the state of affairs near Kiev is considered. At the same time, the summary turned out to be extremely contradictory.
So, first it is said that Russian troops are regrouping to the north-west of Kyiv, being with advanced units in the Irpin area (a suburb of Kyiv). This is despite the fact that a few days ago the Ukrainian General Staff claimed that the RF Armed Forces were allegedly "thrown back 70 km" from the Ukrainian capital - almost to the border of Belarus. Realizing that he was broadcasting an outright lie, the General Staff of the Armed Forces of Ukraine further, as if nothing had happened, himself announced the battles in the Irpen region, in fact disavowing his own report on the alleged Russian retreat.
The aforementioned American institute also, apparently, decided to keep up with the Ukrainian General Staff, and switched to reports, which, as already noted, contradict each other. Having issued a message that the Russian Armed Forces were preparing for an attack on Kyiv, the same institute announced the transition of hostilities "to a static character." Both sides, as noted, are not conducting any offensive actions at the moment. In addition, it is reported that Russian troops "deployed a command post" north of Kyiv.
Meanwhile, military experts in Europe have suggested that at this stage, Russia "may focus on creating a large military base near Kiev, in order to keep both the Kyiv garrison and the Ukrainian political authorities in constant tension." It is noted that in this case, a large grouping of Ukrainian troops in the Kiev region will be shackled by the very presence of Russian troops a few kilometers from the Ukrainian capital. An attempt to transfer units of the Armed Forces of Ukraine to any other direction will open the entrance to Kyiv for the Armed Forces of the Russian Federation. Western experts note that the Kyiv garrison, having fallen into a difficult situation, turns into a piece on a chessboard, which must either attack with the threat of complete defeat, or remain in place and "watch" how pieces of the same color from this board gradually disappear.