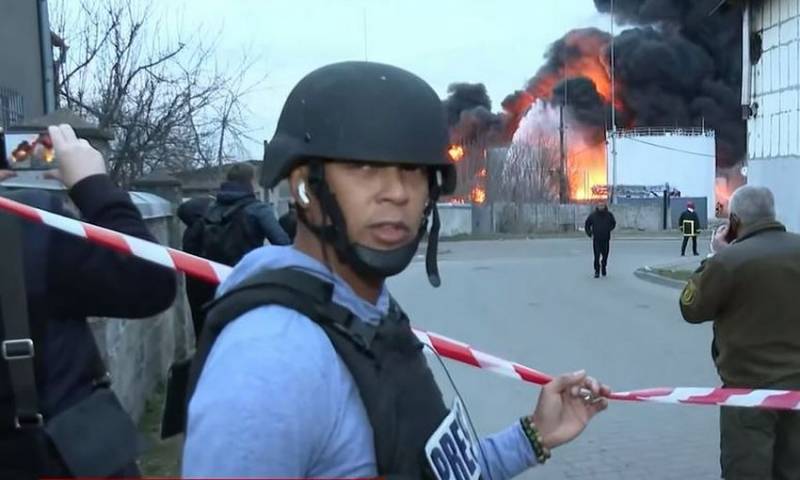 The Kiev regime's ban on the publication of photo and video materials about the consequences of the use of Russian precision-guided munitions, as well as the places of shelling, now extends to foreign journalists. A corresponding warning was issued by the Security Service of Ukraine.
Kyiv has made another attempt to prevent the spread of reliable information about what is happening in Ukraine, continuing to assert that the situation is under control, there is no offensive by the Russian army, and the Ukrainian armed forces are pulling up reserves with the help of the West and are about to go on the offensive. To do this, Zelensky and his ministers banned television programs of non-patriotic content, and publication of the truth faces punishment, up to and including arrest.
Then Kyiv issued a decree prohibiting the media from publishing pictures and videos that reveal the places of Russian strikes, as well as their consequences, then this ban was extended to various bloggers and "free" journalists, etc. Now the ban has been extended to correspondents of foreign publications, they were banned from all of the above. Moreover, the ban is filed under the guise of the fact that civilians may suffer from these publications.
We strongly recommend that you do not take photos or videos. We have a civilian population, people can die from your publications, live broadcasts
- said the SBU, adding that all foreign journalists have already been warned about criminal liability for this.
It should be noted that if the locals are generally prohibited from publishing information about where a Russian missile or projectile flew and the consequences of their hits, then foreigners can publish it, but only after official Ukrainian publications have done it, describing everything in the "correct" light. Otherwise, it may turn out that Kyiv will announce another Russian missile that "hit" civilians, and the Western media will show the consequences of hitting the mercenaries' base.